The best WordPress social media plugin
Social media networks are the best market to make more visitors for your website or to make a successful marketing campaign for your website and products. So as your website is based on WordPress, you can use WordPress social media plugin to make it easy for your website to deal with the sharing process on social media networks easily without any wasting time for technical problems.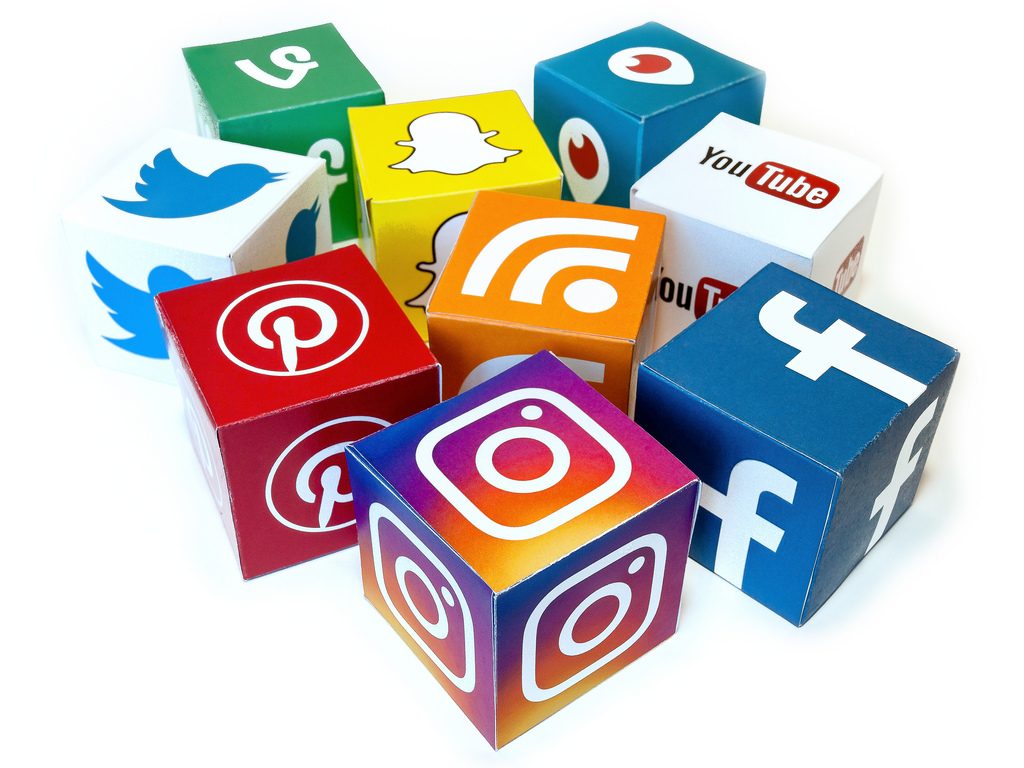 Social Warfare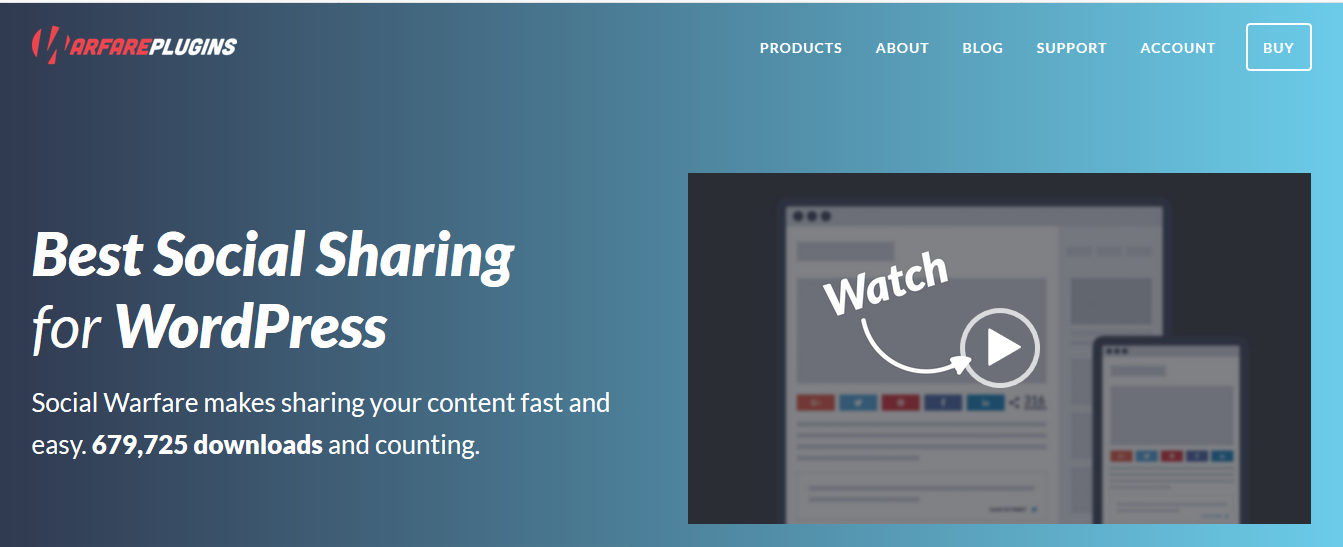 Social Warfare comes from the Warfare Plugins company. It's a simple and sleek WordPress social media plugin. The main reason users like Social Warfare is because the buttons are attractive. The fact of the matter is that most websites need modern buttons without all the flare.
Key features
Social sharing network buttons for Facebook, Twitter, Google+, Pinterest, Linkedin, and the most of other social media even reddit.
4 primary placement locations for your buttons.
Social share counts, including Tweet counts.
Popular posts widget based on the number of social shares per post.
Click-to-tweet.
Shortcodes.
Content-protection.
Various styles and custom design and placement of your sharing buttons and Click-to-tweet.
Share recovery tool for your lost counts.
Link shortening, analytics campaign tracking, and button click tracking.
Pros
Clean, modern, attractive design of buttons.
High performance so it will not slow down your website.
Fully customizable.
Amazing built-in features, including "Click to Tweet" and "Frame Buster".
Lots of buttons placement and display options, including manual placement.
The free version is very efficient and satisfied for startups.
Google Analytics tracking.
Easy to use and setup.
Great and powerful support.
Cons
If you want to continue receiving updates for this plugin, you will have to renew your subscription each year.
Very occasionally conflicts with other plugins.
Some conflicts may occur with twitter so be careful for your tweets.
Price
You can download it for free but for more features, you need to buy the pro version for 29$/year.
Download it from here https://warfareplugins.com/
Easy Social Share Buttons for WordPress
Easy Social Share Buttons is one of the best-selling social media plugin at Code Canyon. While it originally started as a social media plugin only, it's now expanded to add some email list building functionality which might be either a good or bad thing depending on your perspective.
Key features
Supports 50+ social networks, including all of the major networks.
Display share counts for each network.
Arrange social networks by drag and drop or share count.
Different ordering depending on user's device.
Email subscribe button.
27 different display positions.
Trigger social share buttons to appear based on user actions.
52 different template styles.
Analytics about the sharing on your networks.
Pros
Lightweight so it will not slow down your website.
Offers unique functionality for targeting social share buttons based on specific user actions.
Has the most different display locations.
Easy to setup and configure.
Built-in opt-in forms for list building feature.
Great online support and free updates.
Cons
It may be confusing somehow because it offers a lot of features.
Price
You can download it for free or buy more features for 20$
Download it from here https://wordpress.org/plugins/easy-social-share-buttons/
Kiwi Social Share

Kiwi Social Share is a freemium social media plugin that lets you add social share buttons for a variety of networks in a similarly diverse variety of styles. It's lightweight, sending only 2 HTTP requests to render social icons. And the pro version adds a variety of unique features to help improve the functionality of your share buttons and get you deeper analytics.
Key features
Supports all the major social networks like Facebook, Twitter, LinkedIn, Reddit, Pinterest, Google, and more.
Enable/disable networks on an individual basis.
Supports different button styles.
Can display social share buttons in different locations on your site.
Performance optimization with only 2 HTTP requests.
Built-in Google Analytics Event Tracking for deep analytics.
Automatic URL shortening via Bitly.
Drag and drop ordering to change the order of social networks.
Pre-populated Tweets to make it easy for visitors to share your content.
Pros
Kiwi Social Share won't slow down your site.
Full analytics about all shared networks on your website.
Easy to use and configure.
Solid free version.
Cons
Sharing buttons on the whole page not on an image or post.
Might not have every option you're looking for.
No widgets yet, but they are coming.
Price
It's free but for more features, you can buy it according to plans starting from 19$ up to 119$.
Download it from here https://wordpress.org/plugins/kiwi-social-share/
MashShare

MashShare is WordPress social media plugin which is developed by Mashable website to stimulate the same appearance on Mashable. The MashShare plugin has a freemium model, so the majority of the basic features are free, but you can pay for additional add-ons to improve your own toolset.
Key features
High Performance Social Media Icons.
Share Buttons for the most common networks.
High Resolution lossless vector font share button icons.
Shortcodes.
Extensible with many Add-Ons (Google Analytics, More Social Networks, Responsive, YouTube Video Share and more…)
Highly customizable.
Smart (virtual) share count function. Add virtual shares to new articles. Use psychological aspects to increase real shares.
Pros
Developer friendly with several filters and actions.
Integrated with so many add-ons for more features.
The plugin has caching built-in for fast delivery of the buttons.
Filters and actions are available for more advanced development.
The shortcodes allow you to place the social media buttons anywhere on your website.
Easy to setup.
Cons
The common sharing buttons are somewhat limited.
It may be confusing because you need to setup a lot of features.
Price
You can use it for free and buy for more features 19 euro for single site up to 39 euro for unlimited sites.
Download it from here https://wordpress.org/plugins/mashsharer/
Monarch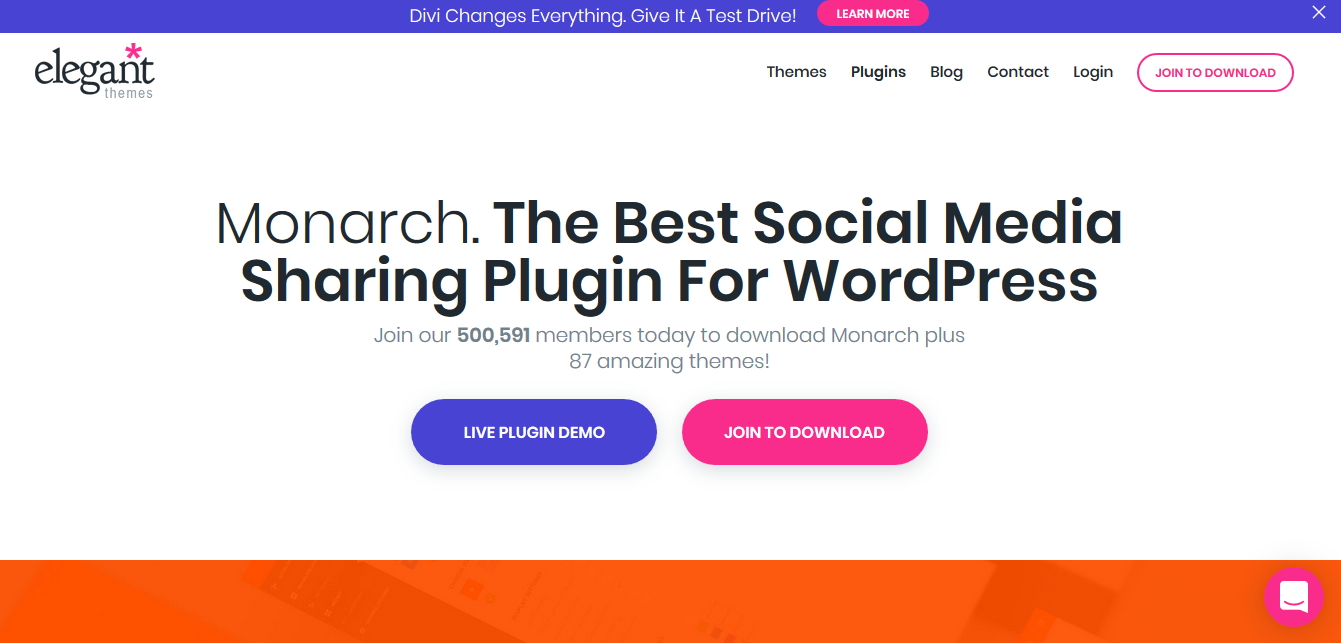 Monarch is a premium social media plugin developed by Elegant Themes, a premium hub for WordPress themes and plugins. With Monarch, you can add share buttons in 5 different locations: floating sidebar, above or below content, on images and videos, automatic popup, and automatic fly-in.
Key features
Over 20 social networks to choose from.
Floating sidebar.
Support adding sharing buttons above the content area, below the content area, or in both locations.
Enables you to add sharing buttons on images.
Automatic sharing pop-ups.
6 Automatic Pop-Up & Fly-In Triggers.
Customizable designs– choose button shapes, colors, & hover effects.
Your Monarch statistics can be accessed at any time via the dashboard.
Easily import and export Monarch settings from one WordPress site to another.
Pros
Elegantly Responsive.
Lightweight so it will not affect your website performance.
It gives you social share buttons that look great out of the box.
You get all of the social networks that matter.
There are multiple display options.
Easy to use.
You can get stats on your content's social media popularity.
It fights against negative social proof by letting you hide your share numbers until they reach a given volume.
Cons
The share counts aren't always accurate.
The design of the buttons isn't always consistent for all WordPress themes.
It's not free.
Price
It's not free but you can buy it for 89$/year or 249$/year.
Buy it from here https://www.elegantthemes.com/join/
Floating social media icon

The Social Media Flying Icons plugin offers 30 different button styles for you to test out. Some of them are rather unique, like hearts or bottle caps, while others are flat, modern designs for covering the majority of industries. The standout feature is the flying animation, grabbing user attention when they land on your website.
Key features
30 Icon Themes.
Set Icon Size & Order.
Multiple Widget & Shortcode Support.
Flat Icons and Instagram support.
Enable/Disable Floating.
Most Downloaded Floating Social Media Plugin.
Featured Plugin On Many Developer Portals.
Automatic Integration.
Pros
Easy to Configure.
Good documentation for help.
Customizable.
The designs are plentiful, with creative options like trucks and computers.
Drag and drop to add buttons and edit them.
You can add custom icons if a certain social media website isn't supported.
The shortcodes help you insert social media buttons wherever you want.
Cons
The plugin only has icons for linking to your social media accounts. If you need sharing buttons, look elsewhere.
Some might find the floating effects annoying.
After you choose a theme there aren't many other customization options.
Price
You can download it for free https://wordpress.org/plugins/floating-social-media-icon/
Revive Old Post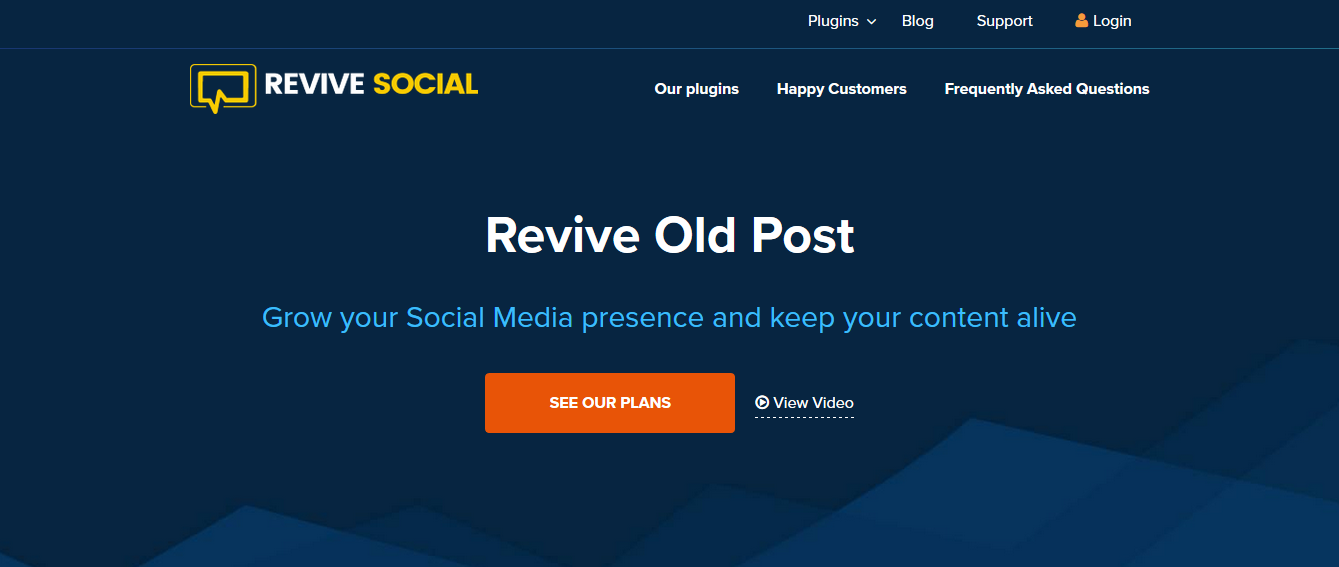 Revive Old Post is social media plugin that allows you to automatically share your new and old posts on your social media accounts. It enables you to share your content on multiple platforms including Facebook, Twitter, and LinkedIn. It also allows you to track clicks and figure out what resonates best with your followers.
Key features
Revive Old Post allows you to share your content to multiple accounts on each of the supported social networks. No limitations.
Share Posts, Pages, Media, Custom Post Types.
Full control over social shares.
Let Revive Old Post add optimized hashtags automatically by fetching them from the post's assigned blog categories, tags, or even custom fields.
Integrated with Google Analytics Campaign Tracking.
Pros
It's a huge time saver.
Allows you to recycle older posts with literally zero effort or time investment.
Spend your time writing new content instead of sharing it on social media.
Completely customize your posting strategy.
Awesome for people who want something easy to use that will save them time.
Cons
Costs a little bit for the yearly license, though we felt that it was worth it.
Only works with WordPress.
It's not free.
Price
You can buy it for many plans starting from 75$ up to 299$.
Buy it from here https://revive.social/plugins/revive-old-post/
Super Socializer

Try Super Socializer is a social media plugin if you're interested in getting all your social needs in one solution. For example, an online store could ask customers to log in using Facebook. Then, the users would be able to share products on Twitter. Lastly, they could make comments on your blog using Facebook.
Key features
GDPR Compliant.
Social Share from around 100 social networks.
Social Media follow icons.
Enable share count cache with option to control cache refresh time-frame.
Enable url shortening to use in sharing.
Horizontal and Vertical (floating) layout for sharing.
Customizable target url for sharing.
Rearrange order of sharing icons.
Specify position of sharing icons with respect to content – Top and Bottom.
Syncs user's basic social profile data with WordPress profile.
Enable Social Login at WooCommerce checkout page and customer login form.
Enable Sharing at WooCommerce products.
Auto-approve comments made by users logged in using Social Login.
Use user's social profile avatar as profile picture at your website
Customizable features.
Enable Facebook Like/Recommend, Google +1, Google Plus Share, Twitter Tweet, Yummly, Buffer, Xing buttons.
Enable Social Comments – Facebook Comments, Google Plus Comments, Disqus Comments.
Widgets and shortcodes for Social Share, Social Login, Social Comments and Like Buttons.
Let your users link their social accounts to the account at your website.
Pros
24/7 quickest customer support.
Multisite Compatible.
Compatible with BuddyPress, bbPress, WooCommerce.
Supports HTTPS enabled websites.
High responsive.
You receive three social modules wrapped into one plugin.
The add-ons are affordable, and they allow you to choose additional features. For example, you could place a MailChimp Subscribe button on your social login area.
Around 90 social networks are provided with the social sharing buttons.
The developer offers setup support if you send in an email.
Cons
The default designs aren't that modern or creative-looking.
Price
You can download it for free from here https://wordpress.org/plugins/super-socializer/
Sumo Social Apps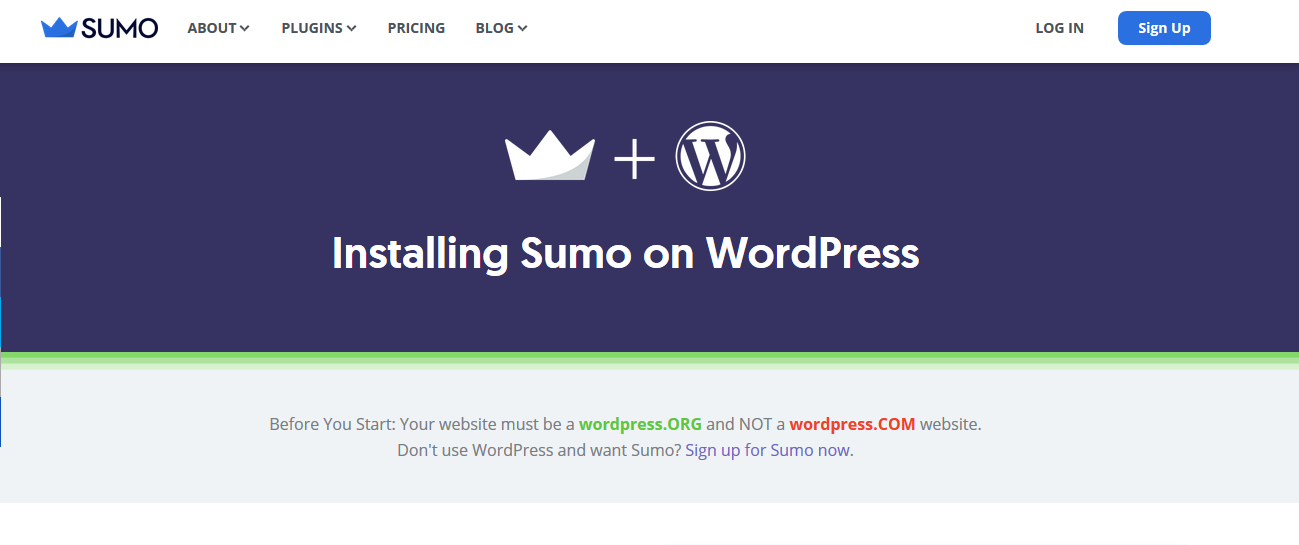 Sumo Share is the social media button feature of the popular Sumo suite of apps. The free version is surprisingly feature rich, which is a good thing when you consider that access to Sumo Pro costs a hefty $29 per month.
Key features
Supports 65 different social networks.
In-content or sidebar display locations.
Social share counts.
"Smart Social Share" orders your social icons by those which get the most clicks.
Drag and drop setup process.
UTM tracking.
Pros
You get far more than social media options with Sumo. For example, the entire suite provides email marketing, quote highlighting, and analytics.
The Sumo share buttons are as basic, and as beautiful, as you can find. And they're free.
You can download your historical sharing data.
The sharing buttons have a smart feature for highlighting the most effective sharing buttons on unique pages. For instance, one of your pages might be getting shared more on Facebook, so it makes sense to have the Facebook button in front of the others.
Cons
Most people aren't familiar with social sharing done through an image sharer. You'll most likely get more shares through a regular social button.
You're stuck with Sumo branding unless you go with the Pro version.
Mobile preferences aren't available in the free version.
Price
You can download it for free with the basics features and for advanced ones you have to buy the pro versions starting 29$/month up to 79$/month or you can customize to get more products.
Download it from here https://sumo.com/wordpress
AddToAny social media plugin

AddToAny is one of the most popular universal social sharing platforms. With the AddToAny plugin for WordPress, you can allow users to share your content via share buttons. You don't have to register an account with any third-party sites to make it work. The plugin supports over 100 social media sites and apps.
Key features
Supports over 100 different services.
Display as part of your content, separate floating bar, or via shortcode.
Google Analytics and Bitly integrations.
Asynchronous loading for performance optimization.
Universal share button to let visitors share via their preferred service.
URL shortener integration.
Pros
Totally free.
Powerful documentation.
High responsive.
Share counts can be displayed.
Loads asynchronously for better speed.
Can use share bars as a widget.
The option to have buttons before, after or in a floating sharebar.
Cons
No option to create custom pre-populated Tweets.
Lacks the "bells and whistles" of some of the premium plugins.
No share buttons on individual images.
Price
Totally free and you can download it from here https://wordpress.org/plugins/add-to-any/
Do you have any other favorite social media plugin?