The best membership plugin to use on website
You may want to launch a website which people should make a subscription or registration to be able to use. If you are using WordPress, you have to use a membership plugin which will add this feature automatically and easily on your website. Bu as all plugins, each
one has many different features so you have to choose which one is suitable for your plans.
S2Member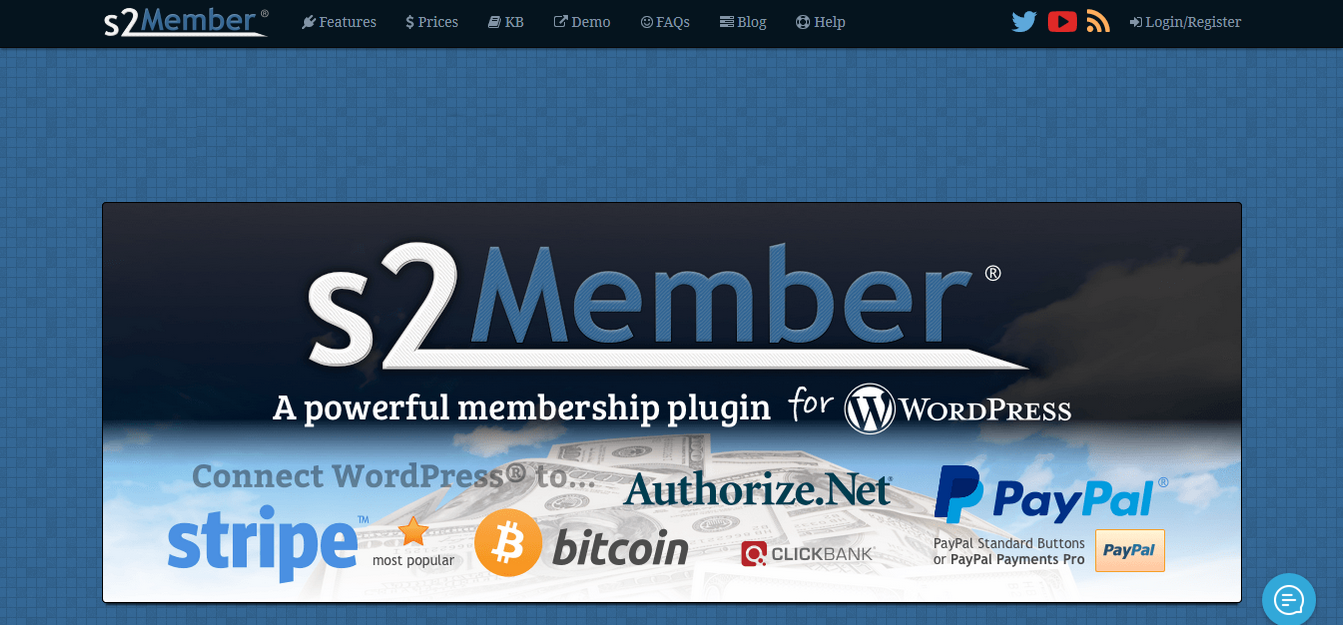 S2Member is a popular membership plugin which its free version can support you to start your membership website until you can pay for the pro version.
Key features
Integration with different payment gateways if you want it as paid membership.
Supports CCAPS.
It can protect all types of content by using an easy-to-use meta box in your Post/Page Editing Station and other alternative ways.
It offers unique IP restrictions.
You can customize the form for registration as you need.
S2Member can support strage of mailing list.
It can be used to deal with affiliate content too.
You can import or export many other tools in S2Member plugin to satisfy your needs.
Pros
Easily configurable & highly extensible.
It can be used with WooCommerce for ecommerce purposes.
There is a huge community that can support this plugin.
The website of the plugin explains all what you need to know about free and pro versions.
Cons
It's difficult for beginners somehow.
The free version supports PayPal only. So there are limitations on free version.
Doesn't offer content dripping in the free edition.
Price
You can download it for free but if you need more features, you have to buy pro version for 89$ for single site or 189$ for unlimited sites.
You can download it from here https://s2member.com/
Paid Membership Pro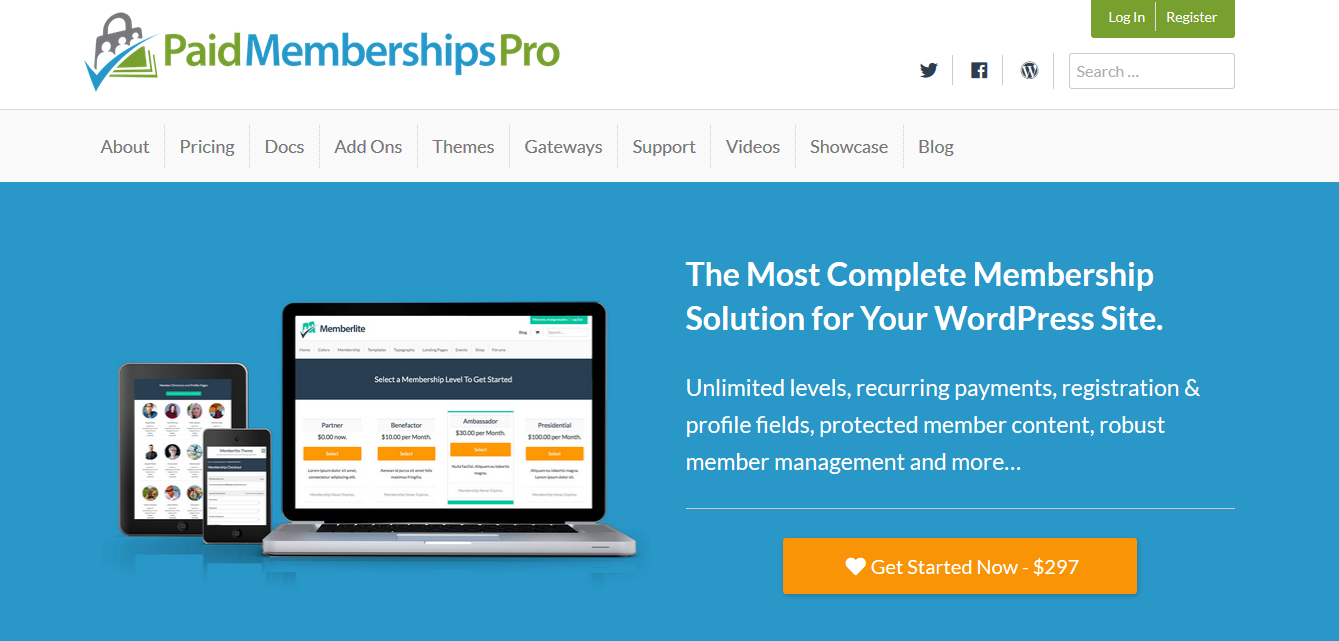 Paid Membership Pro is one of impressive membership plugins. It offers many themes and powerful documentation.
Key features
It supports professional organizations to have thousands of members.
E-learning courses website can depend on it for payment.
Accept recurring payment for content, podcasts, and video.
If you want to make your special community on your website, you can use it.
Develop robust directory or listings sites by topic or region.
Offering gifts and discounts for only members.
It offers restriction on all types of content for only members if you want.
Pros
It offers a large group of integration with other useful add-ons related to mailing list,  payment, spam check, and others.
Powerful documentation and support.
Cons
Free version is limited in features so you have to buy the pro version.
Not very beginner friendly. You require investing some time to set up.
Support and forums are only available to premium members
Price
You can download it for free but you will need to buy the pro  version 297$/year or 598$/year.
from here https://www.paidmembershipspro.com/
Membership 2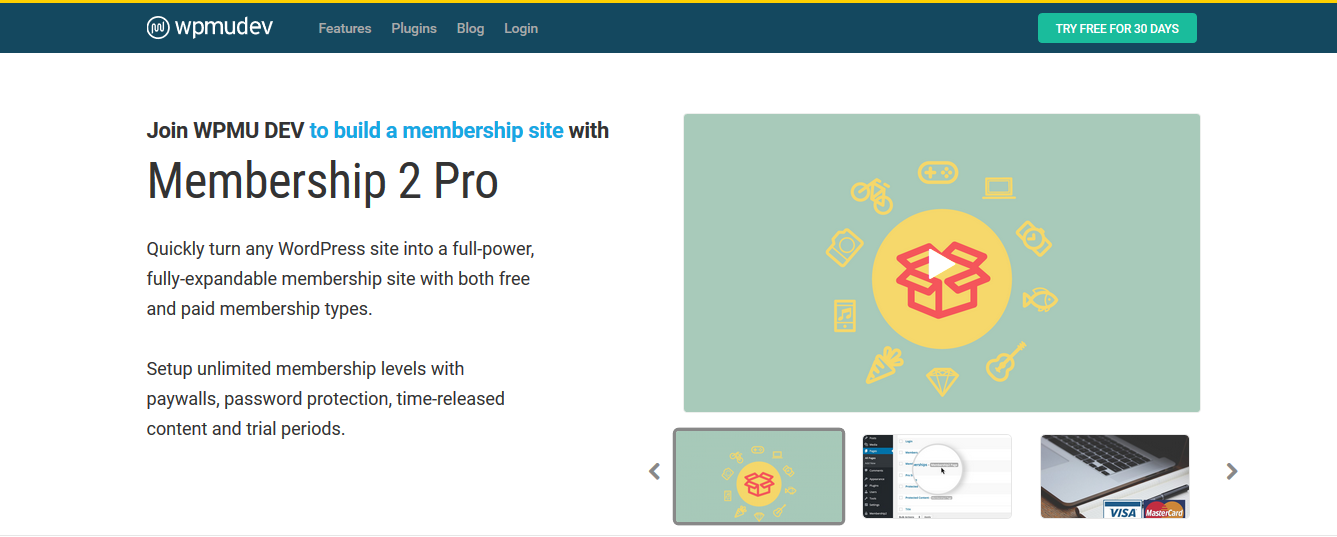 It's one of the strongest membership plugin for WordPress. Membership 2 is a product of WordPress professionals at WPMU. It's paid versions and it's rich of strong, useful features.
Key features
Membership 2 protects all types of content on WordPress.
Get paid with PayPal, Stripe, Authorize.net, or good old fashioned manual payments.
Integration with many other addons for coupon system, admin-side protection rules, custom post-type protection, advanced media protection rules, and network wide Protection.
Pros
More than 25 currency options and multiple payment gateways are there in the free version.
Powerful guide to go through configuring your membership site for best results.
It offers different types of memberships dripped content membership, guest membership, and default membership.
Cons
Somehow difficult for beginners..
Not as many options to define memberships or levels.
A bunch of negative reviews at the official WordPress plugin repository page.
People have complaints regarding its UI for both admins as well as visitors.
Price
You can try it for free for 40 days after that you have to buy it for 49$/month.
Download it from here https://premium.wpmudev.org/project/membership/
MemberPress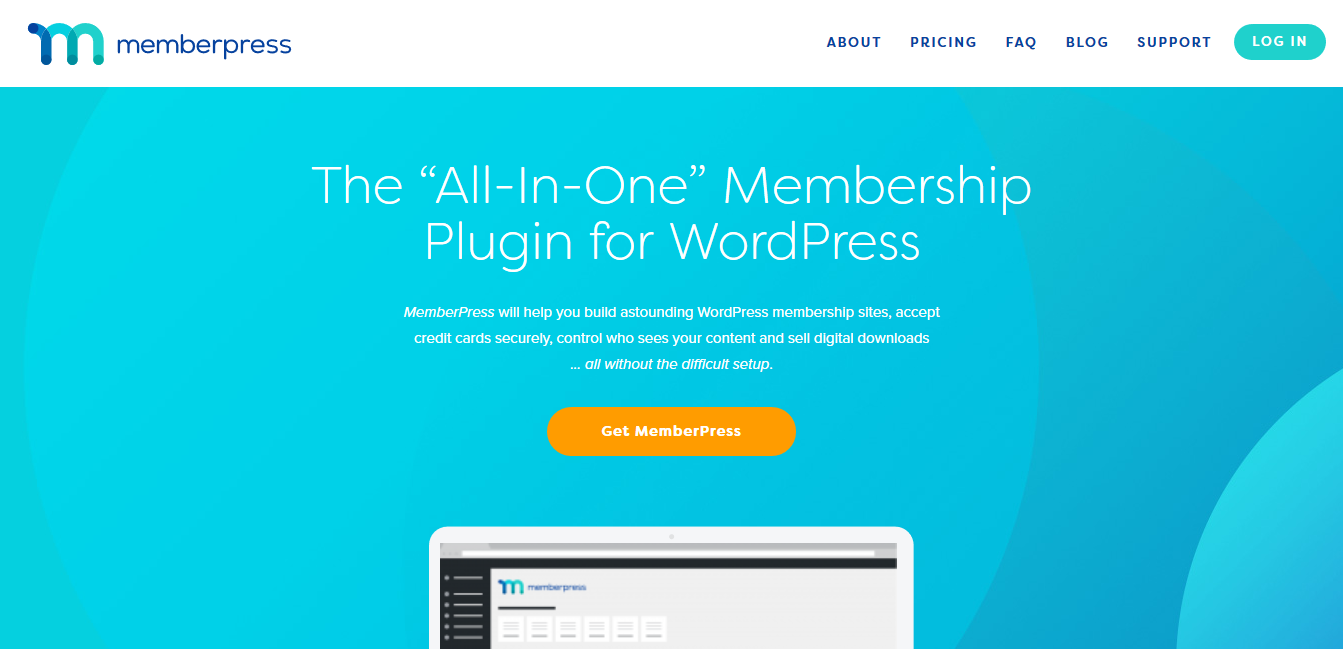 MemberPress is one of the most popular WordPress membership plugin. It can be one of the best that you can try. It is also the easiest to use and the most robust when it comes to features.
Key features
It will help you to instantly start charging your users for access to your content.
Secure, manage, and track membership  subscriptions.
It supports many Payment gateways for paid membership.
You can restrict all types of content on WordPress.
Pros
It's powerful and easy to use.
You can use other 3rd party services including content management, forums, and social communities.
You can create unlimited membership levels with all kinds of trial periods.
You can even divide membership of your website to different membership levels or  membership groups to create predefined upgrade paths.
Unlimited coupons and a built-in affiliate program round out the feature set.
Cons
Limited payment options.
It's not free.
Price
You can buy the basic plan for 129$/year up to 369$/year.
From here https://memberpress.com/
LearnDash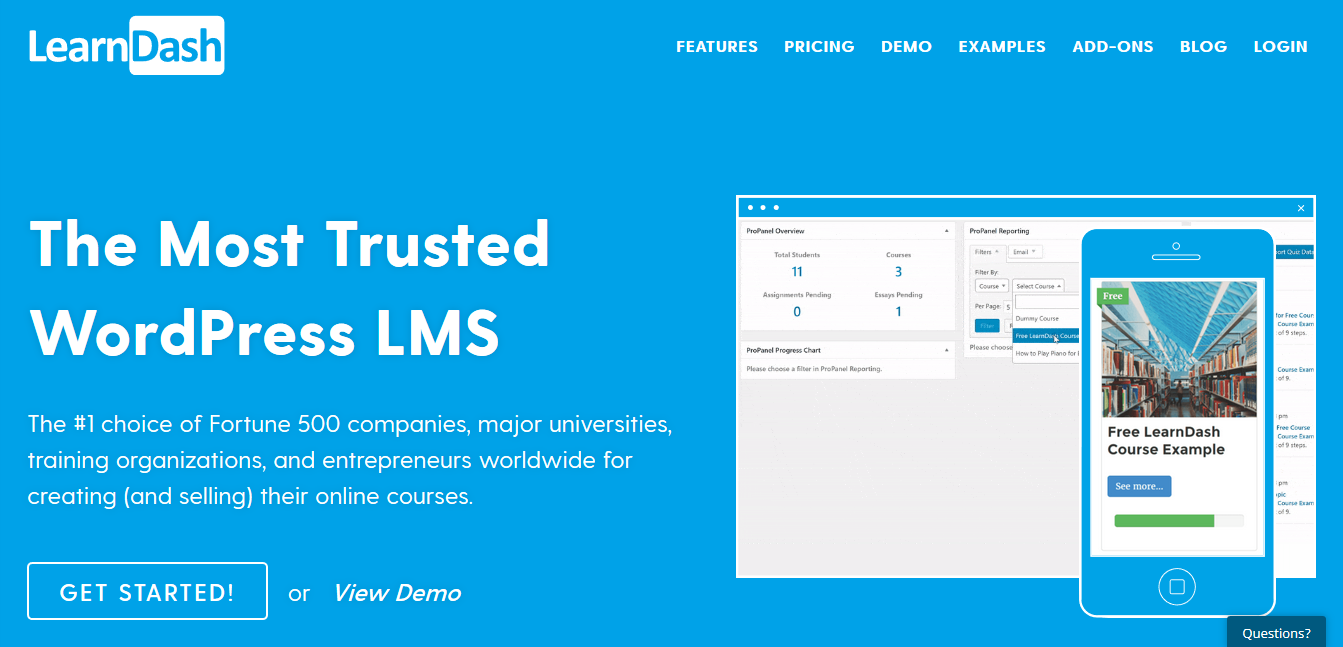 LearnDash is simple and easy to use membership plugin which has many advanced membership features and tons of integrations.
Key features
It supports a huge group  of features specialized for E-learning, monetization, tech, and administration.
For E-learning, It provides dripping content, certificate provider, lesson timers, quizzes, course points, and dynamic points.
For monetization, LearnDash provides one time purchasing, subscription, shopping cart, and license.
For Administration, It provides email notification, group management, reports, control users profile, and all  kind of management.
Pros
Powerful and robust.
You can set up easily.
Powerful support E-learning platforms.
Built in community features.
You can even connect it to MemberPress, WooCommerce, bbPress, Slack, etc.
It supports many payment gateways.
Cons
It doesn't support many important levels of membership.
It's specialized for E-learning platforms so it may not be useful for other websites.
Somehow, it's documentation is difficult.
It's not free.
Price
You can buy it for 199$ for the basic plan up to 369$.
Buy it from here https://www.learndash.com/pricing-and-purchase/
Restrict Content Pro
Restrict Content Pro is one of the best membership plugin for WordPress. It's popular and has man powerful,usable features.
Key features
Easy to use dashboard.
It creates an unlimited number of subscription packages.
Export reports about active members of any particular subscription level, payment.
You can offer coupons and discount for members.
Pros
It's lightweight so it will not affect your website performance.
It's integrated with many addons to avoid spammer, mail management and many payment gateways.
It can be used for private forums and limited community.
Easy to Use.
Excellent support.
You can easily upgrade or downgrade and have the amount they paid prorated to their new plan.
Cons
It's not free.
The number of integrations and third party addons are limited.
Price
There are many prices start from 99$/year up to 499$/year.
Buy it from here https://restrictcontentpro.com/pricing/
WooCommerce Memberships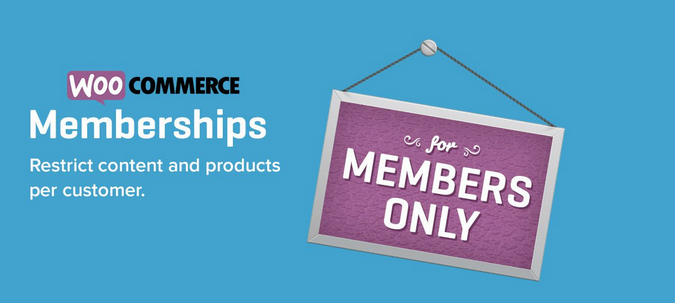 It's one of WooCommerce addons for membership plugin. It enables you to limit your content on the members only. f you're already selling digital products on your website and want to sell memberships as well, then you should give WooCommerce Memberships plugin a try.
Key features
It helps you to plan for grant content access.
Turn your store into a purchasing club.
You can use it to make special offers for members only.
It make it easy for you and your members to handle the data of membership account.
Import and export files for reports.
Easy to communicate with members about reminders and offers.
Pros
Easy to setup and configure.
you can control the membership for each customer from many levels.
It can control all types of content related to E commerce.
Integrates with any payment processor available for WooCommerce stores
Integrates with several other WooCommerce extensions
Cons
It's not free but in the same time, not expensive.
Works only on WooCommerce 2.2+.
You have to add other application integrated with it for payment because it's not built
Price
You can buy it from 3 plans 12.48$/month, 16.58$/month and 20.75$/month.
Buy it from here https://woocommerce.com/products/woocommerce-memberships/?aff=190
Cart66 Cloud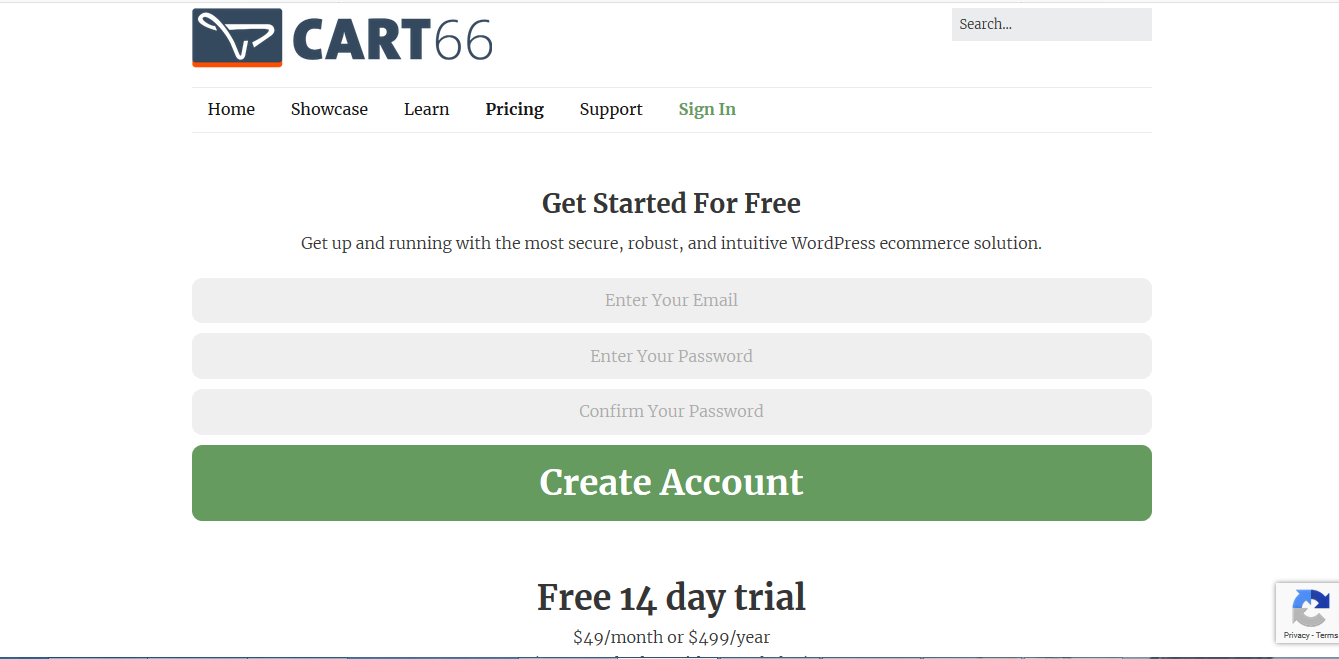 It's one of membership plugin which work for Ecommmerce for selling physical and digital products. It also works as a membership plugin for WordPress, allowing you to sell and restrict access to your site using subscription payments and recurring billing.
Key features
Sell membership access using the recurring billing engine.
Make content available on a drip basis.
Allows subscribers to manage their own billing information in the customer portal.
Supports over 50 payment processors.
Restrict access to all types of content.
Email notification for reminder and other things to communicate with the customer.
Pros
Easy to set up and configure for beginners.
Cart66 Help Center is a knowledge base filled with guides, FAQs, and tutorials.
Lightweight and Simple.
All-In-One Solution, No Need for Extensions
Cons
It hasn't so many customisation.
It can't be used for large scale business.
It's not free.
Price
You can try it for free for 14 days but after that you have to pay 49$/month or 499$/year.
Buy it from here https://cart66.com/pricing/
Ultimate Member

It's one of the good membership plugin.It lets you create a membership site in minutes. It's also one of the solid plugins that you can depend on. The plugin is better for creating advanced online communities to let users join and become members easily.
Key features
Solid and customizable registration process.
It supports multi-page registration form.
You can use it to design beautiful user profile as you want with all accessibilities.
You can give the ability to the user to customize the profile or controlling it.
Ultimate member gives the tools to control the profiles, memberships and your employee.
It provide you email notification with full control and all types.
Pros
Lightweight as well as highly extendible.
Actively maintained.
Popular so you can always find who can help you.
It can be customized as many as you want.
It has free version.
Cons
Advanced security features are missing.
It's not a full-fledged membership plugin like others.
Many important features are part of pro versions.
Price
You can download it for free and then buy pro version for 25$/year or 199$/year.
https://ultimatemember.com/pricing/
Conclusion
The best one ,that you should choose, is depending on your usage and your budget. If you have to use one of free plugins, you have to try  them yourself even after reading this article to ensure of your needs. But if you will use one of the paid plugins, You have to ensure the performance and the speed to make the perfect choice for your website and its code.