The best WordPress SEO plugin for best content
To get more money from your website, you need to make more traffic. You need to appeare more on search engine so you need to be more friendly with SEO "search engine optimization". Since you make your website friendly with SEO, the visitors will find you easily on search google, bing, and others. WordPress in general is friend to SEO but you need SEO plugin to make it for more advanced features on each post or on the whole website.
Yoast SEO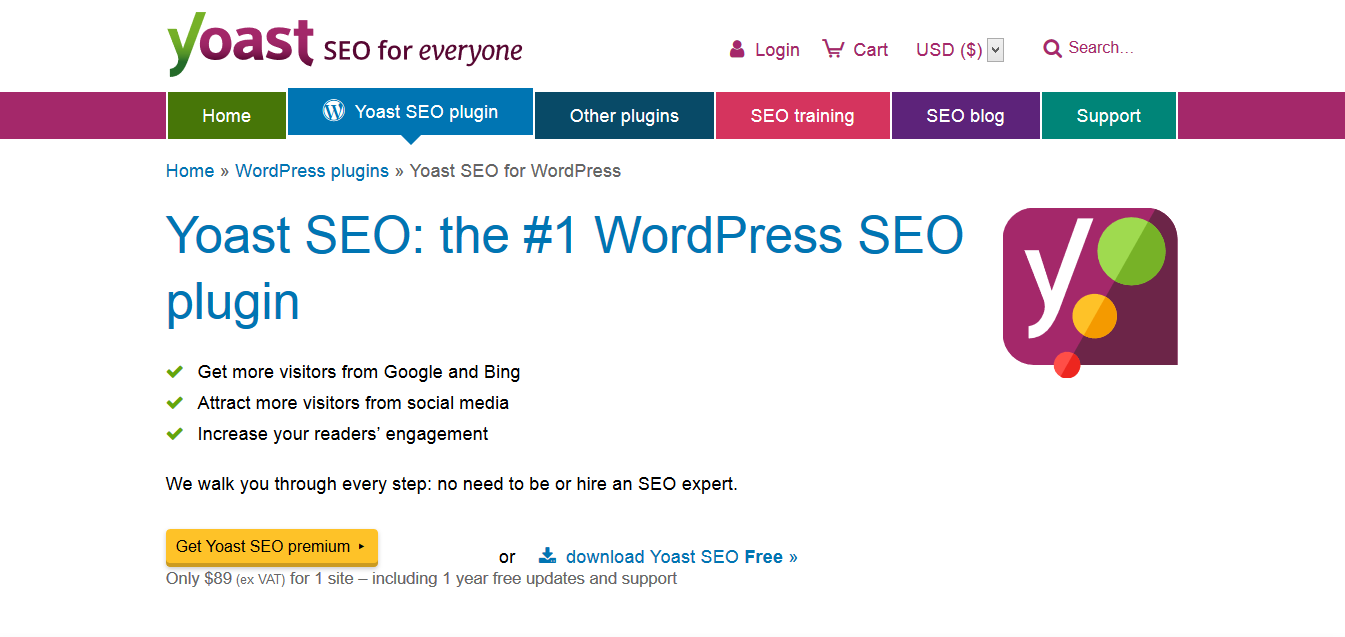 Yoast SEO is the most popular WordPress SEO plugin and the most usage. Unlike other WordPress SEO plugins, Yoast SEO forces you to choose a focus keyword for your blog and then makes sure you appropriately used it on the page. Yoast SEO shows you SEO snippets within your page editor. That way you can easily edit your meta description to improve your click-through rates in search results.
Key features
The page analysis feature of Yoast checks many things such as meta description, length of posts and whether your description contains the focused keyword or not.
Helps to create better content with a snippet preview that lets you know how your post or page will look in Google search results.
Easy to make social integration as the plugin comes with Facebook OpenGraph implementation to link social media and SEO.
Allowing to determine the pages which would be shown by the search engine in its search results and which will not be.
The Yoast SEO plugin makes canonical link elements available everywhere, whereas WordPress only exhibits it on a page.
Automatically creating XML sitemaps and informs Bing and Google of its existence.
Compatible with multi-sites..
Yoast SEO allows you to develop easy navigation for both users and search engines.
Pros
Various features in a single WordPress SEO plugin.
Fast and simple.
Easy to use.
This plugin ensures that your content is precise, error-free, with no redundancy.
Using Yoast, search engines can easily pick your website.
It is great for internal linking.
Cons
Security threats.
You may experience slow website speed while activating all features at once.
It cannot control the structure of a site.
It deals with bloated codes.
Price
You can download it for free but for more features, you need to buy the premium version for 89$ for one site and increase the price with the number of websites.
Download it from here https://yoast.com/wordpress/plugins/seo/
All in one SEO Pack

Created back in 2007, All in One SEO Pack is one of the most downloadable WordPress SEO Plugin. The all in one SEO pack has more features than Yoast. However, their interface is more difficult to use. So for most websites, Yoast is going to be enough.
Key features
XML Sitemap support.
Image XML Sitemap submitted to Google and Bing to improve your Image SEO.
Google AMP support.
Google Analytics support.
Support for SEO on Custom Post Types.
Advanced Canonical URLs.
Redirect attachment pages to parent post.
Automatically notifies search engines like Google and Bing about changes to your site.
Built-in API so other plugins/themes can access and extended functionality.
Integration for e-Commerce sites, including WooCommerce.
Nonce Security built into All in One SEO Pack
Automatically optimizes your titles for Google and other search engines.
Generates META tags automatically.
Avoids the typical duplicate content found on WordPress blogs.
You can override any title and set any META description and any META keywords you want.
Pros
Compatibility with many other plugins.
Translated into 57 languages.
Compatible with PHP7.
Professional users can optimize and customize their SEO.
Cons
Limited features are available for Free version users.
Poor customer support.
Price
You can download it for free but you will need more features so you have to buy the pro version for 136$ up to 1118$.
Download it from here https://wordpress.org/plugins/all-in-one-seo-pack/
SEMrush
SEMrush is an important WordPress SEO plugin. It's an all-in-one marketing suite that lets you audit your SEO opportunities and gather insights from your competitors to grow your site traffic.
Key features
Search about competitor's keywords.
Discover new organic competitors.
Observe position changes of domains.
Uncover Your Competitors' Ad Strategies and Budget.
Analyze Your Online Rivals' Ad Copies and Keywords.
Discover New Competitors in AdWords and Bing Ads.
Localize Your Ad Campaigns.
See top publishers and advertisers.
Analyze competitors' display ads.
Spot new publishers.
View displays from different devices.
Conduct a deep link analysis.
Understand referring domains' authority.
Check backlinks' types.
Spot your links' geolocation.
Find the right keywords for SEO and PPC campaigns.
Gather phrase matches and related keywords.
Get long-tail keywords.
Explore multinational and multilingual environments.
Define your product listing ads competitors.
Get insight into your PLA competitors' product feeds.
See your competitors' best-performing PLAs.
Pros
Telling you what keyword you actually ranking for.
SEMRush is great at understanding how semantic usage is allowing competitors to outrank on specific keywords.
Using SEMRush, You can see how you rank in each market for the same keyword, you can see what page elements are working in your favor and which are not.
Using Backlink feature, you can understand what your backlink profile looks like today and how its changing.
Very useful reports about keywords and marketing campaigns.
SERP (search engine result pages) reports not just SEO to give you more wide view about your website on search engines.
SEMRush produces beautiful, easy to read analytics and data sheets.
The reports are easy to understand for non-technical clients.
Cons
The Social Media tool is not as expected.
SEMrush's general dashboard is overwhelming and  it is not easy enough to customize.
It's hard to track multi-sites at a time.
It's not free.
Price
You can buy it according to many plan starting from 100$/month up to 400$/month and enterprises can customize their solutions.
Buy it from here https://www.semrush.com/
Ahrefs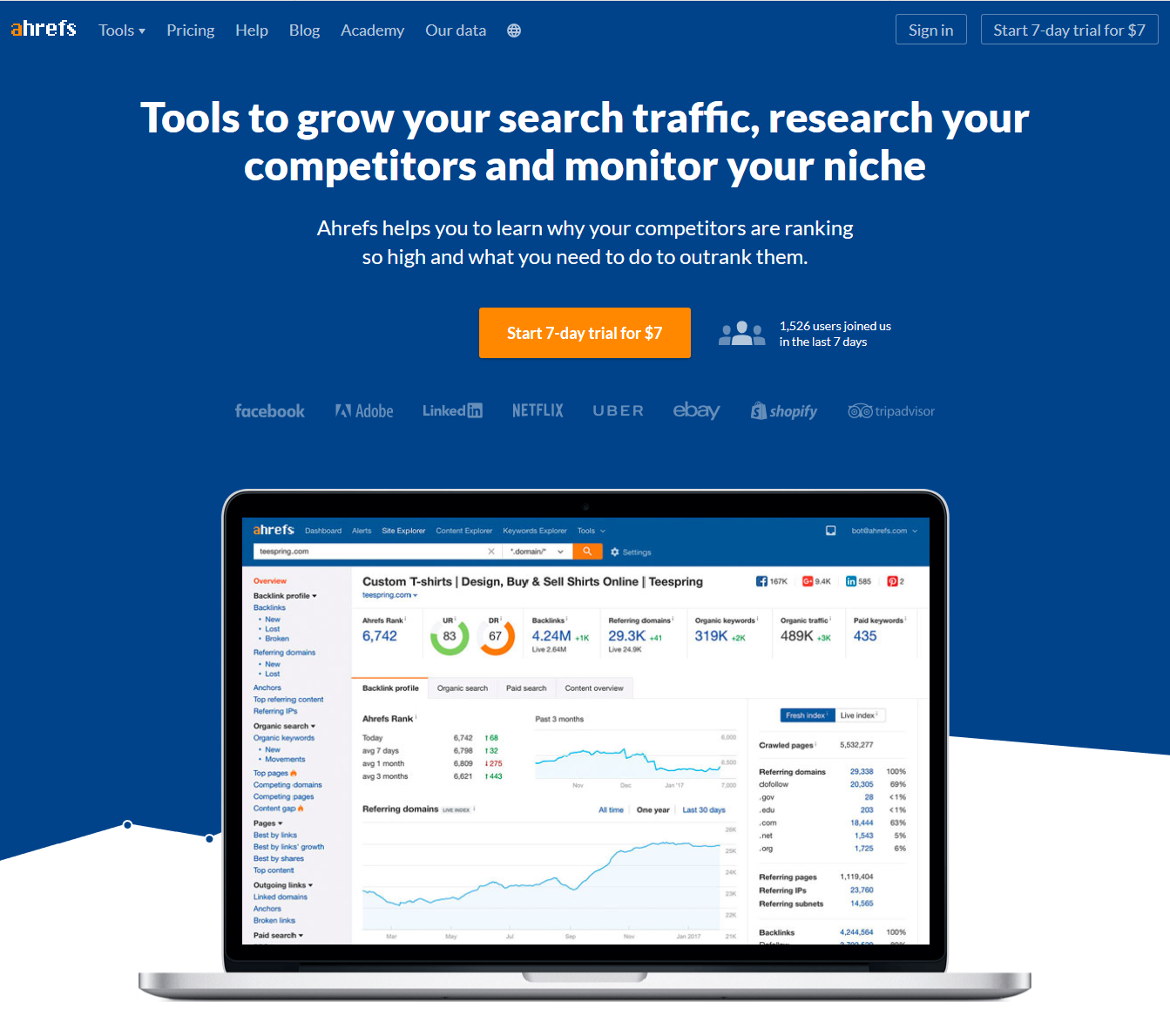 Ahrefs is another SEO plugin that comes with various tools to improve your search rankings and grow your organic traffic. With Ahrefs, you get a detailed organic search report that shows you the exact keywords your competitors are ranking for in search results. It also gives you keyword ideas you can target to increase your search discovery and brand exposure.
Key features
Organic traffic report.
Backlink checker.
Paid traffic report.
Keyword suggestions.
Supports more than 100 countries.
Click metrics.
Advanced metrics like return rate, clicks per search, percentage of clicks, percentage of paid clicks, and more.
SERP overview & Positions History.
Keywords lists.
Social shares.
Shows how many unique websites are linking to what article in your website.
filters and sorting to find the information you need
See what percentage of clicks from organic search traffic land on your website.
See a snapshot of your progress over time.
Track your ranking positions segmented via groups.
SERP features like Featured snippet, Site links, Top stories, Image pack, Thumbnails, Adwords top, Adwords bottom, Shopping results, Knowledge card, Knowledge panel, Videos, Tweets box, People also ask.
See how you stack up against your competitors.
Pros
The best backlink data in the industry .
Extremely valuable keyword data.
Ahrefs's content explorer works great for identifying top content and trends for multiple industries.
The user interface is very intuitive and easy to learn.
Broken link identifier is valuable for broken link building.
Easy to use.
Cons
Can't export graphs.
No "blanket" reporting options.
Download row keyword limits with different plans.
Too expensive.
Price
it's not free so you have to buy it according to many plans starting from 99$/month up to 999$/month.
Buy it from here https://ahrefs.com/
Google Keyword Planner 
Did you know that you can get your own keyword ideas from Google itself by using the Google Keyword Planner tool.
This free tool is offered to Google's advertisers for free and anyone can use it. It's main purpose is to show advertisers the keywords they can bid on for their advertising campaigns. It also helps advertisers choose right keywords by showing them an estimate of search volume, number of results, and difficulty level.
As a content marketer or blogger, you can use this data to find keywords with high search volume, high advertiser interest, and more importantly keywords where you can easily outrank all other sites.
Key features
It's a tool that can give you the most powerful keywords that you can use to raise your rank in SEO.
Pros
Easy to Use.
Easily Export Data.
Unique Multiple Keywords Tool.
Providing alternatives to the keywords and phrases that were originally entered by the user.
Google Keyword Planner tool allows you to include or exclude words from your project. In addition, this tool also allows you to add filters by location, down to the city, as well as language.
Cons
For those who make use of a negative keyword list, this tool doesn't seem to provide that.
For most categories, Google Keyword Planner does not suggest long term keywords.
No indication of trends.
Price
It's free and you can use it from here https://ads.google.com/aw/keywordplanner/home?ocid=228970047&__c=2673904903&sourceid=awo&__u=8676255595&authuser=0
SEOPressor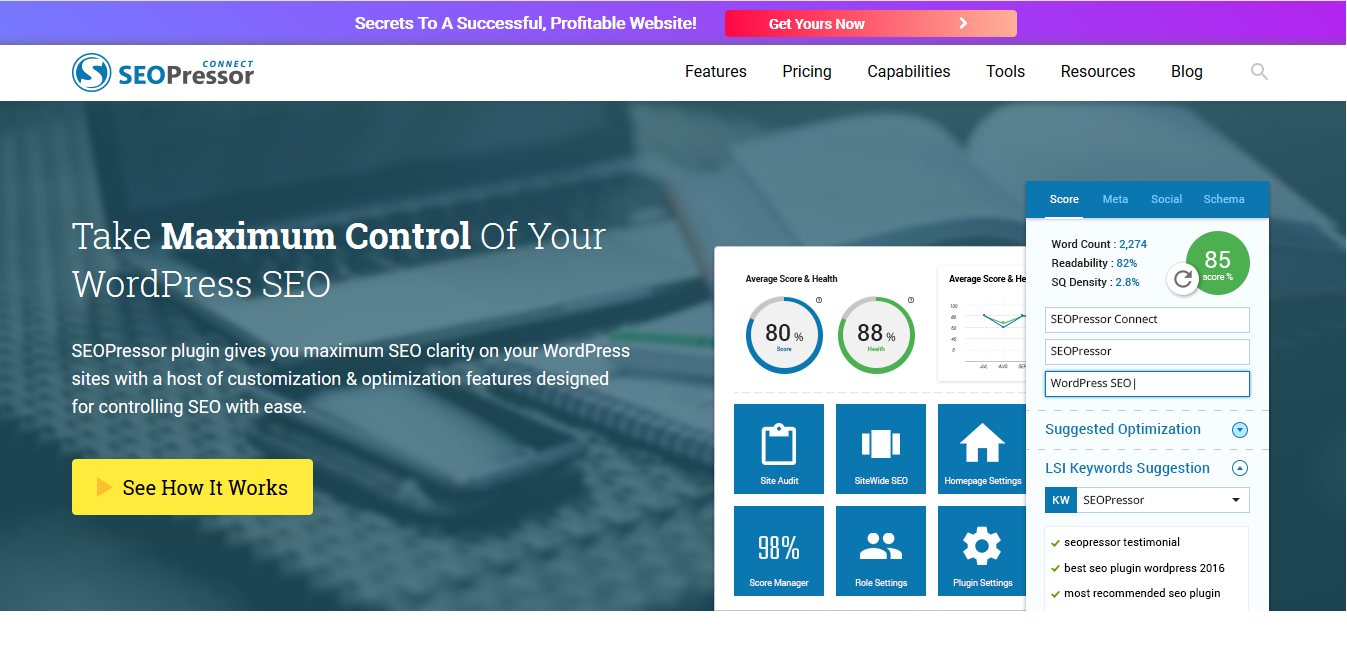 SEOPressor is a SEO plugin. it will provide indicators of your website's SEO performance such as on page analysis, link management and other features.
Key features
SEOPressor monitors your SEO working and helps your site to not get penalized by Google with it's over optimization checking feature.
Keyword SEO score is the feature that will monitor the keyword score of your target keywords.
Automatic smart linking feature allows to automatically add keywords and links to increase average time spent by a visitor on the website.
Easily decrease the bounce rate with the SEOPressor plugin.
You can get complete authority with its dynamic crawler control.
Pros
You can get a 60-day money back guarantee with this SEO plugin, in case you're not satisfied with it.
This plugin is a complete WordPress SEO plugin which will help you to focus on your website's SEO and obtain a ranking.
Offers a basic understanding of SEO.
Suggest and guide the user to make their contextual signal strong for search engine interpretation.
Provides a fundamental understanding of SEO.
Cons
Not so easy for Beginners.
Can negatively affect your website instead of driving traffic.
Poor customer support..
Price
You can buy it for 9$/month.
Buy it from here https://seopressor.com/pricing/
All in One Schema.org Rich Snippet

All in One Schema.org Rich Snippet plugin is used to markup posts/pages with rich snippets. It provides search engines with only the precise and important information to exhibit in search result snippets. Highly interactive rich snippets that contain star ratings, photos, author, price etc help you stand out of the crowd and rank higher in SERPs.
Key features
It gives search engines only the important & precise information to display in search result snippets.
Rich Snippets are very interactive (photos, star ratings, price, author, etc.) to let you stand out from competition
CTR (Click Through Rate)
Helps you rank higher in search results
Helps Facebook display proper information when users share your links on Facebook
This plugin supports the following types of Schemas like  Review, Event, People, Product, Recipe, Software Application, Video, and Articles
Pros
Free
Easy to setup
Supports majority of rich snippet types.
Very flexible WordPress Schema Plugin.
User-friendly.
Cons
Lacks customization and design options.
Doesn't provide support for local business markup.
Price
You can download for free from here https://wordpress.org/plugins/all-in-one-schemaorg-rich-snippets/
BuzzSumo

BuzzSumo is a SEO plugin which  lets you analyze which type of content performs best for any topic and breaks down the performance by various metrics across websites, keywords, etc. You start by entering your keyword into the search box and then discover what content performs best for it.
Key features
Delivering Content Insights.
Instant Search of Last 12 Months.
BuzzSumo shows the share activity across all the major social networks including Twitter, Facebook, LinkedIn, Google Plus and Pinterest.
Advanced Filtering.
Social Backlinks.
Discover interesting and trending content and share directly with your audience.
Find Influencers.
Export Data.
Get Content Alerts.
Competitor Analysis and comparison.
Pros
Gives more information on content that works. (Which will make Google happy).
You can follow the influencers and watch for their strategy and the things on they are working.
You can view backlinks, which will be a gold mine.
With different categories and much-sorted interface, this will boost your work time.
Trending now is helpful to make sure we don't miss any big happenings, topics or ideas in the industry.
Cons
Influencers list available only with their Twitter handles.
No way to add negative keywords in search results.
No suggestions based on previous searches.
It's not free.
Price
You can buy it according to many plans starting from 79$/month up to 500$/month for enterprises.
Buy it from here https://app.buzzsumo.com/account/plans
Google Search Console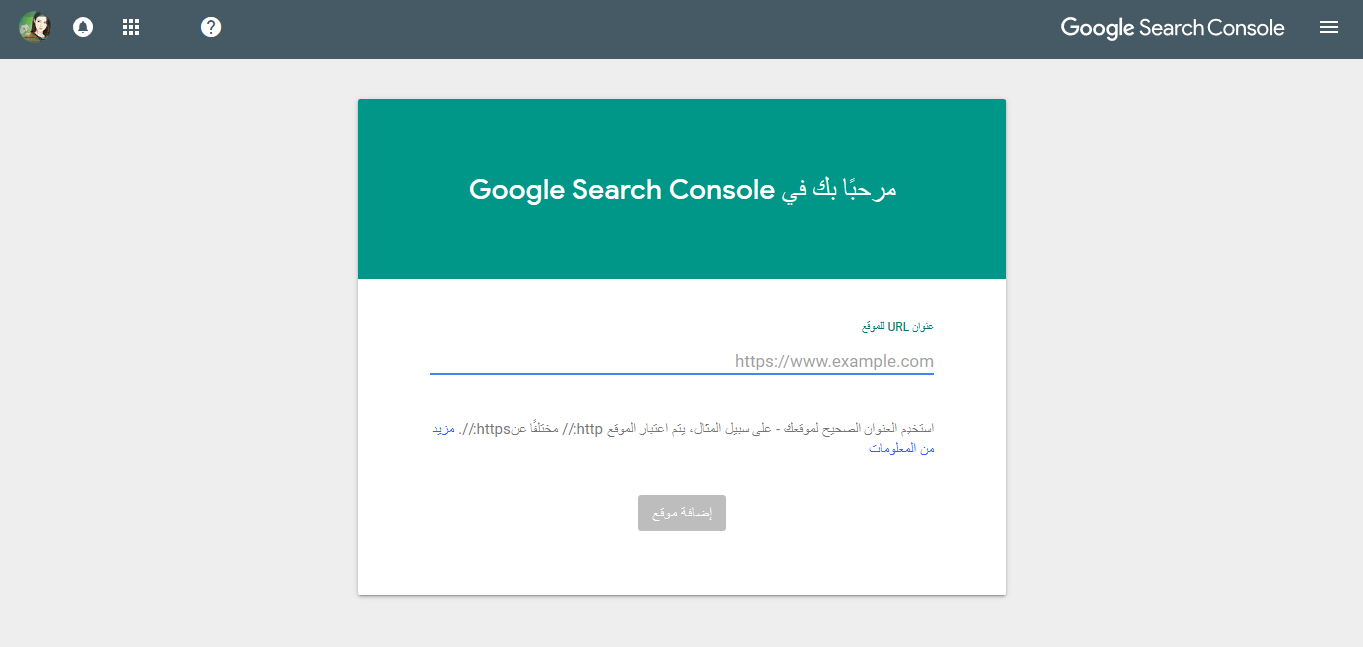 Google Search Console is a free service that gives you detailed insights into your website's performance on Google Search results. With Google Search Console, you can identify how Google views your site and optimize its performance in search results.
Key features
The search queries that triggered impressions and clicks on Google
The device your customers use on Google to discover your site
Your customer's geographic location
The landing pages through which visitors entered to your website
Pros
Clearly flags areas where there are technical errors or "low-hanging fruit" we can address, such as duplicate title tags, security issues, or crawl errors.
Provides an easy way to keep Google up to date on our content/site organization – for example, the ability to upload/update sitemaps.
Offers sortable search analytics that allows you to determine if you're ranking for terms we think we should be, find unexpected search terms, or identify areas of underperformance.
Cons
More instructions about how to correct the errors.
Warnings being 'ranked' somehow to understand what's really a big deal, and what might be a minor issue.
Search analytics is helpful but not comprehensive.
Price
It's free and you can use it from here https://search.google.com/search-console/welcome
Answer the Public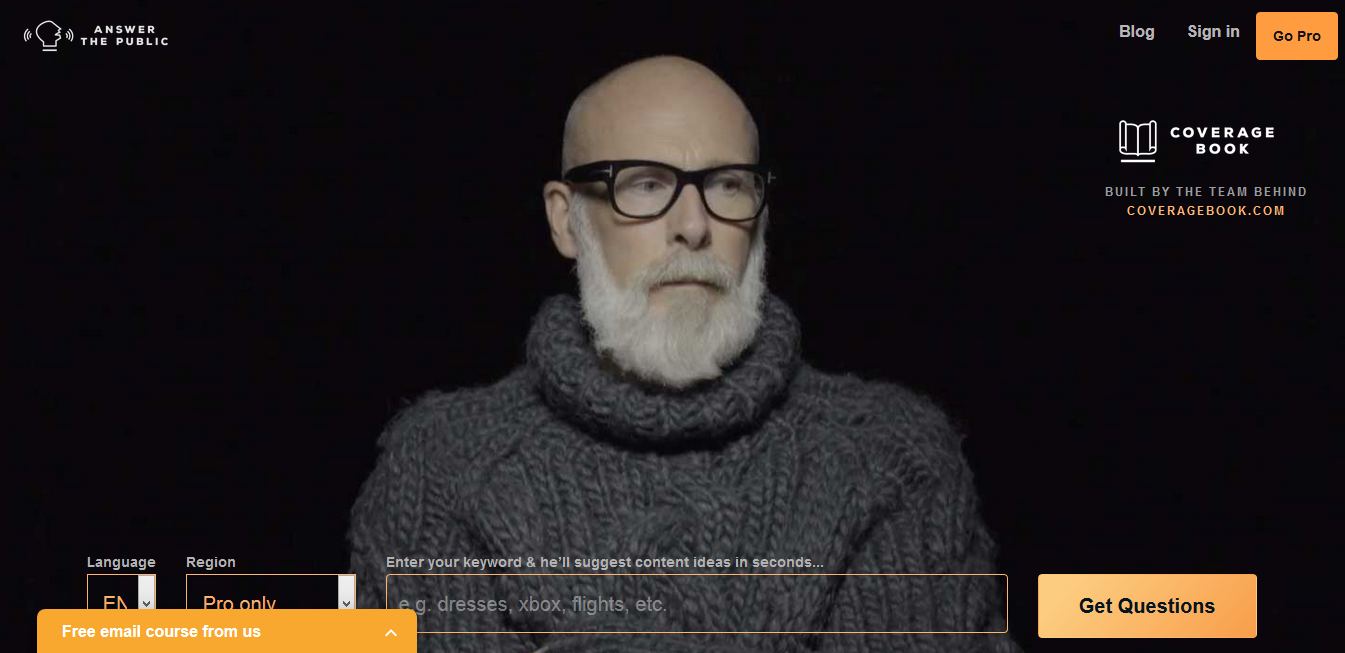 Answer the Public is a free SEO tool that helps you identify the questions your target audiences search on Google. When creating content, you can write answers to these pertinent questions so that your content appears in the results when someone searches on the web.
Answer the Public generates many of different content ideas based on the keyword you entered. After you get some relevant topic ideas, you can shortlist less competitive ones.
Answer the Public is a great brainstorming SEO tool that allows you to create content that is likely to be read, shared, and, most importantly, brings targeted organic traffic to your site.