The best plugins for contact form on WordPress
Your page for contact us on your website is one of the important things that you have to be attention for it. It's one of the contact channels between the company and the customer or visitors. So you can be in touch with your visitors.
If you're using an email call to action instead of a contact form, then users will have to take extra steps to contact you, like opening their default email program, entering your email address, and then crafting their message. But with the contact form the visitors don't need anything instead filling the inputs what you need to reply to them.
So we will list you some of the best contact form plugins to use it on your website.
WPForms
WPForms is an easy plugin to use just drag and drop the needed elements to make the form and launch it on the website. So simple. WPForms offers different types of forms for all the purposes that you may need.
Key features
WPForms offers group of pre-built template that can be used immediately.
It's responsive mobile friendly which you can use on web, mobile, and tablets.
Super easy to use just drag and drop.
WPForms offers notification for each new contact message.
You can create multi page forms in professional way.
You can make the visitors to upload something with the data of the form.
You can add captcha to prevent spam.
WPForms use payment addons to donation forms.
It accepts the addons of mail list application to manage the mails on your website.
Pros
Fast and secure.
Time save and easy to use.
You can use it to add billing forms.
You can customize the method you need to avoid spammers.
Easy to embed with your website If you want to make your own newsletters.
Cons
The free version is too limited.
They didn't support integration with a lot of addons just specified ones.
price
You can use it free but with very limited features but you can use plans from 49$/year up to 349$/year.
You can download it from here https://wpforms.com/
Gravity Forms
Gravity Forms is one of the best WordPress contact form plugins on the market, due to its power, versatility, and easy to use. also comes with advanced anti-spam features, including options to add Akismet and Google reCAPTCHA.
Key features
You can use it to build your form quickly and easily.
Gravity Forms supports over 30 pre-built template for all purposes.
Conditional Logic allows you to configure your form to show or hide fields, sections, pages or even the submit button based on user selections.
Notification via Emails.
With Gravity Forms you can allow your users to save a partially completed form and return later to finish it.
Perform advanced calculations based on submitted field values and amaze your friends.
You can use any addons that can prevent you from spammers.
Responsive design to suit all smart devices.
Pros
Gravity Forms is a powerful contact form plugin for WordPress.
It supports options like FAQs, knowledge base, forums, and email support. This means that help is available when you need it.
It supports integrations with MailChimp, PayPal, Stripe, Highrise, Freshbooks, Dropbox, Zapier and so many more! Integrate your forms with a wide variety of services and applications.
Cons
There is no free version.
Price
You can buy it via group of plans from 59$/year up to 259$/year.
It can be downloaded from here https://www.gravityforms.com/
Ninja forms
Ninja Forms is a premium contact form plugin. You can use it to make highly interactive form easily in no time.
Key features
Ninja Forms uses a dedicated drag-and-drop builder to create your forms and is arguably one of the better-looking options available.
You can fine tune every part of your form  from general settings down to individual fields, submit actions and emails.
You can use it for many other languages.
Pros
Good documentation to be easy to use for developers.
You can download Ninja forms free but you have to pay for some extensions for professional forms.
Cons
Some extensions are very expensive so it can't be suited for small budgets.
price
you can download it for free but with limited features so you can choose between plans from 99$/year up to 499$/year. And you can buy extensions from 29$ up to 129$.
You can download it from here https://ninjaforms.com/
Formidable
Formidable is a WordPress plugin that can be used to make advanced contact forms with complex modifications in easy way. With Formidable, you can collect, display, edit, and filter user-submitted data without any additional plugins.
Key features
You can use Formidable to create dynamic views using format, filter and display the data submitted via your forms in custom Views.
Drag and drop form builder.
Formidable affords multi page forms with progress bars.
You can use Formidable to create graphs and charts.
Smart forms with conditional logic
You can use it to upload files within your form.
smart notification to inform you about new messages.
Responsive forms to suit all device sizes and types.
Pros
You can use it to create highly professional forms within 2 minutes.
It's easy to use for beginners to build professional forms without hassle.
It affords integrations with PayPal, Aweber and Zapier and other more than 15 addons.
Cons
The free version is limited so you need to buy more extensions.
It's new in this market so it has not a big number of addons but it's growing.
Price
You can choose from many plans starts from 49$/year up to 399$/year.
It can be downloaded from here https://formidableforms.com/
Pirate Forms
Pirate forms is a contact form plugin created by Themeisle which is renowned by WordPress themes development company. Unlike most of contact form plugins, Pirate forms doesn't depend on drag and drop to create your form. It depends on some coding to increase the learning curve of anyone using it. To create and embed your contact form, you'll need to use a shortcode and copy it wherever you want it to appear.
Key features
Pirate forms allows you to customize all parts in form as you want.
You can use recaptcha to avoid spams.
It offers SMTP to be sure that you will deliver every message sent by any visitor.
Pros
It comes with easy to use version for anyone who want to make a form quickly.
The free version has limited features so you have to pay for more.
Cons
You can use it to make simple forms but not the advanced one.
Lack of addons.
Price
You can download it for free but if you want to add more features, you have to pay according plans from 89$ up to 199$.
It can be downloaded from here https://themeisle.com/plugins/pirate-forms/
Contact Form 7
Contact Form 7 is the popular contact form plugin. It has been used for more than a decade. It has more than 5 million active installation.
Key features
You can use it in many languages.
It affords the integration with many other extensions like Ajax-powered submitting, CAPTCHA, Akismet spam filtering and so on.
It's customizable.
Pros
It has very powerful documentation and powerful technical support too.
It's completely free so you can use it everywhere anytime.
Most of the addons that can be integrated with Contact Form 7 are free.
Cons
The interface of it is not so simple so you will have some time to finish your form.
There is no official saying about the addons that can be integrated so you have to search some to find out about them.
Price
It's completely free and you can download it from here https://wordpress.org/plugins/contact-form-7/
Wufoo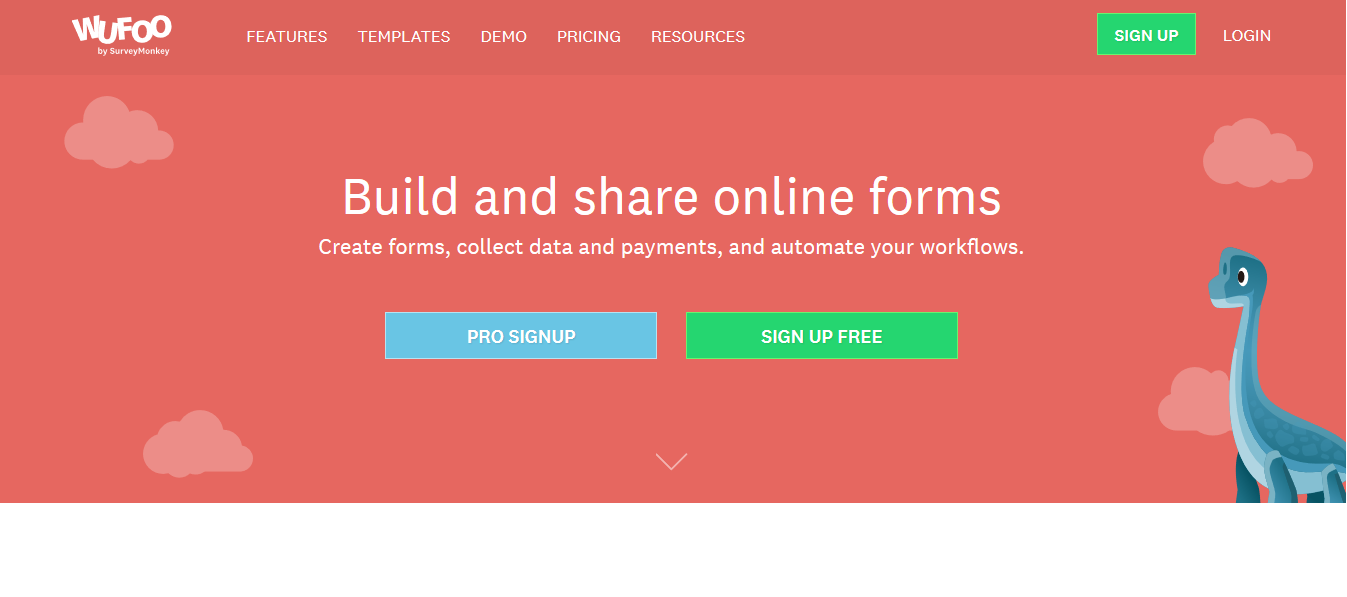 Wuffo is an independent plugin which enables you to create a contact form on any type of websites.
Key Features
Easy and customizable.
Responsive so you can use it on different devices with different sizes.
It offers over 400 pre-built templates.
Use conditional logic to tailor your forms to your users, personalizing their journey.
Track performance and enables you to make customizable reports.
It afford to make payment form with high security.
Pros
Easy to use and bug free.
Easy to set up.
It enables you to build a form from scratch.
Cons
The interface isn't very user friendly.
Email support is pretty slow.
Wufoo offers a free plan that lets you create 5 web forms, but they'll be deactivated once they have exceeded 100 entries per month.
Price
It has free version but It has many plans for more features start from 14$/month upt to 74$/month.
You can download it from here https://www.wufoo.com/
FormCraft
FormCraft is fast, scalable, and lightweight. In addition to including a variety of template options, the premium version lets you embed attention-grabbing pop-up forms to practically any page of your WordPress site.
Key features
It's drag and drop builder so you can use it so easily.
It offers a group of template for all purposes of forms.
The forms that created by FormCraft are beautiful and elegant.
You can build multi page forms.
Pros
You can use FormCraft to build different types of forms and polls and surveys.
It offers analysis and trach tools for advanced forms.
Cons
Its responsivity isn't very good.
Price
It's not free and you can by it for 36$.
You can download it from here https://formcraft-wp.com/
Visual Form Builder
It's a freemium contact form plugin. You can use Visual Form Builder to create multi form in the same page or in the same post. It offers different layout forms and various fields types.
Key features
Using VFB, you can build smart forms in drag and drop easy way.
It saves you a lot of time where you can  build your form in no time.
Solid validation before sending the message and help the user to correct the error.
Enables you to upload attachments within the data of the form.
You can import and export data from or to any other place.
Fully responsive with all types of devices.
Pros
The ability to deliver form submissions to multiple email addresses.
Utilizes conditional logic, letting you display or hide fields based on set rules.
Cons
Lacks much of the versatile payment form creation options offered by other WordPress contact form plugins.
Offers significant limitations as to the kinds of forms you create, compared with other plugins.
Price
You can try it for free but you have to pay for more features from 29$ up to 199$.
You can download it from here https://vfbpro.com/
WP Contact Widget
It's other contact form plugin that enables you to make a professional form with the easiest possible way.
Key features
Using CSS controls to customize your platform.
WP Contact Widget creates highly responsive form.
You can use all types of fields what you need in your form.
Pros
Integrated with Aweber, MailChimp, Campaign Monitor.
You can use google recaptcha to avoid spammers.
It's lightweight so it won't slow your website.
Cons
Price
You can buy if for 29$. from here https://mythemeshop.com/plugins/wp-contact-widget/
There are varity of these plugins with a lot of features that are useful for each application so you have to choose what you need for your website.