The best WordPress translation plugin
You may need to make your website has many language articles to localize your website on different regions and has a bigger market share. To do that, you need translation plugin to achieve this purpose. But you have to be aware of an important point. If you want to create a localized website, then it's in your best interest to hire a human translator rather than using an automated translation service. If you want to allow users to specify a language optionally, then using an automated translator might be the right solution.

WPML (WordPress Multilingual Plugin)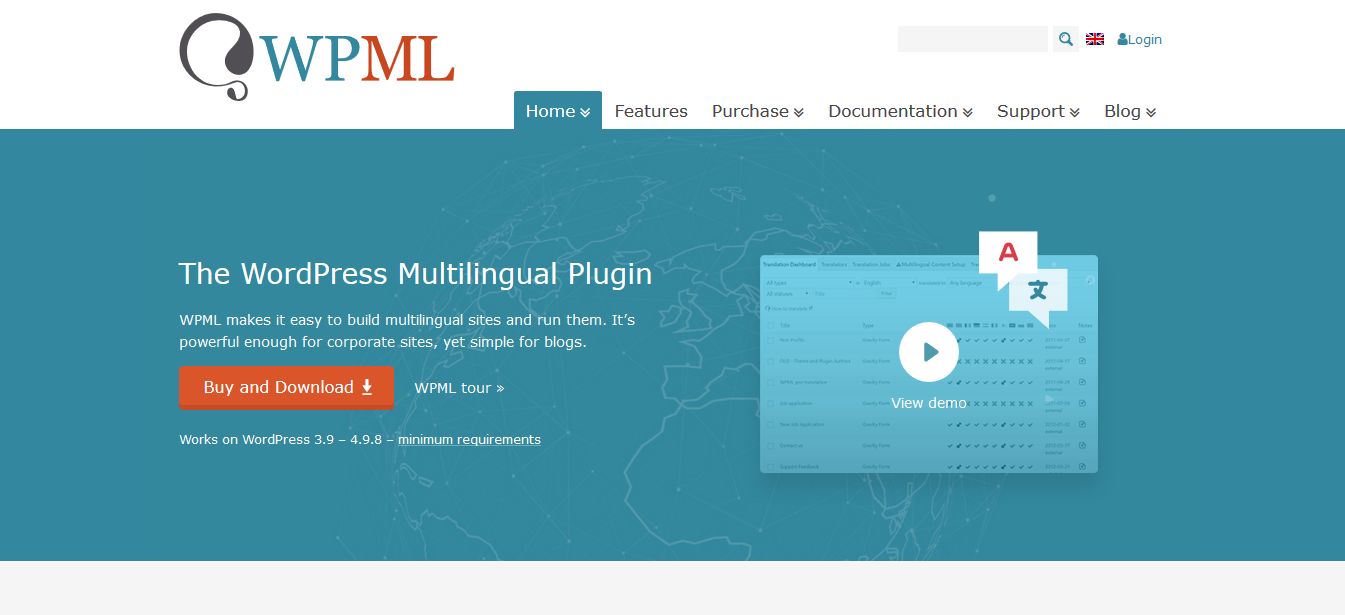 WPML is a premium translation plugin that allows you to translate your posts, pages, and custom post types. It's advised to make a full backup of your site before installing it on your website. Unlike most other translation plugins, WPML is compatible with most major WordPress themes and plugins, so you don't have to patch your themes or plugins to make WPML work. It even allows you to translate web copy created with popular drag and drop page builders.
Key features
You can arrange different language contents in the same domain, in sub-domains or in completely different.
WPML comes with state-of-the-art translation management.
Multilingual e-commerce sites with WooCommerce.
You can translate texts in other plugins and in Admin screens directly from the String Translation interface.
Professional translation.
Translate posts, pages, custom post types, taxonomies, menus and even theme strings.
Translation platform inside the plugin to get your content translated, reviewed and edited by professionals.
Pros
Powerful support.
Available in both Multilingual blog and CMS version.
Guarantee to back your money for 30 days.
Compatible with most WordPress themes.
Cons
It's not free.
Complicated somehow for beginners.
Work only on WordPress version start from 3.9.
Price
You can try the free version as a demo but you have to buy it for 29$.
Download it from here https://wpml.org/
Polylang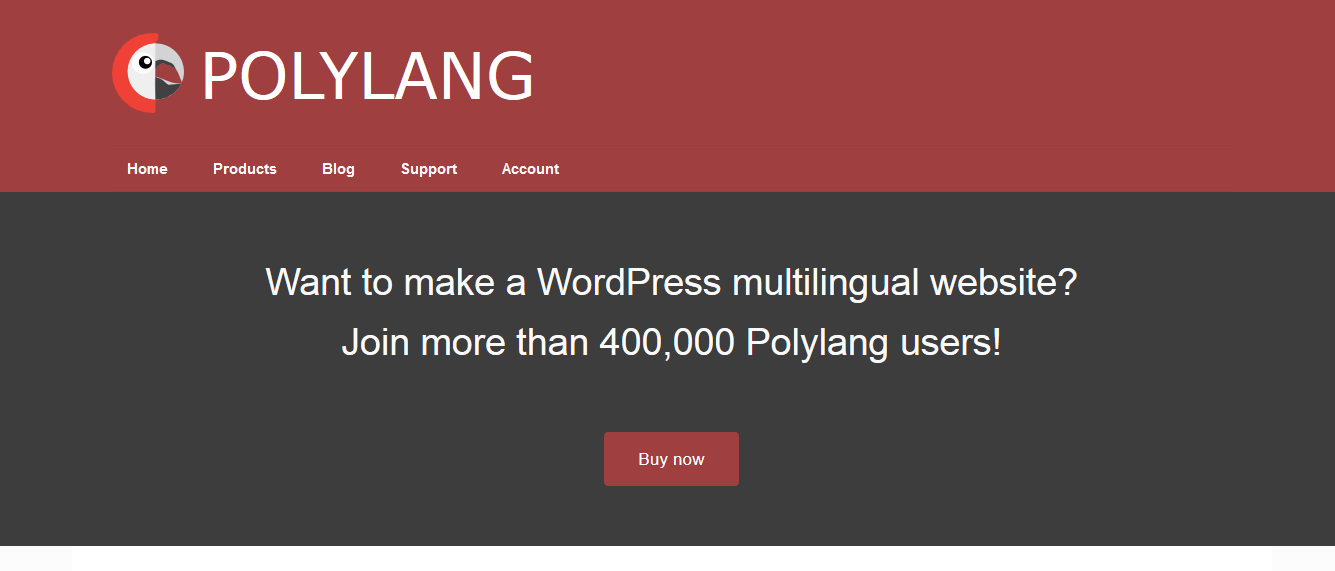 Polylang is one of the most popular WordPress translation plugins that allows you to easily create a multilingual WordPress website. You can use as many as languages as you require with Polylang. WordPress language packs are automatically downloaded and updated.
Key features
Translating all types of content either custom taxonomies, widgets, navigation menus as well as URLs.
Polylang doesn't use any extra tables and doesn't rely on shortcodes which are long to evaluate. It only uses WordPress' built-in core features.
SEO friendly.
The plugin offers support for 41 languages.
Pros
Easy and efficient to use.
Doesn't require a lot of memory or harm the performance of your website.
Compatible with most cache plugins.
Can be downloaded for free.
Language switching via widgets or menu.
Supports RTL and most WordPress themes compatible.
Use a subdomain or separate domain for each enabled language.
Cons
Its features are not robust.
Translation has to be done manually.
Price
You can download it for free but for more features you have to buy it for 99$ for one site.
Download it from here https://polylang.pro/
Gtranslate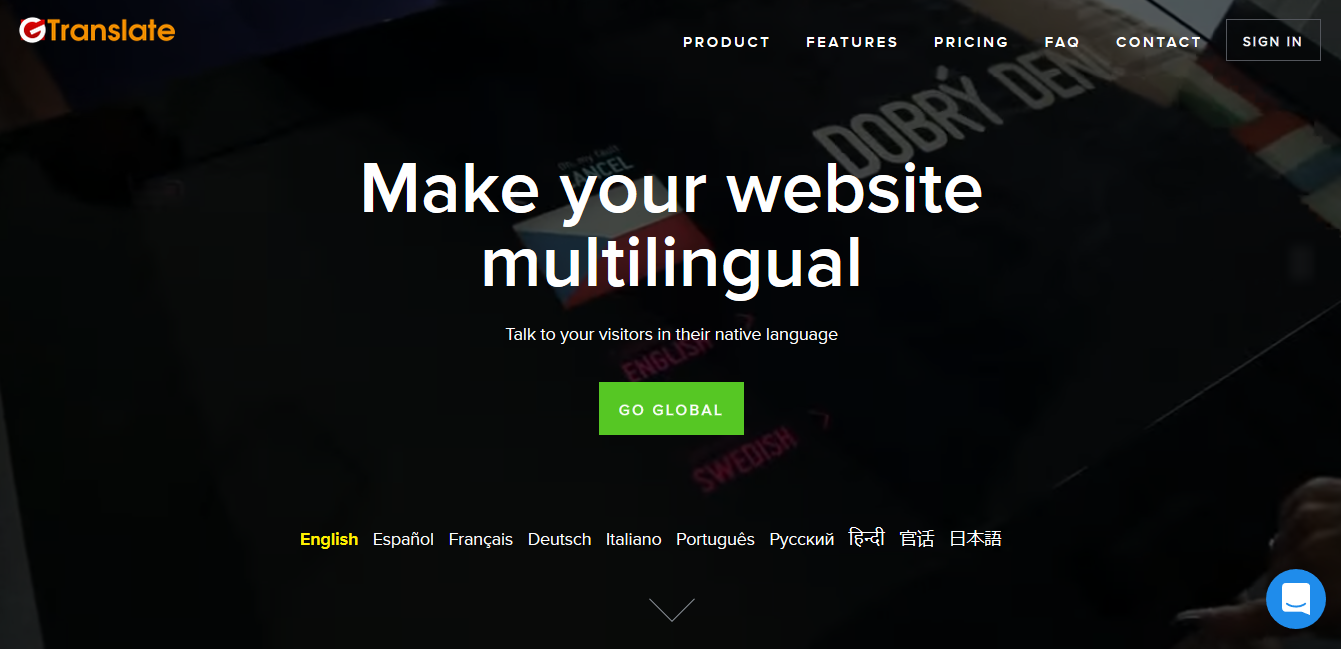 Gtranslate is yet another powerful language translator plugin for WordPress. Powerful because it can translate any HTML website and currently empowers over 500000 multilingual websites worldwide. As a result, it happens to be one of the best ways to increase the number of visitors to your site.
Key features
Search engines will index your translated pages.
You will have your website translated instantly upon installation.
You will be able to edit the translations manually with our inline editor directly from the context.
Statistics about the translations and the usage of it.
You can have a separate domain for each language.
Translated URL.
Up to date service.
Pros
SEO friendly.
Free version is available.
More than 100 languages available.
Free automatic Google automatic machine translation.
Integrated with Google analytics.
Cons
The features are limited for free version
Price
You can use it for free but for more features, you have to buy it for 6$/month up to 35$/month.
Download it from here https://gtranslate.io/
Lingotek translation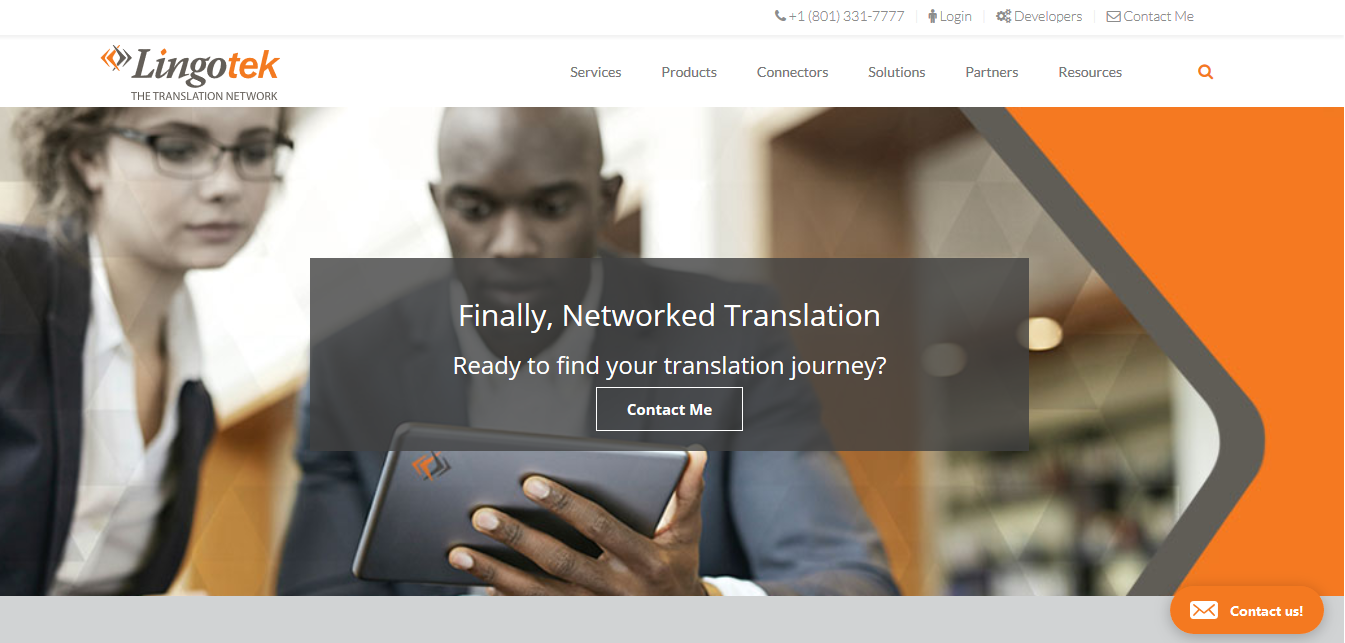 Lingotek is translation plugin which is based on cloud. It is one of the best WordPress translate plugins. This plugin offers a very easy way to create and handle multilingual sites via convenient cloud-based localization and translation. Lingotek prudently blends automated machine and crowdsourced translations so as to create and maintain a multilingual website easily. If you are tight on your budgets, this plugin offers a free automatic machine translation option.
Key features
100,000 characters free machine translations via Microsoft Translator API.
Offer as many languages as you want.
Translate posts, pages, categories, tags, media, menus and more.
Built-in professional text editor for translations.
Language switching via widget.
Finished translations can automatically be published.
Customized translation based on the industry.
You can depend on their cloud for translation.
Pros
Real-time Monitoring.
Supports RTL language scripts.
Support more than 5000  translators.
Cloud-based localization and translation.
You can use the admin interface for translation and dealing with it..
Cons
Translated posts need arrangement because it loses categories and images.
Price
You have to contact customer support to know the price.
More details from here https://www.lingotek.com/
MultilingualPress

Multilingual Press is another WordPress translation plugin that lets you run each language on a separate site. It comes with a language switcher widget allowing your visitors to choose the language of their choice. Upon clicking their preferred language, your visitors will be directed to the respective language site you've set up.
Key features
Set up unlimited site relationships in the site manager.
Edit all translations for a post or page from the original post editor without the need to switch sites.
Show a list of links for all translations on each page in a flexible widget.
Translate posts, pages and taxonomy terms like categories or tags.
Add translation links to any nav menu.
SEO-friendly URLs and permalinks.
Automatic hreflang support.
Support for custom post types.
Automatically redirect to the user's preferred language version of a post.
Duplicate sites.
Quicklinks.
User specific language settings for the back-end. Every user can choose a preferred language for the user interface
Doesn't affect the output of the front-end.
Pros
Language Manager with 174 editable languages.
It's free.
Cons
Doesn;t translate menus or categories.
Price
It's free.
Download it from here https://wordpress.org/plugins/multilingual-press/
xili-language

xili-language is a powerful translation plugin available for download from the official WordPress plugin repository. To be able to run xili-language successfully, you'll have to use a translation-ready theme on your site. Since fewer than half of the themes in the WordPress repository are translation ready, it's highly recommended to double-check your theme before installing the plugin.
Key features
Readable interface with a list of titles.
xili-language uses a custom taxonomy to specify language of post, page and custom post.
API that enable you to personalize your theme's behavior.
Automatic selection of language in theme according to the language of displayed post, series of posts, page or articles.
Pros
Continuous updates.
Powerful documentation.
Using the same structure as WPML
Cons
Not compatible with all themes.
It can be complicated on beginners.
descriptions of settings is not always clear.
confusing way of doing things.
does not separate languages nicely in admin dashboard.
Price
It's free.
Download it from here https://wordpress.org/plugins/xili-language/
Loco Translate

Loco Translate is among the most popular translation plugins for WordPress, with over 500,000 active installs. Loco Translate helps you translate your WordPress themes and plugins directly in your browser.
Key features
Built-in translation editor within WordPress admin.
Create and update language files directly in your theme or plugin.
Extraction of translatable strings from your source code.
Native MO file compilation without the need for Gettext on your system.
Support for PO features including comments, references and plural forms.
PO source view with clickable source code references.
Protected language directory for saving custom translations.
Configurable PO file backups with diff and restore capability.
Built-in WordPress locale codes.
Pros
Easy to use.
Very accurate.
Excellent for developers.
Cons
Issues can be caused after uninstalling.
Late updating.
Price
It's free.
Download it from here https://wordpress.org/plugins/loco-translate/
Google Website Translator

Google Website Translator is yet another translation plugin that brings the power of Google Translate to your website. The plugin allows you to use both a widget and a shortcode.
Key features
Easy set up, including simple settings with inline help that everybody can understand.
Include all the 3 inline and all the 4 tabbed styles.
Select the available languages.
Use it as a widget and as a shortcode.
Practically null impact on page loads.
Import/Export settings to easily transfer configurations.
Pros
It's free.
Powerful documentation.
Based on google translator.
It's quick and support your website speed.
Integrated with google analytics for supporting monitoring features.
Cons
there is no way to incorporate context.
The quality of translation is dependent on the language pair.
Produced translations may contain significant grammatical errors.Google
Translate does not have a system to correct for translation errors.
Price
It's free.
Download it from here https://wordpress.org/plugins/google-website-translator/
Warning
Since most multilingual plugins will modify your database significantly, it's highly
recommended to back up your database before experimenting with any multilingual plugin.