The best WordPress gallery plugin for media
Images are an important component in any website. Especially, If your website depends on images in large scale. The images will be so messy when you depend on images without a way to arrange them. Gallery plugin is a tool which you can depend on to arrange images in albums and handle their appearance, size, and other many features.
NextGEN Gallery
One of the most powerful gallery plugin available today for WordPress sites is famously known as NextGEN Pro. The plugin provides great functionality to its users, making the whole online photo-surfing experience memorable. This gallery plugin provides amazing features which enhance the overall look and feel of your online gallery.
Key features
Thumbnail gallery.
Mosaic gallery.
Film gallery.
Masonry gallery.
FilmStrip gallery.
Side Scroll gallery.
Blog style gallery.
Gris album.
List album.
Lightbox.
Open graph.
Twitter card.
Proofing.
Hover caption.
Image browser gallery.
Pros
Fully responsive design.
E-commerce functionality.
Integrated commenting feature.
Easy to use.
Highly responsive.
Cons
Limited gallery layouts.
On the pricier end of the scale.
Poor training and difficult support.
There are some bugs and the team is working on solving them.
Price
You can download it for free and for advanced features, you have to pay according to plans starting from 99$ up to 299$.
Download it from here https://wordpress.org/plugins/nextgen-gallery/
Modula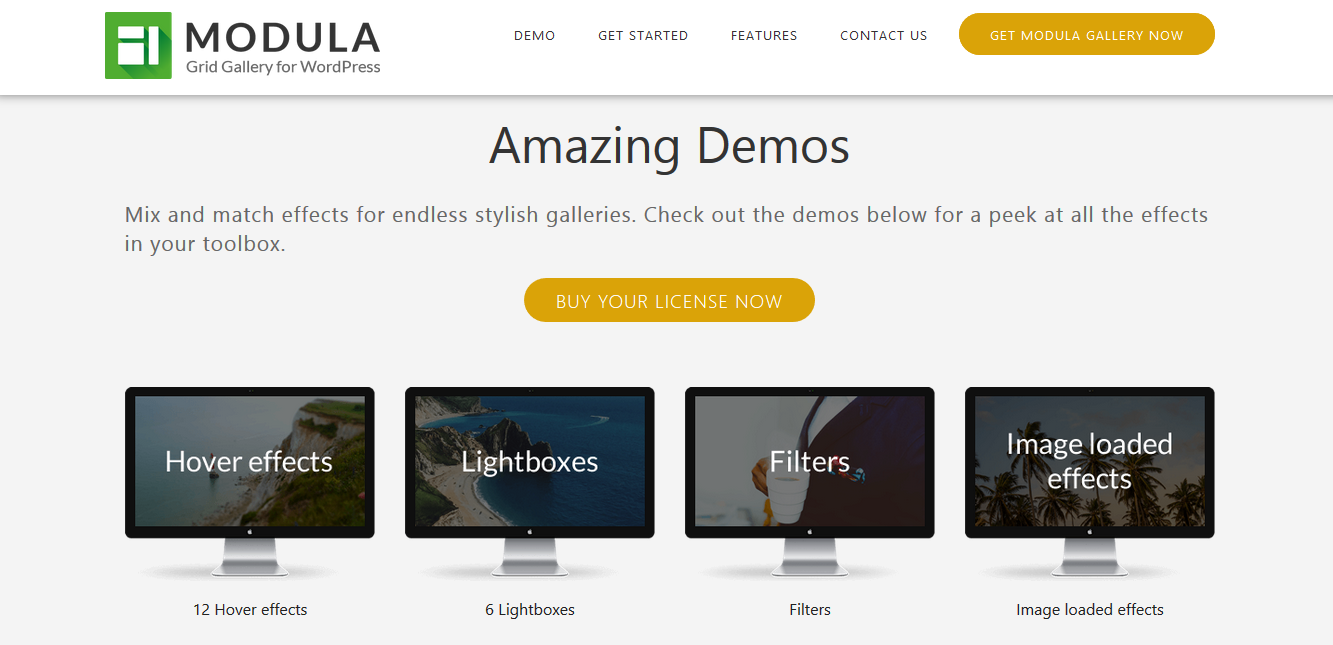 Modula is a freemium WordPress gallery plugin from Macho Themes that helps you quickly create interesting grid galleries without the need for any special customization. Essentially, you specify a width, height, and minimum image size. Then, Modula puts all of your images together into a responsive gallery that looks great.
Key features
Stylish grids that go beyond the boring squares.
Filtering the gallery with single click.
Add multiple galleries to the same page.
Add custom captions with animations and colors.
Built-in social sharing buttons.
Choose from 12 different hover effects.
Pros
Responsive to suitable all devices.
Continuously updating.
Build your own effects.
Easy to use.
Cons
Depending on your lightbox gallery choice, you might not be able to deep link to specific images.
The free version has a max of 20 images for each individual gallery.
Price
You can download a demo for free but with limited features so you have to buy the pro versions with price from 19$ up to 49$.
Download it from here https://wp-modula.com/
Envira Gallery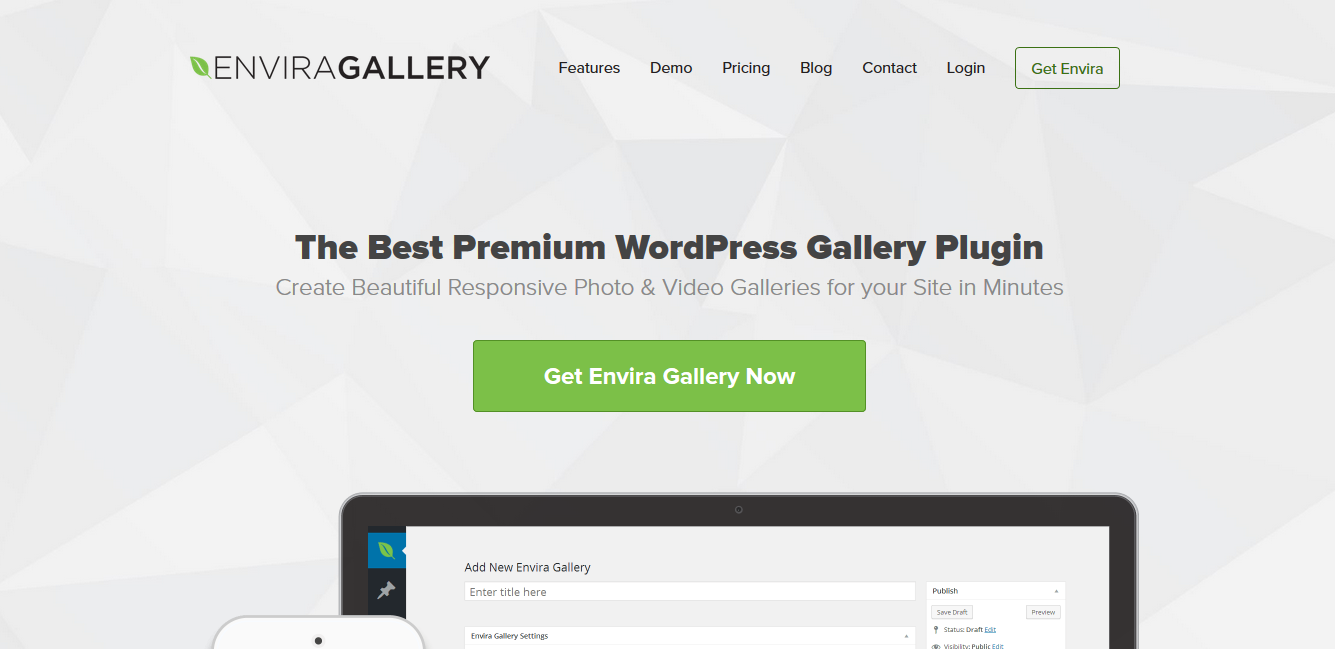 Envira Gallery is the both easy to use and powerful. It comes with a set of pre-built templates that let you easily customize the look and feel of your gallery.
Key features
Pre-built templates.
Create independent galleries that are not tied to your posts or pages.
Supersize Lightbox Images.
Albums addons.
Social sharing addons.
It can work on videos too.
Watermarking addons.
Slideshow addons.
Help you to make your gallery SEO friendly.
Manipulating your gallery as you want in one page or post or split it.
Pros
Easy to use, just drag and drop.
Highly responsive to suit any device.
Compatible with ecommerce.
Can be integrated with other plugins.
Supporting images and videos.
Cons
Bronze and Silver plans don't have all of the features.
Free edition has very limited features.
Price
You can download a demo for free but you have to buy the pro version according to plans starting from 29$ up to 299$.
Download it from here https://enviragallery.com/
FooGallery
FooGallery is a freemium photo gallery plugin from FooPlugins that helps you create responsive galleries using a few different layouts.
Key features
Creating images and video gallery.
Built-in display templates.
Simple categorization.
Beautiful advanced gallery creation.
Lightbox support.
Pros
Supporting and training.
Easy to use.
Visual editing.
Can be integrated with other tools.
It's free.
Cons
No option for social sharing.
Price
It's free and pro version with 49$.
Download it from here https://foo.gallery/
Photo Gallery by WD
Photo Gallery is a fully-responsive WordPress gallery plugin that allows you to showcase interactive multimedia galleries. Within a single gallery, you can add both images and videos. The Photo Gallery plugin is shipped with 4 easy-to-use widgets that smoothly blend into any WordPress theme.
Key features
Unlimited photos and albums.
10 built-in templates.
4 outstanding widgets.
Easy to customize.
Watermark protection.
Comments on media.
Social sharing.
Pros
Easy to setup and manage.
Supporting images, audio, and video.
Compatible with ecommerce addons.
Cons
Support is limited for free and personal package.
Price
You can download it for free but for more features, you need to buy it according to many plans starting from 30$ up to 99$.
Download it from here https://web-dorado.com/products/wordpress-photo-gallery-plugin.html
Gmedia Gallery
Creating beautiful and fully responsive galleries has never been easier. With Global Gallery plugin for WordPress sites, you can set your very own, custom gallery up in minutes. As a photographer or a visual image creator, you would be really annoyed by the fact that you cannot post all of your images or photos/videos onto your gallery. This powerful plugin takes care of that problem by enabling you to add unlimited image sources and create huge beautiful galleries in just a few clicks.
Key features
Widget for Album and for Gallery.
Comments on images.
Cover for the album.
Add tags, assign categories and group images in albums.
Image Editor with Filters.
Pros
Integration with WordPress Search.
Working on images and videos.
Highly responsive.
3 gallery layouts, 8 lightboxes
Slider and carousel included.
Cons
Limited customization options.
Price
It's free and you can buy it from 29$ per license.
Download it from here https://wordpress.org/plugins/grand-media/