The best WordPress booking plugin
If you want to make a website which is specialized in booking something like events, hotels, flight tickets, you need to get a booking plugin which will help you to achieve the functionality without a lot of coding. The booking plugin will handle the numbers, booking, and payment.
Pinpoint Booking plugin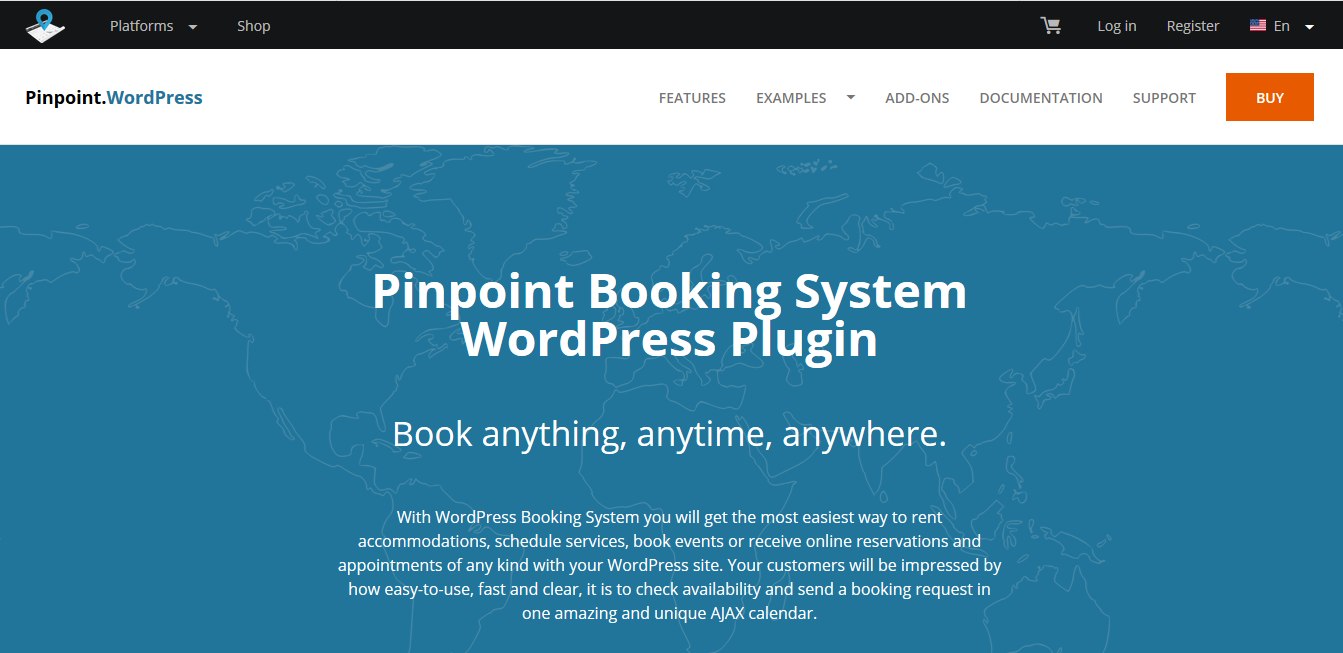 Pinpoint Booking plugin is not limited to hotel room reservation option only. It will perfectly serve your other hospitality business needs as well. The plugin generates a booking calendar which can be put with each room and provides the visitors with the option to book a desired accommodation.
Key features
No-brainer booking process for users – it's performed on one page without reloading.
Minimalist calendar view.
Responsive design.
Ability to create and display unlimited number of calendars on the site.
Website admin can add, approve, reject, cancel or delete a booking request.
Admin/user notifications and different confirmation modes.
Full WooCommerce integration (ability to set coupons, discounts, taxes & fees to display on the checkout page).
Ability to add extra services with/without prices while guests check out.
Ability to put booking calendar into the sidebar.
Multicurrency support.
PayPal (online) or Cash on arrival (offline) payments support.
Pros
The extended license provides lifetime updates and support.
Multi-language backend and frontend support.
Support multi-formats for date and time.
Supporting multi-site.
It can serve your other booking needs (like event booking, for example).
Multiple language support for both frontend and backend functionalities.
Cons
Doesn't support rates.
The pro version is quite expensive.
If you need any additional payment gateway other than PayPal, you'll need to purchase extra addon for it (2Checkout, Icepay, etc.)
Price
You can download it for free but for more features you need to buy it for 70$/year for 1 site up to 825$/year for 25 site.
Download it from here https://pinpoint.world/wordpress-booking
Booking Calendar

Booking Calendar is a booking plugin which gives you  multipurpose functionality, booking calendar. It included in the list of tops by getting 40,000+ "active installs". This particular plugin can be used for a variety of online booking services. Booking Calendar plugin has grabbed much attention since 2009. Because of its flexible functionality and intuitive interface.
Key features
Responsive design to be suitable with different devices.
Email notifications for guests and administrator such as cancel or confirmation etc.
Fully customizable calendar texts and designs.
Designed with the help of best Ajax technologies that let the visitors complete their bookings faster on the same web page.
You can conclude it with the sidebar of your website.
Pros
Available with backend and frontend demo.
Multiple bookings setting in a single calendar for the same day.
Supporting multi-languages.
Facility to mark selected dates in the calendar.
Cons
Pro versions are expensive.
Backend dashboard is quite complicated as compared to the simplified frontend.
Suitable for  small business only.
Price
You can download it for free but for more features you have to buy it according to plans starting from 59$.
Download it from here https://wordpress.org/plugins/booking/#installation
Travelpayouts booking plugin (Hotels and Flights)

Everyone needs the cheapest hotels and flights. Travelpayouts is the best WordPress Flight booking plugin to install on a WordPress website. You can get forms, widgets, and tables installed on your WordPress website with just few clicks. It's a wonderful option for your booking flights and hotels.
Key features
Search forms.
Hotel widget.
Featured with auto-links.
Hotels map and cheap prices flights.
Amazing 11 customizable tables along with flight information.
Pros
Top flight destinations widget is available.
Availability of table along with flights, forms for search forms and widgets for flights and hotels searches.
Cons
High minimum payout for bank accounts ($500), while minimum payout for PayPal is $50.
Payment is just once per month. However, in case of an emergency, a partner can request early payment.
Hard to earn on low-cost airlines.
Price
You can download it for free but for more features, you have to buy the pro version.
Download it from here https://wordpress.org/plugins/travelpayouts/#installation
Salon Booking plugin

Salon Booking is a complete and easy to manage appointments booking system to help your business getting more reservations on your website and saving a lot of time with your agenda management tasks.
Key features
Adding reservation from daily view.
Block time slots from daily view.
Bookings export.
Email notifications.
Custom email message to the customers.
SMS notifications.
Customizing the booking rules.
Multiple payment gateways.
Synchronization with google calendar.
Supporting discount systems.
Frontend and backend booking options.
Reports about reservations and the behaviours of the visitors.
Pros
Featured in back-end calendar that allows monthly, weekly and daily views.
Booking export facility.
Custom emails and notifications to the customers.
Email reminders to the customers.
Synchronization with Google Calendar.
Provides direct booking link.
Allow online payments along with pay later or fixed amount deposit options.
Cons
Suitable for only salon bookings.
Manual booking confirmation.
A limited number of services.
Price
You can download it for free but for more features you need to buy it for 69$/year up to 250$/year.
Download it from here https://wordpress.org/plugins/salon-booking-system/#description
Appointment Booking

Appointment booking plugin is a well-known plugin with self-service scheduling process for one on one appointment and classes ad group events. This particular appointment plugin is exclusively easy to use and can be integrated with any WordPress developed website. It involves reduced communications at the time of event registration and appointments booking. Perfect to facilitate the businesses to respond their client's requests along with assigning clients to different staff members.
Key features
Schedule appointments & meetings.
Book services with you and your staff.
Confirm or reschedule appointments & services.
Request a callback.
Register for events.
Sign up for classes.
Pay for services and invoices.
Send messages.
Share documents and files.
Take and action – 24/7 and on any device.
Pros
Different services to choose from.
Automate follow-ups for appointments to ensure that your clients are in touch with your business. Apart from this, customization facility for follow up options for each service.
Mobile and user-friendly plugin as it can run on any mobile device so allowing the clients to book and schedule their time with you anytime and anywhere!
A variety of time zone adjustment.
Fully customization of Color, images, and texts.
Cons
Pro version is expensive somehow.
Price
You can download it for free but  you have to buy it for 29$/month for more feature up to 99$/month.
Download it from here https://wordpress.org/plugins/meeting-scheduler-by-vcita/
Bookly
Bookly Lite is a booking plugin that lets you automate booking and online scheduling of your services, save time and money, manage your appointments and client base – all in one place. There are 16000 businesses all around the world that have already automated their booking process using Bookly as booking plugin.
Key features
Responsive on any device.
SMS notifications.
View bookings and payments stats for each customer.
send next day agenda to a staff member.
View calendar in monthly/weekly/daily format.
Filter, search, sort and export your booking list to CSV.
Automatically approve or cancel appointments.
Customize every step of your booking form, including editable headings, texts and buttons.
Multi-language support.
Pros
Easy to use.
User friendly interface.
Booking automation.
Wonderful visual customization and robust backend admin features.
Fully customizable with Google calendar synchronization and online payments.
Best for time and cost savings, no need to do anything after your booking is confirmed.
Offers CVS export of different payments reports and appointment records on the WP dashboard.
Built-in feature for form building.
Cons
In terms of tech support of Bookly is quite slow.
Only one site per license.
Price
You can download it for free but for more features, you can buy more features for 89$.
Download it from  here https://wordpress.org/plugins/bookly-responsive-appointment-booking-tool/#description
AweBooking

Awebooking is a well-coded booking plugin with an excellent user interface, perfect for any hotel, hostel, motel, BnB or any kind of accommodation website. Awebooking brings you easiest way to setup any reservations quickly, pleasantly and easily, rent accommodations with detail services, receive online reservations.
Key features
Room type and rooms.
Multi locations.
Extra services.
Pricing management.
Room availability management.
Block dates.
Multiple Rooms Booking.
Booking Management.
Booking Note.
Check available widget.
Email notification.
Minimum/Maximum Nights.
Tax addition.
Shortcodes.
Multilingual Ready.
Fit With Your Theme.
Online payment.
Booking form builder.
Price breakdown.
Enhanced calendar.
Image gallery.
iCalendar.
Simple reservation.
reCAPTCHA.
Fast book.
User profile.
MailChimp.
Fees.
Customization for Rules.
Elementor integration.
Pros
Developer Friendly.
Facility to enable collection of multiple rooms for booking.
Admin toolkit is very user-friendly.
Availability of Backend and frontend demos.
Cons
Most of the users report some types of bugs related to AweBooking.
Frontend does not let you place a test booking.
Allow booking with a single hotel but with multiple rooms.
Price
You can download it for free but you have to buy it for more features starting from 89$/year up to 389$/year.
Download it from here https://wordpress.org/plugins/awebooking/#description
You may want to customize your appointment booking form to meet your business requirements. However, there are few common things that you should look for in your WordPress booking plugin.
Your appointment booking form should be able to accept customer requests for available time slots divided into your business hours. It should work on mobile phones, so that your customers can easily book appointments from their phones as well as computers.
A good appointment booking form will save appointments in your WordPress database or a calendar app like Google Calendar. You may also want to send an automatic email notification to customers once their booking is accepted. So take a look about all the booking plugins that mentioned before and try what is more suitable for you.