The best WordPress backup plugin
You have to deal with your website as something precious which if something bad happened to it you have to be ready for that. You need to make a repeated or scheduled backup for your whole website to avoid any loss in your data for all cases. WordPress backup plugin can do the job for you without a lot of effort or advanced technical knowledge.
Why backup plugin?
Your hosting provider will assure you of daily backups, but don't rely on them. They may accidentally delete your account or files. If you forgot to make the payment or something goes wrong you may lose all of the hard work, you put into your website.
Due to the internal problem from your hosting provider's data center. You may risk losing your website.
Your website is infected with the virus, so your hosting provider closes your account.
UpdraftPlus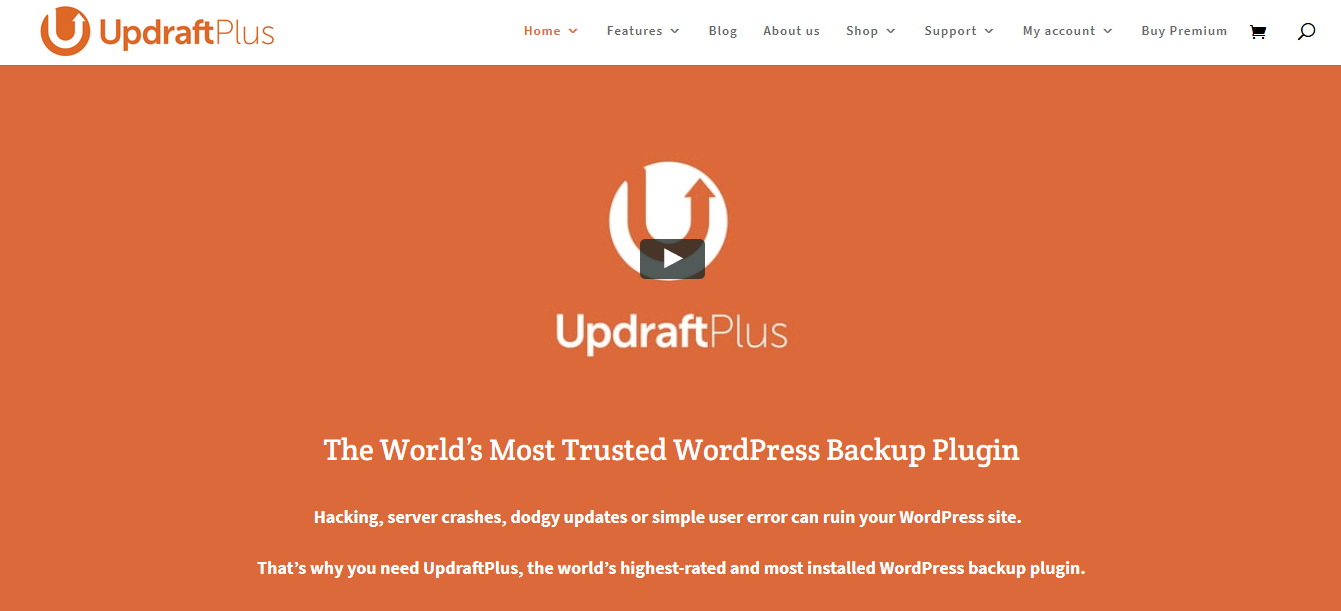 UpdraftPlus is a WordPress backup plugin and it's one of the best. It's been rated as the most popular backup plugin for WordPress, with over a million active installs.
Key features
Proven to backup sites of 100GB; file size only limited by Web host.
Backs up limitless non-WordPress files and external databases.
WP-CLI support
Supports both manual and scheduled backups.
Automatically backs up when plugins or dashboard themes update and before WordPress core updates run.
Central place to store, manage and disconnect backups.
Database backups can be encrypted for security.
Encrypted transport to cloud storage.
Pros
compatible with multi-sites.
Easy to use.
Support backup storage on many other clouds like google drive, dropbox, amazon, and others.
Imports and restores from backups made by other backup plugins.
Consumes less memory during usage.
Fast backup, restoration and migration services.
Cons
To access crucial functions like Cloning and Migration, multisite support, encrypting database, etc are available with the paid version.
The excellent customer support is for premium version.
Price
You can download it for free but you have t buy it for advanced features according customizing price starts from 70$ up to 195$.
Download it from here https://updraftplus.com/
VaultPress
Are you the type who wants to have it all? If so, then purchasing the premium service of the Jetpack WordPress plugin will give you access to this nifty backup plugin. VaultPress not only does backups, it also protects your website from bots and other security threats.
Key features
Scheduled backup.
Restore any VaultPress backup to your WordPress site over an FTP or SSH connection. Or transfer your site to another location.
Scanning your site automatically and notify you of potential security issues.
See your site's most productive and popular times based on post and comment activity.
Pros
Supporting multi-sites.
Easy to review suspicious code and fix the most common threats with a simple button click.
30-day backup archive helps you easily restore website data from your desired date.
Monitors for possible downtime.
Easy to use just click some buttons.
Cons
VaultPress is not available in the free version of Jetpack and you have to buy it separately.
Some users report their sites slowing down a bit.
Does not work without Jeptack.
Price
There is no free edition but you have to buy it starting from 39$/year up to 299$/year.
Buy it from here https://vaultpress.com/plans/#
BackWPup

A WordPress website has a lot of components like comments, posts, pages, plugins, themes, widgets, and so on. BackWPup is an expert when it comes to dealing with every aspect of a WordPress site. Backup, export, import, and optimize database with this WordPress backup plugin.
Key features
Complete backup for the whole website comments, posts, pages, and other website component.
Encrypt Backup Archives.
Administration of log files.
WordPress XML-Export.
Multi-site support.
Checking errors in database and fixing them.
Pros
You can download it for free.
Integration with google drive, dropbox, amazon, and other cloud services.
Complete WP files and database backup.
Easy to use for beginners and developers.
Easy backup and restoration.
Cons
The premium version may be expensive for backup plugin.
The plugin is not very mature which there are reports about bugs and authors are working on them.
Price
You can download it for free but for premium version you need to pay a price starting from 69$ up to 349$.
Download it from here https://wordpress.org/plugins/backwpup/
BackupBuddy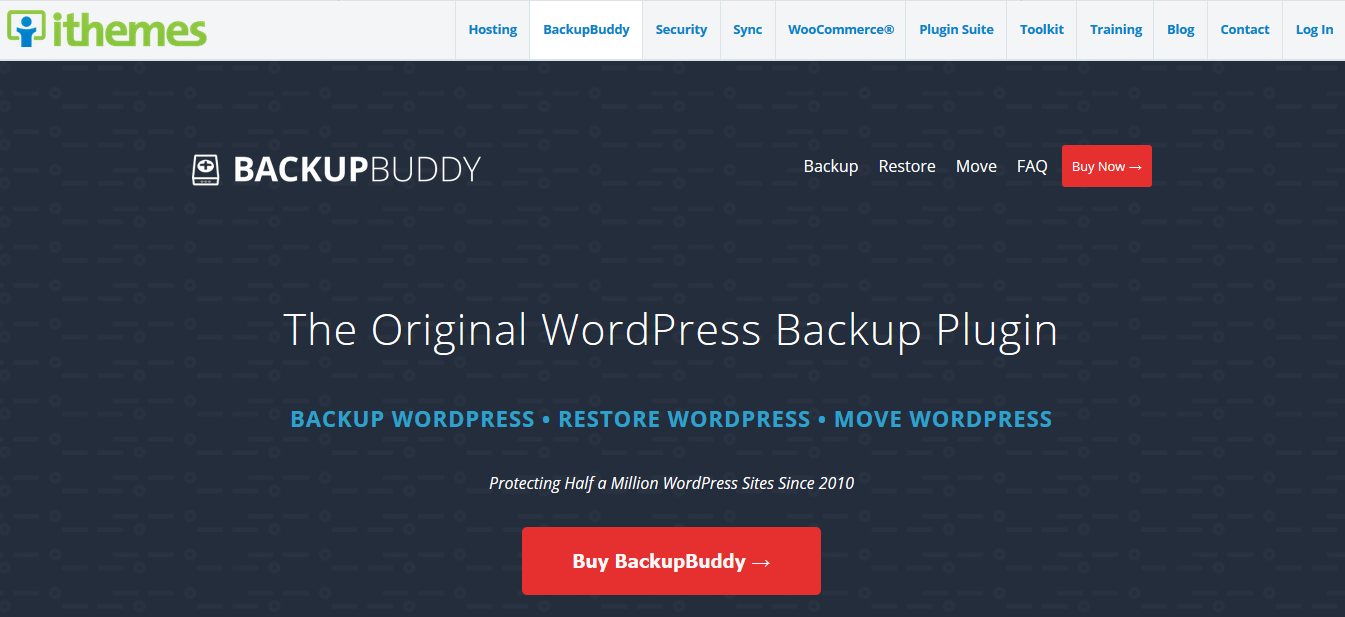 BackupBuddy is one of the backup plugins which has millions of active users. With this WordPress backup plugin, you can backup your entire website from your WordPress dashboard with just few clicks. You can schedule automatic backups, send your backup files to a remote secure location, and restore your files quickly.
Key features
BackupBuddy backs up everything on your WordPress website
Scheduled, automatic backups.
Store WordPress backups off-site.
Restore your WordPress website quickly & easily from a backup.
Downloadable zip file for the backup of the entire website.
Email notification about the progress.
Pros
You can customize the parts which you want to put in the backup.
Easy to use just few clicks.
Manage up to 10 WordPress websites with iThemes Sync.
It performs malware scanning and troubleshooting operations as well.
Cons
One of the most expensive backup plugins for WordPress users.
May make the website slower during the backup.
Some of the features are complicated for beginners.
Price
You have to buy it according to many plans which starts from 80$ up to 197$
Buy it from here https://ithemes.com/purchase/backupbuddy/
BackUpWordPress

BackUpWordPress is simple and easy to use backup plugin, it is available for free. BackUpWordPress allows you to take backups manually and automatically. Then only limitation with BackUpWordPress is in free version it won't upload auto backups to other services like dropbox or google drive. For this you have to use paid plugin.
Key features
Super simple to use, no setup required.
Manage multiple schedules.
Option to have each backup file emailed to you.
Uses zip and mysqldump for faster backups if they are available.
Works on Linux & Windows Server.
Exclude files and folders from your backups.
Translations for Spanish, German, Chinese, Romanian, Russian, Serbian, Lithuanian, Italian, Czech, Dutch, French, Basque.
Pros
Good support should you need help.
Works in low memory, "shared host" environments.
Free.
Easy to use.
Lightweight.
One of the fastest backup plugins.
Cons
The backup file is pretty large.
some of features need some technical knowledge.
Price
It's free.
Download it from here https://wordpress.org/plugins/backupwordpress/
Duplicator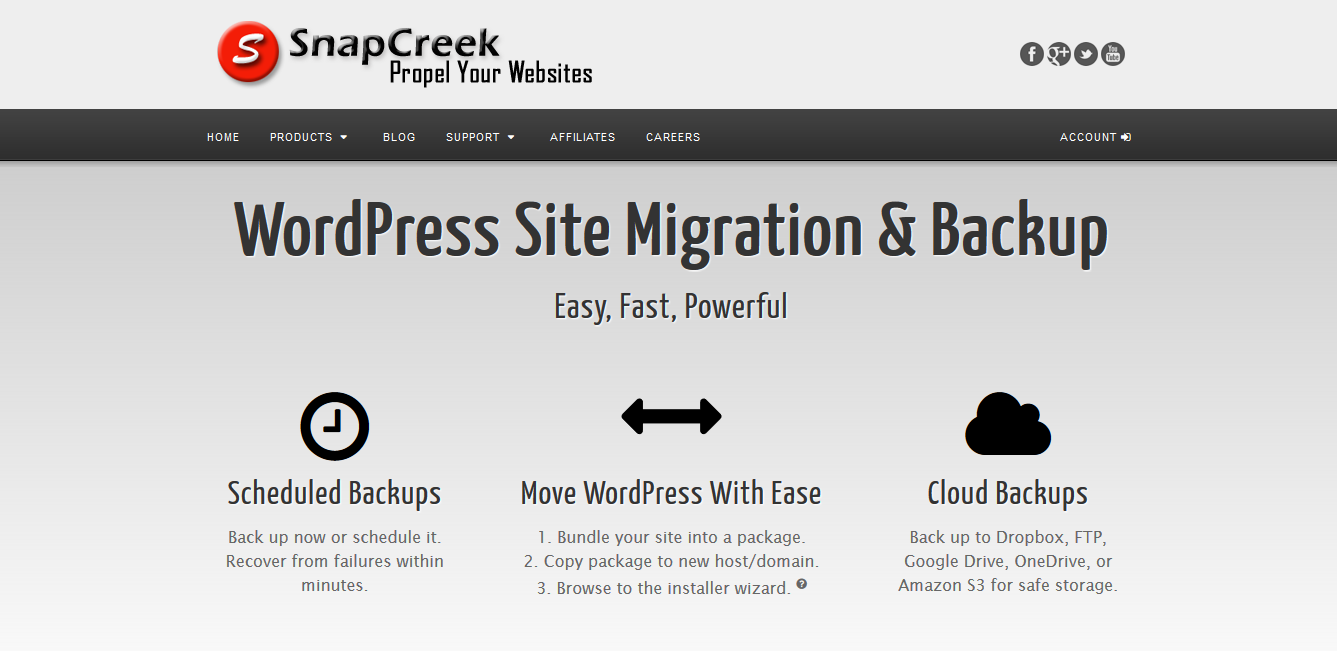 Duplicator makes it easy to backup all your WordPress files in zip format, so you can download them offline, migrating across the same or different servers.
Key features
Scheduled, automatic backups.
All about backups in a simple page.
The clean & simple package creation screen.
Email notifications.
Importing from other files or database.
Pros
Supporting integration with cloud services websites like google drive, dropbox, amazon, and others.
Easy to use.
Multi-site support.
Customizing the parts in backup.
Easy to use WordPress Migration Tool.
Cons
Auto backups are available with paid version.
Advanced features aren't  available in free version.
Price
You can download it for free but for advanced features, you need to buy the premium one for a price starts from 59$ up to 349$.
Download it from here https://wordpress.org/plugins/duplicator/
How to choose WordPress backup plugin?
It may depends on your budget but you will find the free backup plugin that you need from the previous list. Then you need check some other points.
Backup methods:
Some plugins allow you to only backup your WordPress database.
Some plugins let you backup your entire website, including your database and all WordPress files.
Scheduling  backups to run automatically, giving you peace of mind.
Backup location:
To improve security, all good WordPress backup plugins support sending your backup files to remote locations such as Dropbox, Google Drive, or Amazon S3. That way, you can easily restore your files, even if your entire website gets hacked.