The best WordPress analytics plugin for more traffic
The information and statistics are very important to improve anything. So if you launch your website, you will need to know some analysis and reports about the traffic and visitors to know how to improve your website content more and more to get the best benefits from your website. This article will learn you about your favorite WordPress analytics plugin with all options to help you to improve yourself.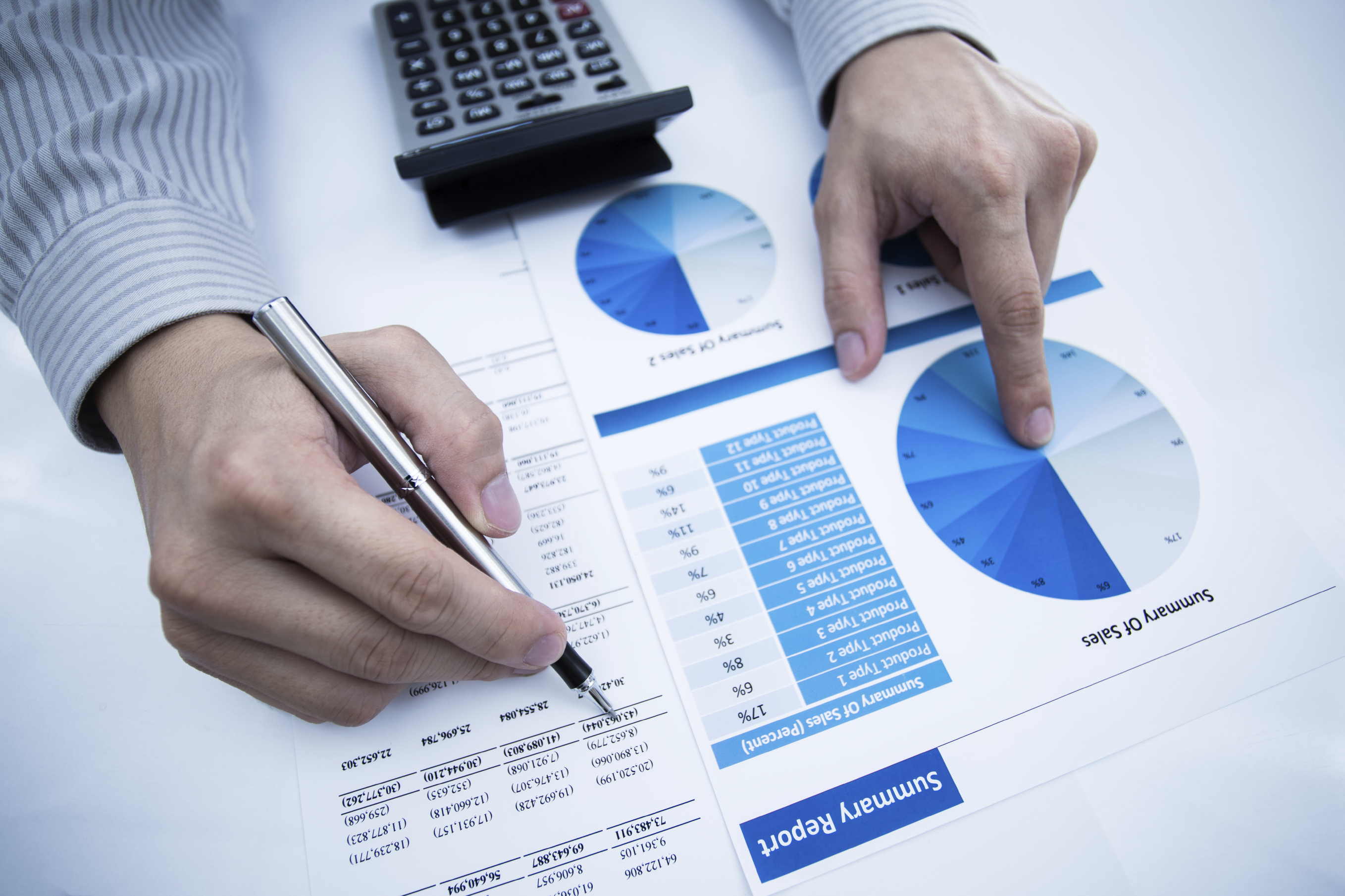 Google Analytics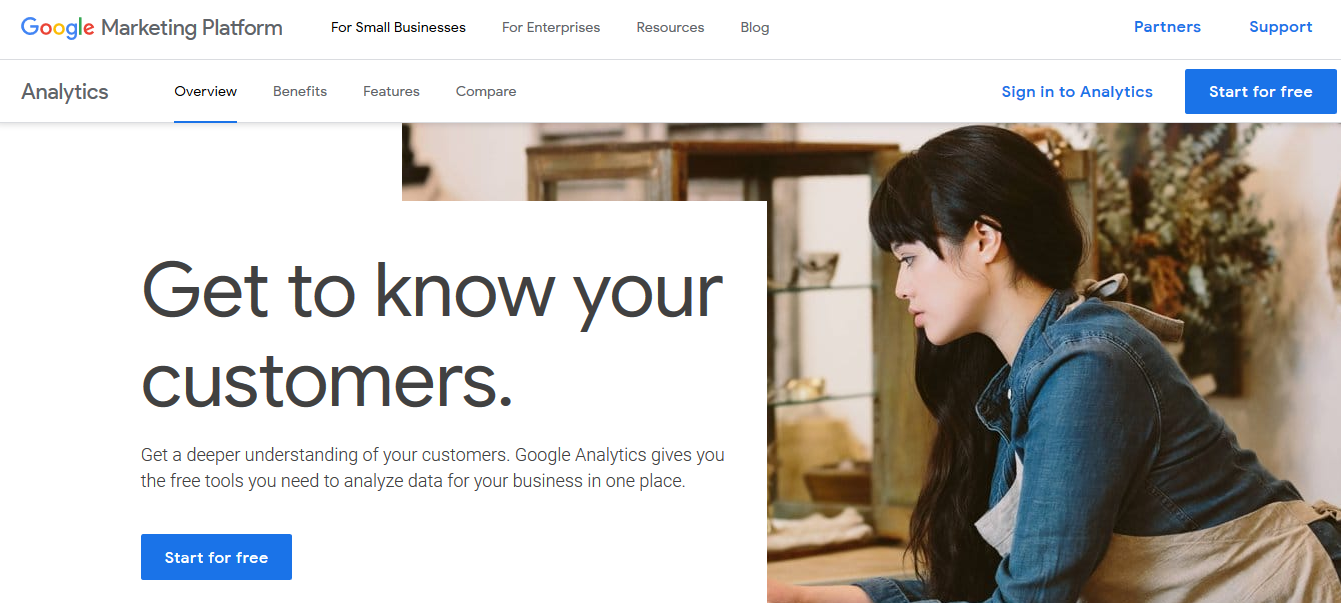 It's the core for all other analysis plugins. Every other analysis plugin built on the same core to develop more features or improve the performance.
Key features
Insights and machine learning capabilities to help get the most out of your data.
Analytics is built to work with Google's advertising and publisher products.
Reports about all parts in the website audience reports, advertising, acquisition, real-time, user flow, and others.
Data analysis and visualization.
Data collection and management.
Pros
It can be integrated with Google Ads, Google Adsense, and all services of google.
Super easy to implement Google Analytics into your blog.
It's free of charge so everyone can use it.
You can use it on different digital environments such as websites, mobile applications, kiosks, or anything that has an internet connection
You can also collect data from different platforms and sources.
Creating custom goals and tracking your ecommerce platform.
Creating custom reports based on your needs.
Google provides free training online.
Cons
The information is sometimes hard to find, may be confusing, and overwhelming.
There are too many dashboards and too many things to look at.
The free version of Google Analytics suit almost anyone, but if your traffic is high and you'd like to upgrade to Premium, the price is $150,000 per year.
Creating custom reports is somewhat limited.
Price
It's free but the premium version is for 150000 $/year.
https://marketingplatform.google.com/about/analytics/
Momently Analytics plugin
Momently is a new WordPress analytics plugin that offers group of actionable data. You can track all of the things you'd expect and a lot more.
Key features
All the data you need about views, visitors, times, and the time that every visitor spend on the website.
Reports about the behavior of the visitors about the articles.
Access your data any time anywhere on mobile or browser.
Pros
Easy to install.
The data you can get out of Momently is actionable.
Dig a lot deeper into content analytics than other platforms.
Give you the full picture.
Allows you to separate reports about  pages and posts.
Cons
Has a lot of settings and data to configure.
It's new so it lack other options but it's improving fast.
The free version only supports 3,000 page views each month and saves data for 3 months. But if you're just getting started, that will be perfect.
Price
You can download it for free at the beginning but after the growing of your business you can buy it from 9$/month ut to 29$/month.
You can download it from here https://momently.com/pricing
MonsterInsights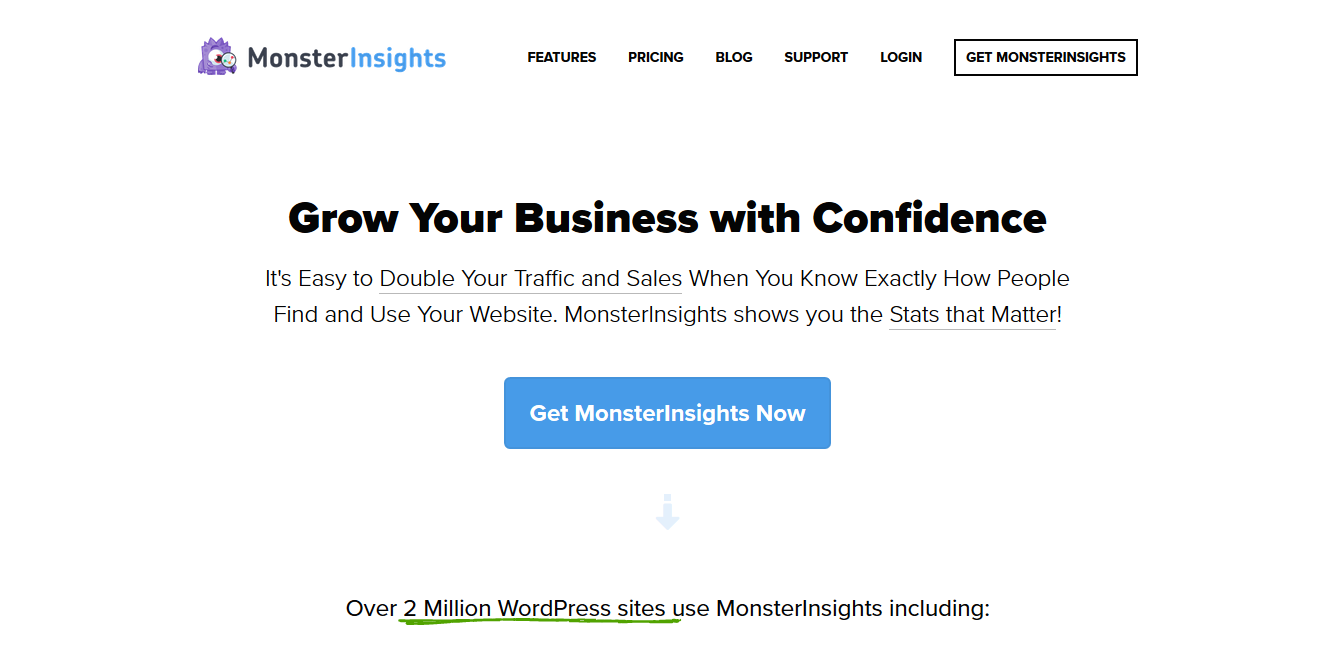 With over 1 million active installs, MonsterInsights is Google Analytics plugin for WordPress and considered as one of the best. MonsterInsights makes it super easy to connect your website to Google Analytics and offers comprehensive tracking features.
Key features
Give you updated stats in real-time.
It can be integrated with Ecommerce and WooCommerce and EDD to track sales ecommerce website.
Collect data  from any digital device and get the whole picture on your website.
Ads tracking.
File download tracking.
Pros
Quick and easy to setup.
It can be integrated with google Ads and banner Ads.
You can customize the data that you need.
It depends on Google Analytics dashboard so it's easy to deal with it.
Reports are simple and clear.
Easy to follow instructions help with the implementation process.
Cons
Free version is limited in its features.
Updates are released without proper testing.
Price
You can download it for free but you can buy the pro version from 124$/year up to 499$/year.
https://www.monsterinsights.com/
Heap Analytics plugin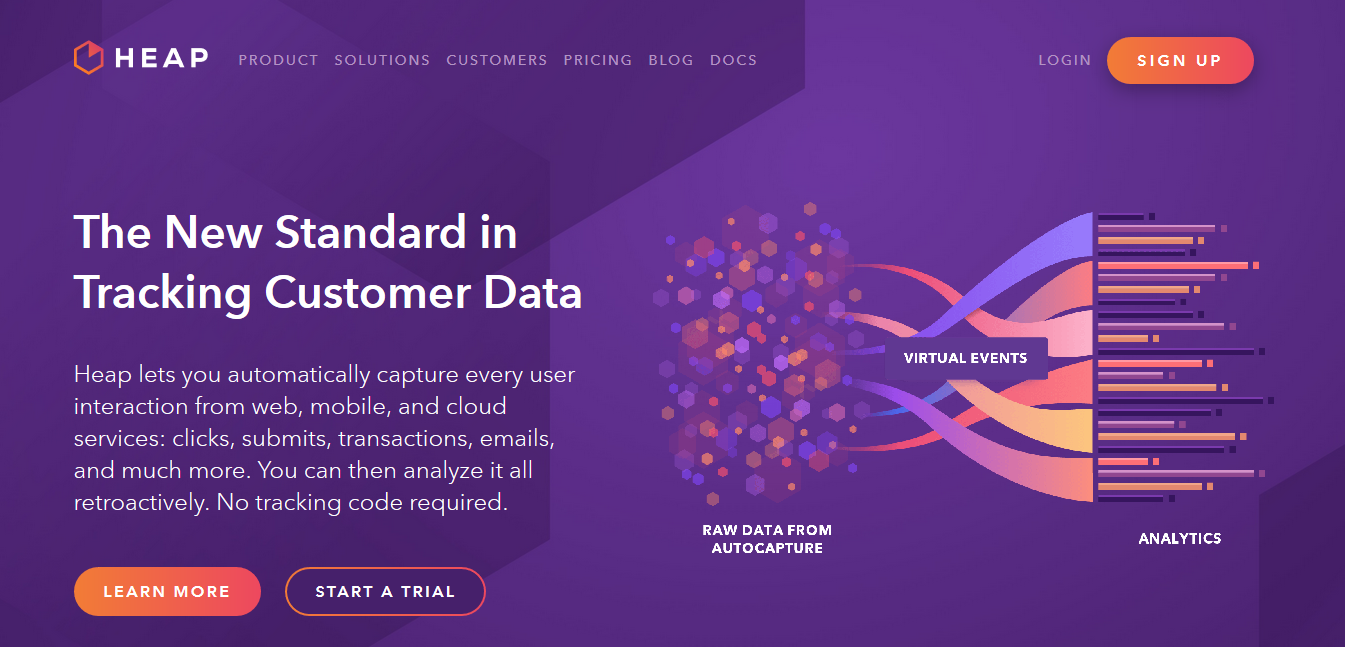 Heap allows you to track every event on your website or mobile app automatically. For example, on the web, Heap tracks clicks, form submissions, and more without any work on your part. On mobile, Heap tracks every touch, swipe, tap, and any other gesture-generated event without any configuration.
Key features
Autocapture Behavioral Data
Make Changes Without Breaking Data
Automatically tie every event to a user to create a holistic view of your user.
Retroactively merge anonymous and identified users across devices, channels, and platforms.
Track feature adoption and the effects on overall retention.
Pros
Focus on automatic events tracking whereas Google Analytics can only track page views automatically.
Very easy to use, but also incredibly powerful.
it helps to get user details on the basis of journey that we have set, easy to use and user friendly.
Analyze the behavior of my web application users. It's easy to create graphs and funnels.
Use custom rules to join Heap and third-party data without APIs.
Cons
Reading the data and setting up reports had a bit of a learning curve but it worked great nonetheless.
The initial tutorial is fairly user intuitive.
May need an advanced documentation or training.
Price
You can download it for free but you can buy more features according to many  plans start from 299$/month then you can customize your needs and get your price.
Download it from here https://heapanalytics.com/pricing
Clicky Analytics plugin (by Yoast)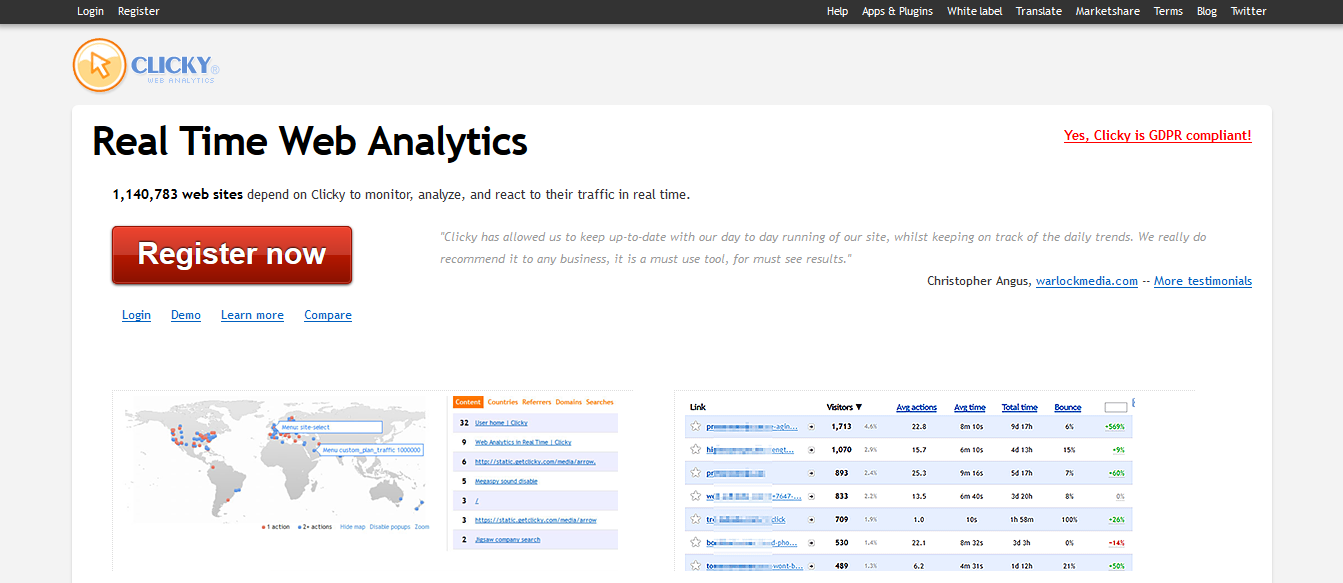 Clicky Analytics is a web analysis plugin created by Roxr Software, a small company founded in 2006 and is located in Portland, Oregon (US).
This analytic tool is used by several websites all over the world for monitoring, analyzing, and reacting to their traffic in 'real time'. It covers the tiniest of details for every segment of visitors and the real-time update occurs by the minute.
Key features
Provides real-time data like the total number of visitors on your site, along with each visitor details such as their IP addresses and geo-locations, or the browsers and the operating systems they are using.
Information about the widgets that lead to your website.
Video and Twitter Analytics.
Email Reports.
Multiple dashboards.
File download tracking.
Custom data tracking
Pros
Clicky has well designed mobile apps for Android, iOS and Windows.
No identifiable backtracking code
Heatmap highlights the areas of a webpage, which are most frequently scanned by the visitors in real-time.
On-site analytics shows the number of visitors currently on your site.
Simple integration.
Easy to setup.
Cons
Occasional speed issues.
Export file limitations.
Isn't compatible with all versions of WordPress.
Price
You can download it for free but you need to buy it for more features according to plans start from 9.99$ up to 19.99$.
Download it from here https://clicky.com/100710620
Matomo Analytics plugin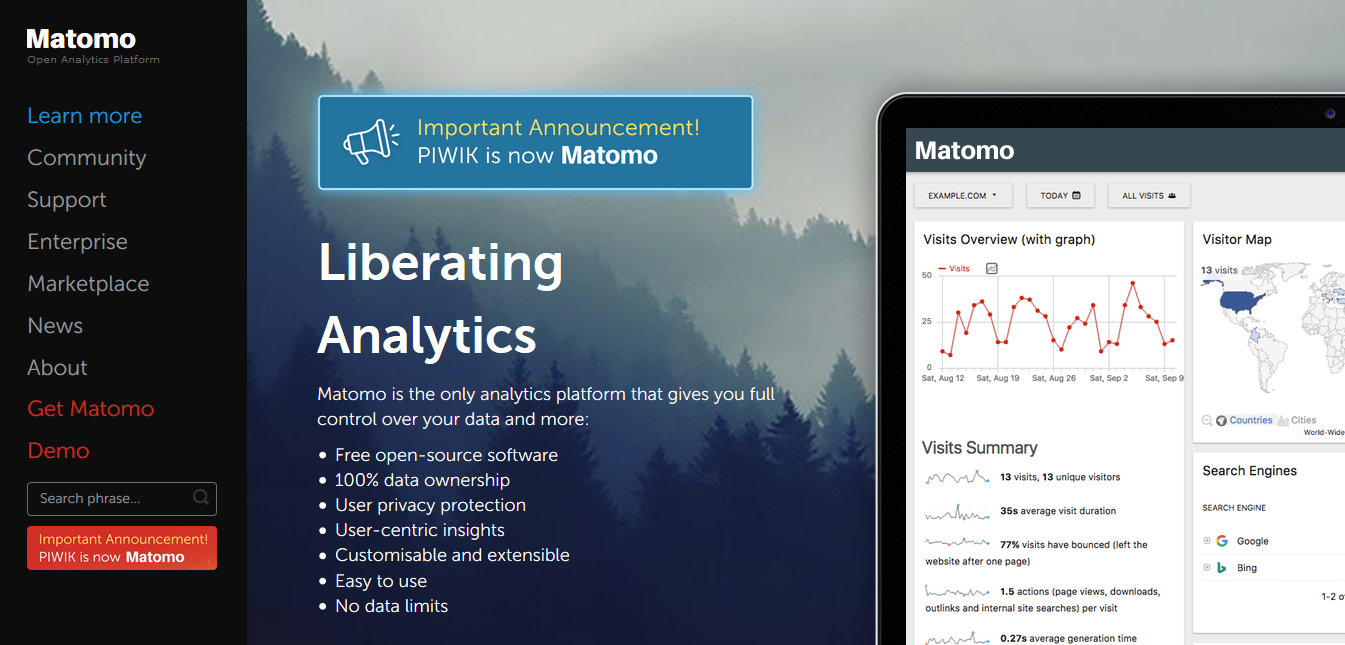 Matomo, previously known as Piwik, is a leading open source analytics software that lets you track user interaction on your website with ease. It comes with all the features you can think of including, events, goals, eCommerce, logged in users, heatmaps, a/b testing, and a lot more.
Key features
User privacy protection.
User-centric insights.
Customisable and extensible.
Supporting self hosted and cloud hosted.
You can review the reports anywhere any time using the mobile app.
Multiple sites can be easily configured and tracked in one central dashboard.
All reports that you need about the behaviour of visitors on your website.
Pros
Free open-source software.
100% data ownership.
Easy to use.
No data limits.
Can set up website goals and tie them to marketing campaigns.
Access to the raw data, and allowing us the ability to customize as needed.
Con
When looking through visitor log it only allows you to go back one day.
Cannot see how long the visitor spent on each page, only the total length of their visit.
Need to add real time visitors on your page to show if there are any active visitors on your page at the current moment, similar to Google Analytics.
Price
It's free for the community version but on the cloud version you have to buy for 7.5$/month up to 41$/month after that you can customize according the need.
Download it from here https://matomo.org/
Mixpanel Analytics plugin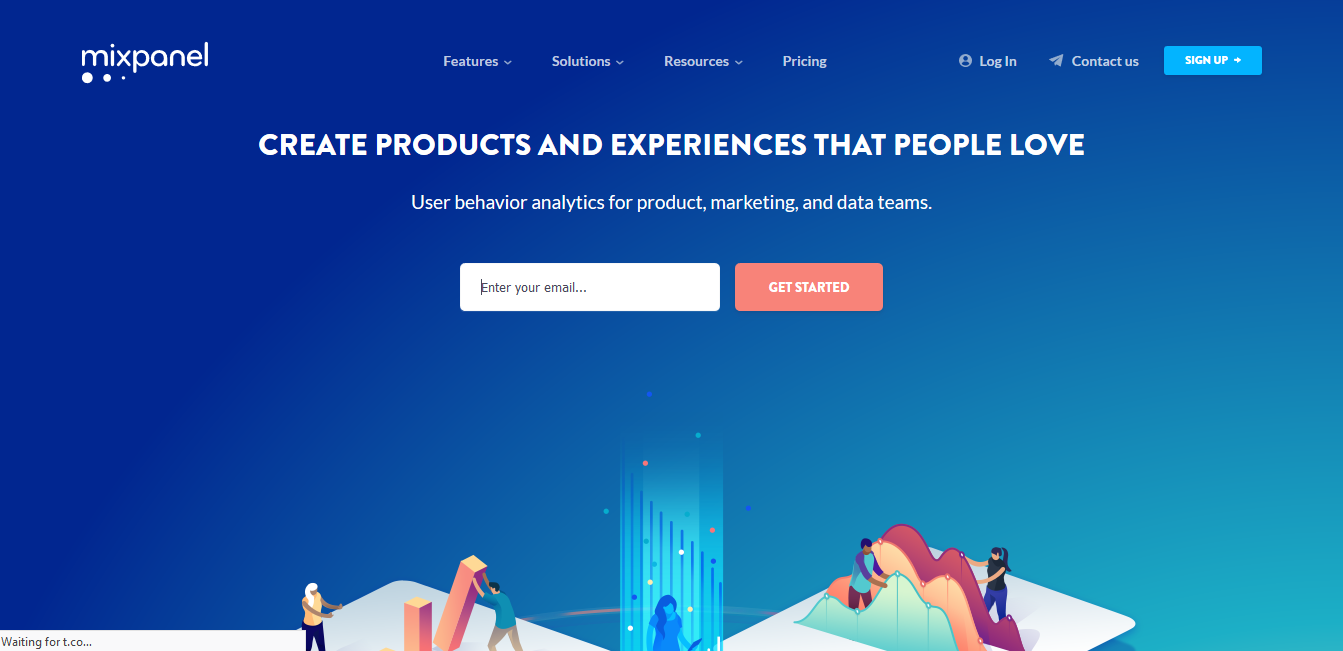 Mixpanel tells you how users engage with your products, whether through your website or on mobile apps. It tells you who your users are and measures the actions people take on your products and help you make data-driven decisions quickly and easily.
Key features
Funnels feature: It allows you to easily track if users are using your website in the way you intended them to.
Segmentation feature: It allows you to segment your users based on predefined categories as you want.
Explore feature: Mixpanel enables you to create profiles for each of our users.
Automatic insights.
Works on mobile applications too.
Pros
Tracking of events through Javascript.
Real-time dashboard of all the events that we wanted to track.
Powerful API that goes beyond page views but can also track link click, javascript events, etc.
Visualize engagement data.
Cons
Mixpanel restricts the time frame of how you can visualize your data. You can only visualize your data for a maximum of a 3 month time frame.
The notification feature allows you to send notifications only based on 'people' properties.
Integration should be improved.
Price
It can be downloaded for free but with limited features and then you can buy 999$/year.
Download it from here https://mixpanel.com/home/
Sumo Analytics plugin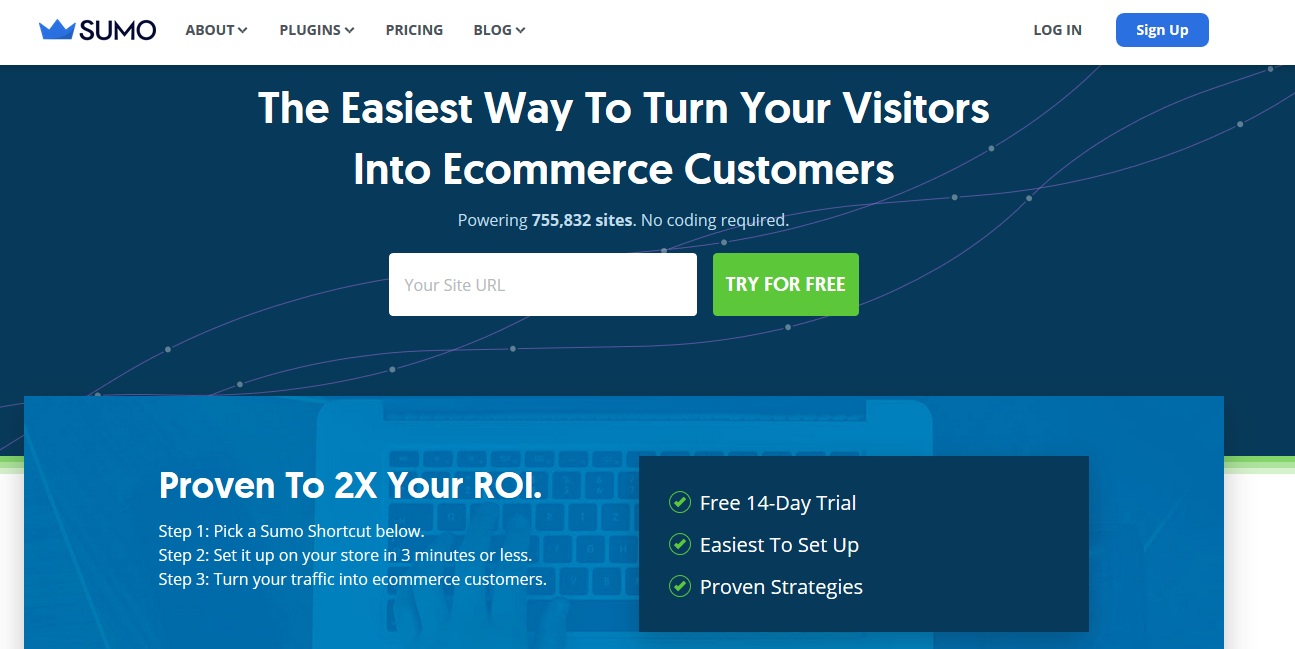 Sumo is a free WordPress analytics plugin, which includes their Content Analytics tool that shows how many people read your content.
Key features
Gives you a visual display of exactly where people stop reading your blog posts.
The data is actionable so you can read it and take actions to improve your website.
You can see how far people read on every single one of your blog posts.
Real-time analysis.
Email service integration.
Pros
It's Free
Simple but  professional.
Amazingly easy to install.
Supporting feature integration.
Pre-built popups to use in List Builder.
Great for social sharing and analytics.
Cons
The admin widget doesn't always show up on the page at first load.
It has some display related bugs and multiple accounts and sites gets confusing to manage.
Enabling all options might slow down the site performance.
Price
You can download it for free but for more users you will need to buy pro versions which starts from 29$/month up to 79$/month or you can customize your solution.
Download it from here https://sumo.com/
Statcounter Analytics plugin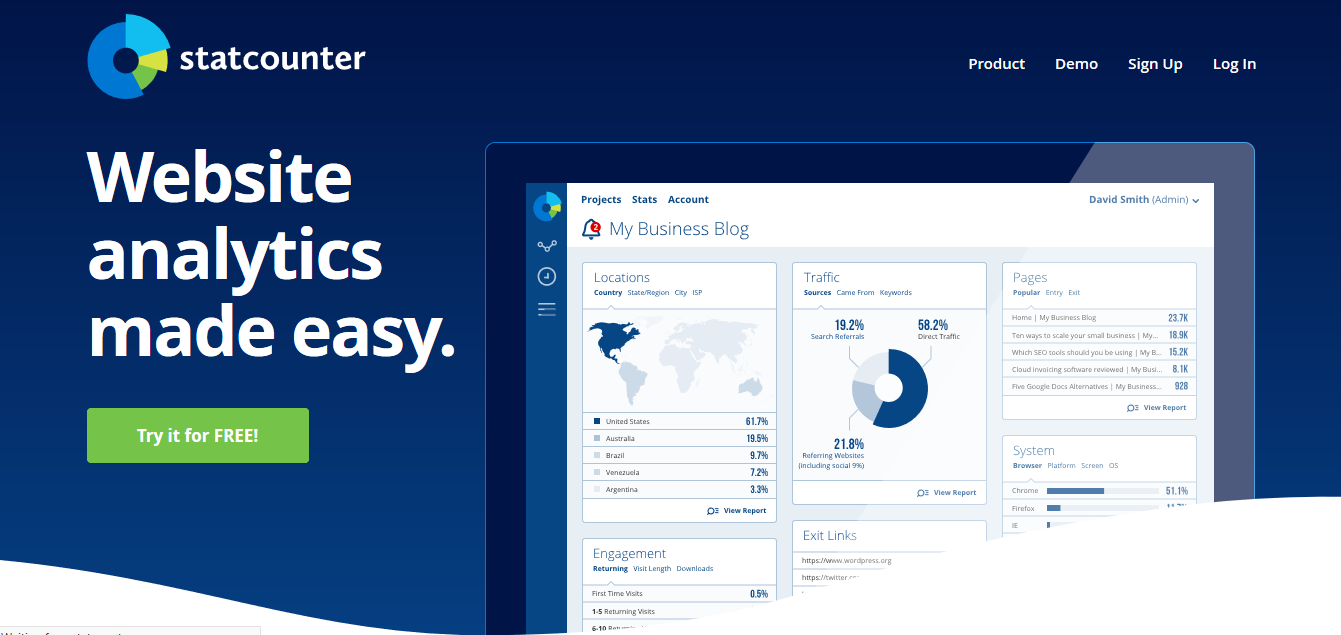 This WordPress analytics plugin uses a configurable counter which allows you to keep track of your data in a more efficient way. You have configurable summary stats that allow you to keep an eye on what's going on with your plugin in a functional way. There are a variety of features that allow you to easily search the data that is available to you.
Key features
Summary stats show you at a glance how many pageviews, sessions, visitors and new visitors your site has received.
Customizing summary for days, weeks, or months.
Bounce rate is the percentage of visitors that exit your site on the same page they entered from, without exploring your site further.
Reports about the pages of your site ranked by popularity.
Reports about the first page a visitor arrives at when they visit your site.
Keywords analysis and search engine optimization features.
Full analysis about the visitors and their behavior.
Tracking downloaded files.
Admin control.
Pros
Easy setup process allows users to get started quickly.
Implementation process allows for you to retain your projects.
Provides a better view of what's going on than other plugins.
It's a free tool which is best to start with website visitor analysis.
It gives detailed reports for location, browser and time.
Easy to setup.
Charts which are easy to read.
Cons
After adding the proper codes, this plugin still sometimes doesn't work.
After removing stats counter, plugin leaves an unfixable bug.
Not capable of aligning the counter.
There is no real-time visitor report.
The reports can't be downloaded.
Price
You can use it for free but according to the usage limits so you can buy it for 7 euro/month up to 319 euro/month and you can choose the period for paid.
Download it from here http://statcounter.com/
Slimstat Analytics plugin

The Slimstat Analytics plugin allows you to have stats directly within WordPress, allowing you to access your information in a clear and accessible way. The add-ons that this plugin offers are convenient and allow you to easily access your information.
Key features
Get access to real-time access log, measure server latency, track page events, keep an eye on your bounce rate and much more.
Add shortcodes to your website to display reports in widgets or directly in posts and pages.
Fully compliant with the European GDPR guidelines.
Exclude users from statistics collection based on various criteria, including; user roles, common robots, IP subnets, admin pages, country, etc.
Export your reports to CSV.
Generate user heatmaps.
Getting daily emails right in your mailbox via addons..
Support for hashing IP addresses in the database to protect your users privacy.
Accurate IP geolocation, browser and platform detection
Browsing the reports on mobile app.
Pros
Compatible with W3 Total Cache, WP SuperCache, CloudFlare and most caching plugins.
Support many language.
Having stats directly inside WordPress.
Excellent support services.
Provides instant visual of how many users have visited.
Cons
WordPress is known to crash when code is downloaded.
Plugin has been known to create slowdown.
Access log is missing important data.
Price
You can download it  for free and you can just buy the addons integration with this analytics plugin after downloading it.
Download it from here https://wordpress.org/plugins/wp-slimstat/
Analytify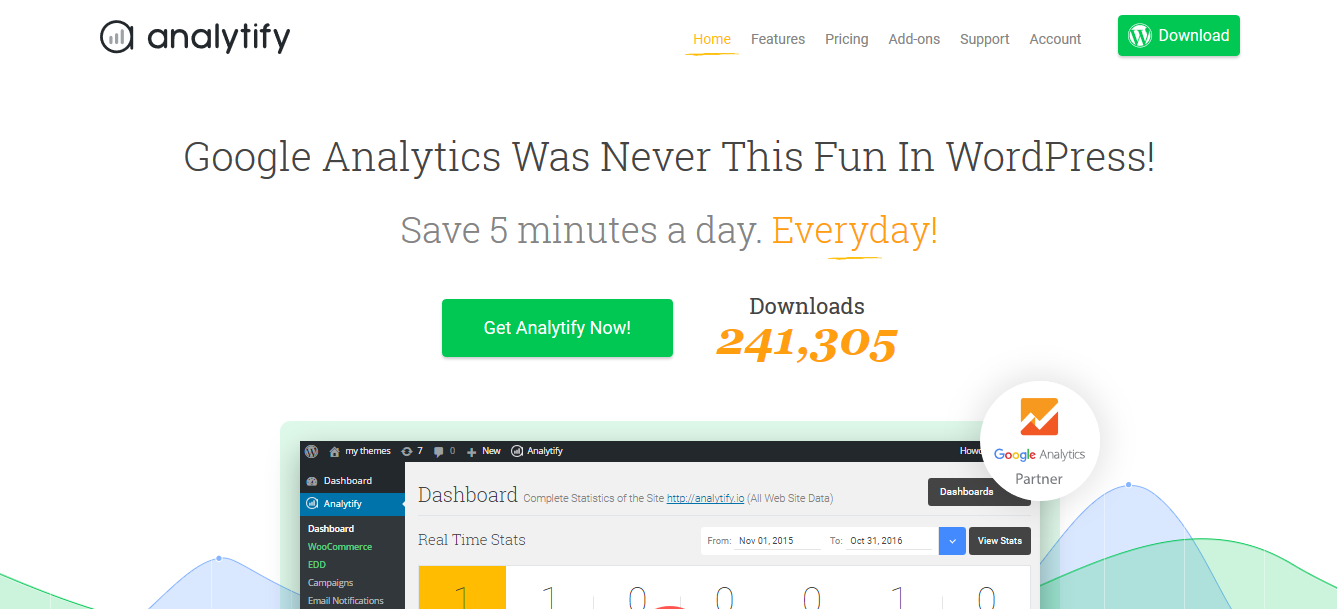 Analytify is WordPress analytics plugin that comes in both a free and premium version. Not only does it help you add the Google Analytics tracking code to WordPress and give you an in-dashboard stats view, but you can also view stats for individual posts/pages right on each page.
Key features
View a Google Analytics dashboard inside WordPress.
Get stats on individual posts, pages, or custom post types.
Real-time statistics.
Integrations for WooCommerce and Easy Digital Downloads.
Separate breakdown for social media stats.
Show stats on the front-end with shortcodes.
Pros
It only uses 2 HTTP requests so Analytify won't slow down your site
With Google Analytics integration, You can see which pages and networks generate the most clicks.
Simple backend interface makes it easy to configure your social share buttons.
Excellent free version.
Cons
The detailed feature list is overkill if all you want to do is set up basic Google Analytics tracking
You'll need to pay for some of the coolest features.
Price
You can download it for free but you will need to buy for more features according to plans start from 19$ up to 49$.
Download it from here https://analytify.io/