Web Developer Monitoring Tools
If you are Web Developer you have to know about this Monitoring Tools
The world of web programming is a world full of tasks and things you need to use the full power of your mind with, so you may slighting some important tasks, such as monitoring and analysis of your server data or app, that work on them or synchronize your devices that linked to each other.
If you want to make sure what I say to you, ask one who work in the same field: When was the last time he analyzed his logs? May be never, and this is amistake, but normal.
the manual process of analyzing and monitoring a server can feel like a ton of work and time.
But monitoring and analyzing your server or app is one of the most important things to do.
It helps to increase the security of your server and applications, and helps you understand the relationship between users and your applications as the connection between your applications and the server.
With growing demand for software and tools that help monitor and analyze servers and applications. Some companies and startups with unique minds have produced a variety of software and tools to help with such tasks.
WatchSumo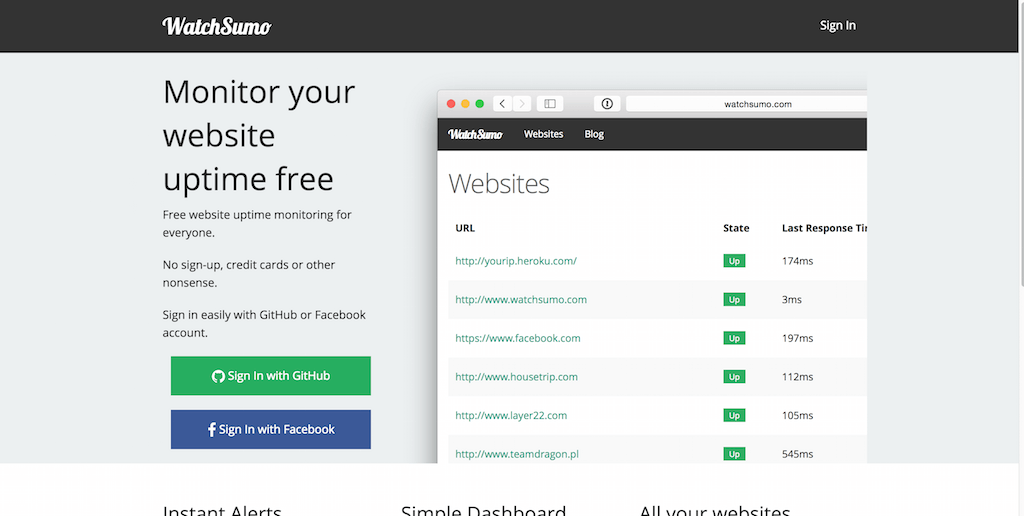 Crashing your website in front of users is really detrimental to the reputation of working, but with watch sumo which enables you to monitor your website every moment and follow up the faults as they occur and find bugs and try to fix it before a user tells you.
Watch sumo sends you messages at the same moment your site stops working, and detects the site's response speed and tells you that the site is delayed if it is delayed.
Key features
Graph The Data
Instant Alerts
Simple Dashboard
You can add All your websites
Pros
You can add any number of websites
The interface is very simple
Works on any device or smartphone
Whatever the number of sites added, it works at the same time and at the same speed
Cons
The features added to the free version and basic version are very limited.
There is no app yet so you have to use the website
Price
There is 4 blans
Basic
$1/month – 1 website
Startup
$7/month-Up to 5 websites
Business
$21/month-Up to 25 websites
Agency
$75/month-150 websites
You can use it from her https://www.watchsumo.com/
Happy Apps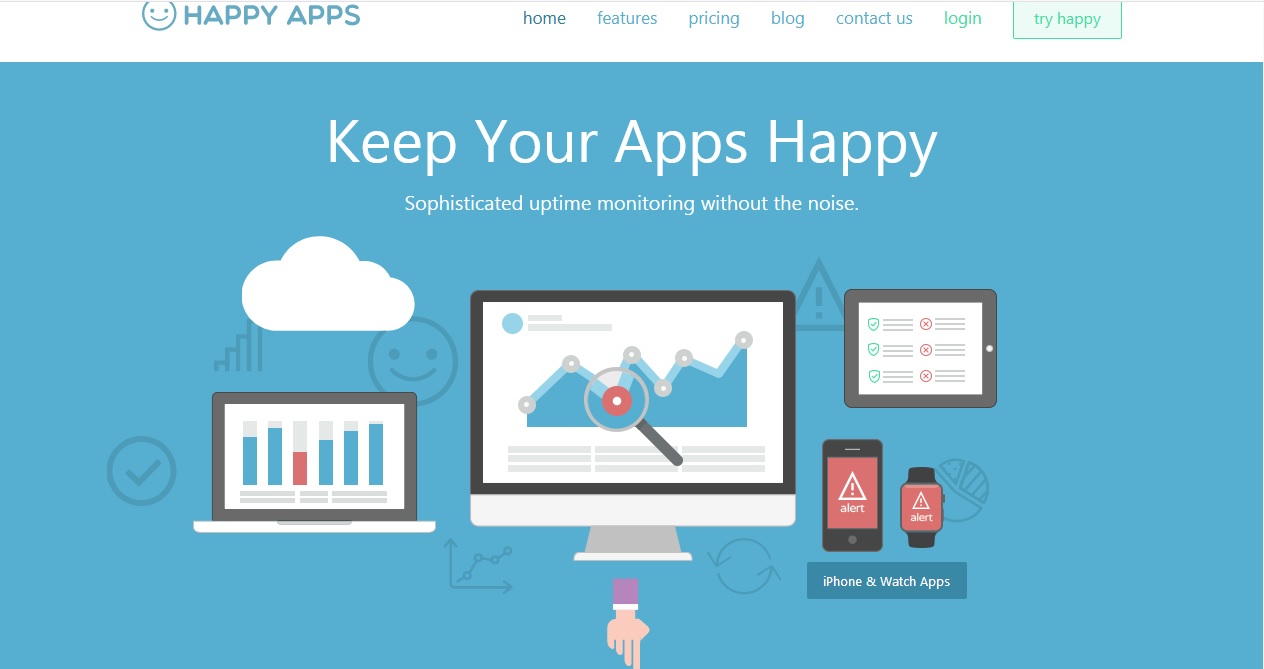 Always be prepared is the key to success and customer satisfaction. To be always ready with your applications, you need to understand them well،This is what Happy apps offers you.
With this tool you can be able to monitor the runtime of the server and its applications. It also monitors all components of your server operating system.The tool also monitors the database, which varies greatly in the case of overload due to traffic or others.all you need is only a few clicks to create checks with Happy Apps. Create your free account and get insights into the status of all your applications.
Key features
identify repeating issues and patterns
Uptime and performance monitoring
email and SMS alerts
Monitor private, public, and hybrid clouds
Data Store for up to two years
App status dashboard
Checks databases, websites, application servers
Collaborate with the incident management system
Consolidate related incidents
Monitor App Groups
Monitoring interval of 1-5 minutes
Robust reporting
Detailed filters
Schedule alerts
Set rules for alerts
Pros
Has many features
Each feature is presented in a professional style
Supports end-to-end monitoring of IT infrastructure
Cons
Nothing important to tell
Price
Free trial
Basic
$9.95/month
Standard
$49.95/month
Advanced
$199.95/month
Enterprise
$499.95/month
You can use it from https ://www.happyapps.io/
New Relic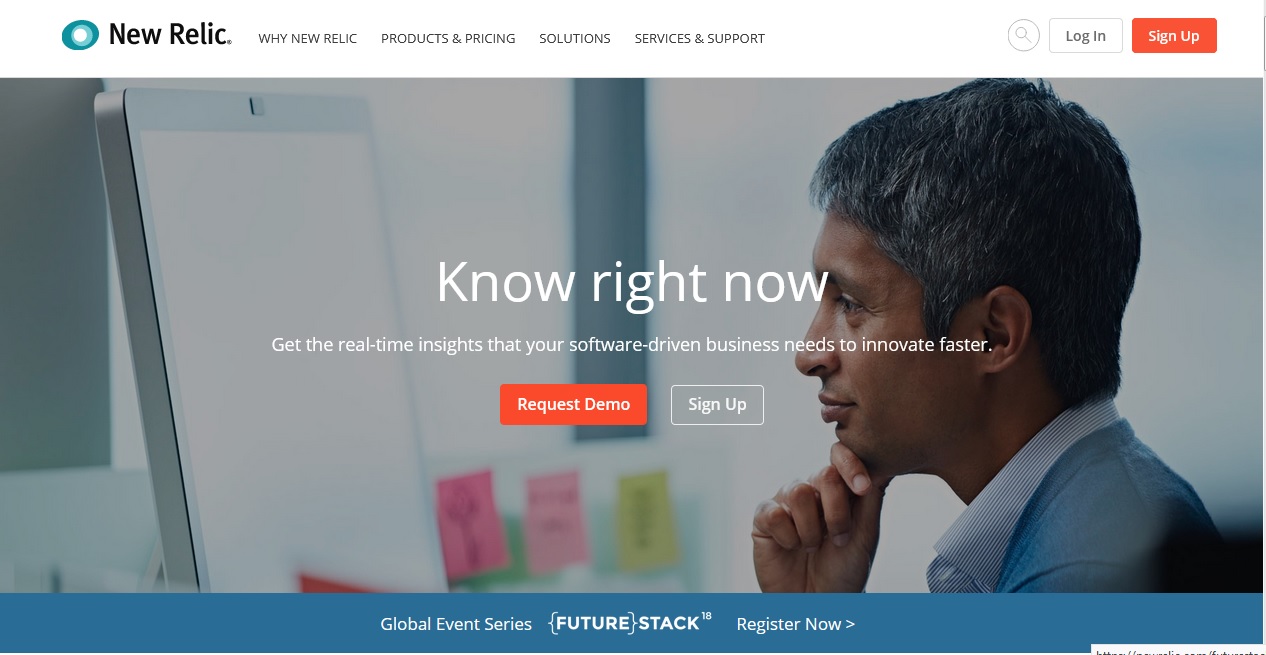 Whatreally distinguishes is the company that is based on its development. Over the past two years, new relic has developed very seriously, making it one of the most powerful tools in its field. The tool offers you a very serious and wonderful potential, from which you can understand the performance of your application. Whether you want to monitor page load times, or see what consumes most of your server's memory.
New Relic's capabilities do not stop when you control applications but extend to all your devices, where you can monitor all of your devices, smartphone, and cloud server.
pros
Free Trial and Pricing
Very powerful and intuitive stats for monitoring your code performance
Real Global User Tracking
a great interface for debugging the server side of performance issues
Cons
Cost per server can go very high
The interface on New Relic has a lot of options ,it can get a little tricky to figure
The tool does not really help you if the page to render slow; it will just notify you that the actual web page is rendering slowly, but didn't tell you what causing this.
Price
It depends on what you choose and what you need.
You can take a look her https://newrelic.com/
Uptime ROBOT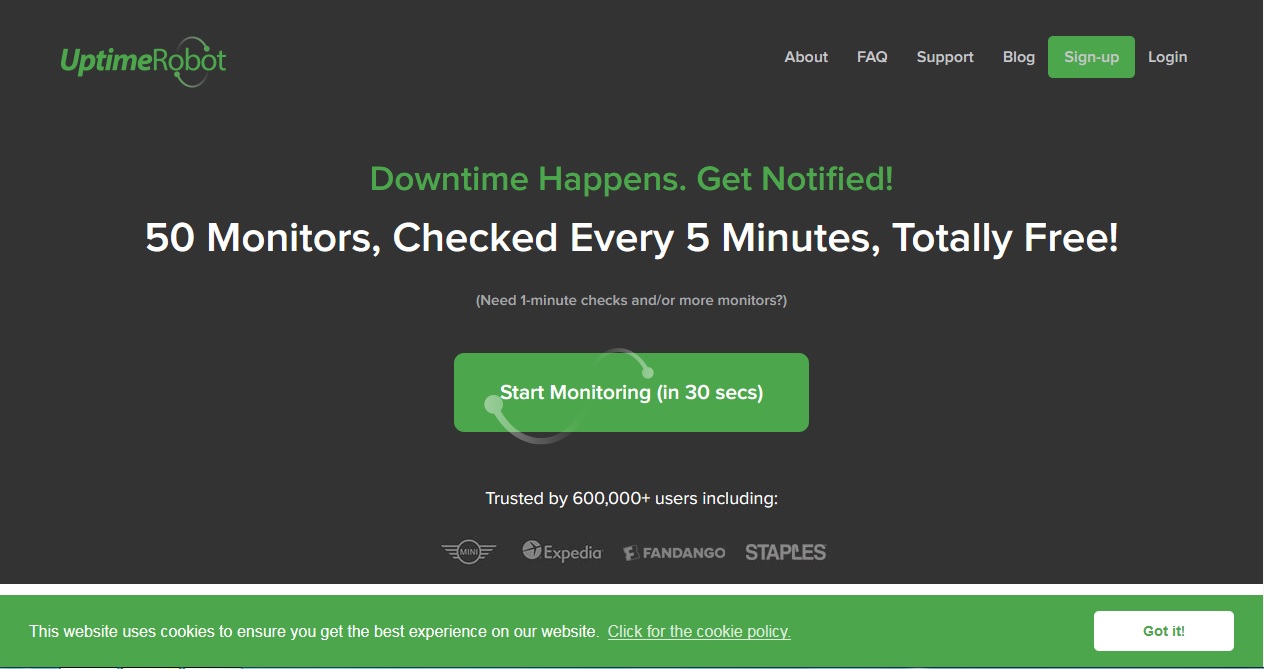 The uptime tool is a great tool to monitor the basic components and infrastructure of your cloud server, by monitoring the server around the clock to identify defects and any defect in the operation.uptime provides detailed charts and reports on the status of the server and can be modified according to the circumstances and various problems. But what really distinguishes this tool is the distinctive and flexible prices and plans varied that fit everyone from large companies to the FreeLance.
Key features
Automatic Discovery
Automatic Mapping
Server Monitoring with Process Details
Web App Monitoring
End User Experience Monitoring
Database Monitoring
Amazon Web Services Support
Multi-Platform Support
Root Cause Analysis
Data Visualization
Cost Optimization Data
Configurable Alerts
Pros
Mobile monitoring for teams on the go
Elastic pricing > only pay for what you use
Apdex rating for quick identification of potential issues
Unified monitoring of your entire cloud infrastructure
Easy to scale and deploy with out-of-the-box integrations and an open API
Fast time to value with quick and easy installation
Cons
Poor support services
Although the price of the service is good that the company is trying to drain your money
SERVER MONITORING
$8/mo>Per Standard
Server Monitor
$16/mo>Per Detailed
Server Monitor includes process-level details
PROBE-STATION
$0.80/mo>Per Station
REAL USER MONITORING
$5/mo>Per Web
AMAZON CLOUD MONITORING
$0.80/mo>Per CloudWatch
MICROSOFT AZURE MONITORING
$0.80/mo>Per Azure
CUSTOM
METRICS
$0.08/mo*
You can use it from https://www.idera.com/infrastructure-monitoring-as-a-service
StatusCake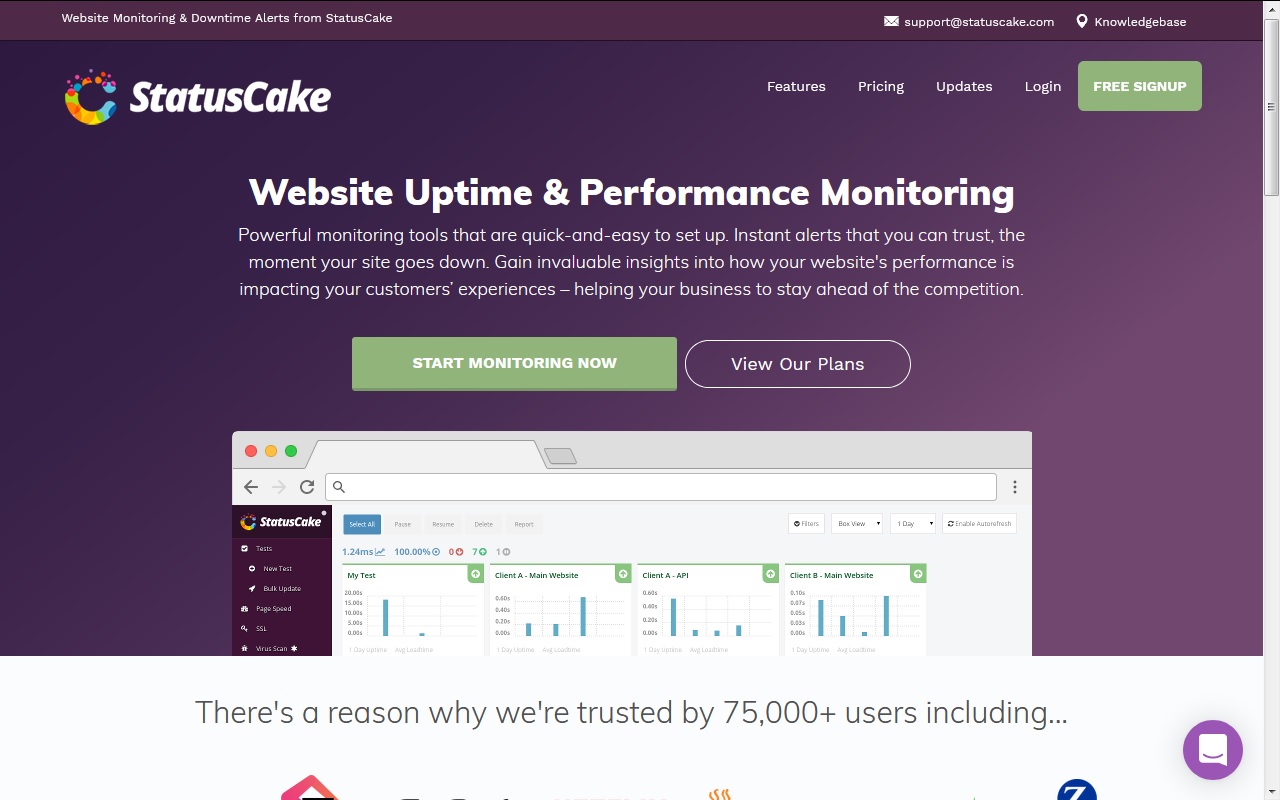 This tool provides the ability to monitor your site through peers who publish your site around the world, and the tool monitors almost everything.
The tool also includes the ability to monitor a set of protocols such as HTTP / HTTPS, TCP, SSH, DNS, SMTP and PING & PUSH.
The tool has more than 200 sites in more than 40 countries around the world and will not report a crash unless it is confirmed from more than one site to confirm that the defect is real. The tool also provides a virus scanning process, which helps you to stay safe, and gives you a good choice in case you want to receive your messages from anywhere, such as Twitter, Slack or anything else.
Key features
Monitoring Uptime, Domain,Pagespeed,Server
virus Scanning
Global Test Locations
Reporting via email/SMS
Robust dashboards & analytics
Supports wide range of ports & protocols
Pros
Plenty of features
Plenty of integrations
The price affordable
Monitor your website 24×7
Get alerts & notifications anywhere, anytime, instantly
Cons
There's not enough to tell
Price
Free
Superior – $24.49/month
Business – $79.99/month
Enterprise – by quote
You can use it from  https://www.statuscake.com/
Circonus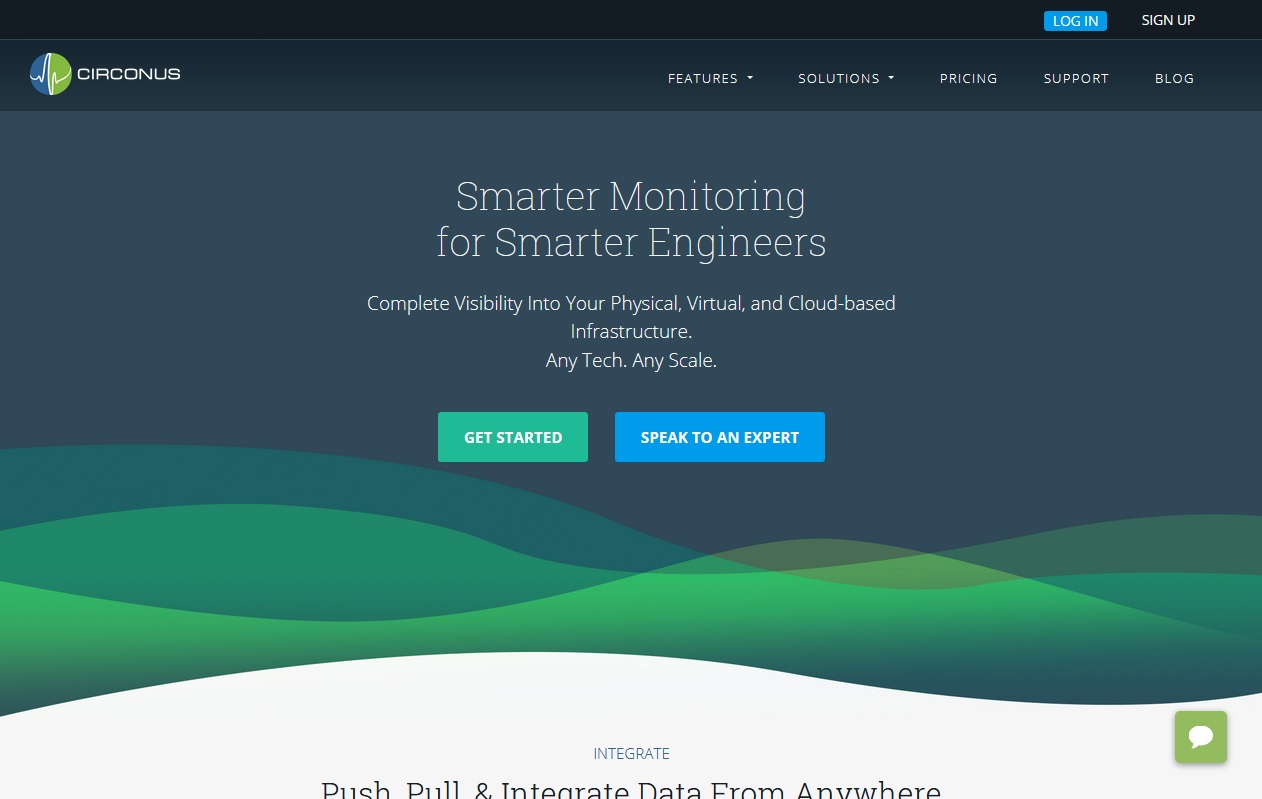 Circonus provides a great experience in analyzing, collecting and monitoring data to give you a seamless way to monitor your sites and applications.Developed specifically for the requirements of DevOps.Circonus is a fully manageable data evaluation platform that connects multiple data feeds from all over the internet and displays their values in the one dashboard. All data is viewed in real-time.The platform comes fully in free trial with a set of pricing plans to suit everyone
Key features
real-time information from different sources
Data Filtering
Monitoring
Automatic Adjustments
Charting
Chat
Development Tracking
Forecasting
Pros
Circonus sends security alerts when data reaches a certain level within your dashboard.
Tracking individual transactions that combine a number of metrics around blocked devices
Works with most other tools and applications on all servers
Cons
Audit logs of user access slightly pricey
Price
Free trial
Star from $0.05/month
Use it from her www.circonus.com/
Thousandeyes
Thousandeyes is a bit different, as it monitors external and internal performance of your network to make sure that the functioning of the servers correctly but its real advantage lies in its ability to use algorithms to identify the problems and defects coming from where you can fix the mistakes before it happens and this is really a wonderful thing. As an internal tool to test all things, and all the performance of things. Get statistics on your page load times as much as you can to load the server. Thousandeyes is the key to understanding network performance.
Key features
Network monitoring
Wireless infrastructure monitoring
Baseline threshold calculation
Alerts
Network capacity planning
Network mapping
Customizable reports
Wireless infrastructure monitoring
Pros
Hardware/Server Monitoring is the core functionality.
easy to administer and configure.
the menu system is easy to navigate and find what you are looking for.
The search options work well and allow you to easily find data.
Cons
It has many flaws in network monitoring.
Technical support is the average level at its best
The amount of warning messages is many, and the person may be lost and tense
Price
Lite
FREE 3 tests, 3 Enterprise Agents and data for 26 web services
Standard
$149 Enterprise Agent / month paid annually or $179 paid monthly
Pro
$399 Enterprise Agent / month paid annually or $479 paid monthly
You can use it from https://www.thousandeyes.com/

Google Stackdriver provides powerful monitoring, logging, and diagnostics. It equips you with insight into the health, performance, and availability of cloud-powered applications, enabling you to find and fix issues faster. It is natively integrated with Google Cloud Platform, Amazon Web Services, and popular open source packages. Stackdriver provides a wide variety of metrics, dashboards, alerting, log management, reporting, and tracing capabilities.
Key features
Compatible with AWS and Rackspace
Supporting application, system and infrastructure level metrics
Interactive colored graphs and charts of data
Create and customize groups
Create and customize dashboards
Input custom metrics
Receive alerts when there are anomalies Freemium version
Free trial
Create custom reports
Real-time analytics
Multiple integrations
150 custom metrics/instance
13 month data retention
Windows/Linux system agents
Pros
Full-stack insights
Find and fix issues fast
Multi-cloud
Many integrations
Configured basically with GAE
Cons
There is nothing free of charge, everything has a high cost
Price
Starting from
Pro: $8.00
Elite: $12.00
You can use it from  https://cloud.google.com/stackdriver/
HINT AT THE END
This article is not to compare these tools, but to display a set of tools of similar uses at times and different in others.
The most important thing that determines the success of the tool from its failure with you is your choice of the appropriate tool for what you NEED.