7 Websites to Help You Manage web design portfolio
For all webmasters who want to make a portfolio, these websites will definitely benefit you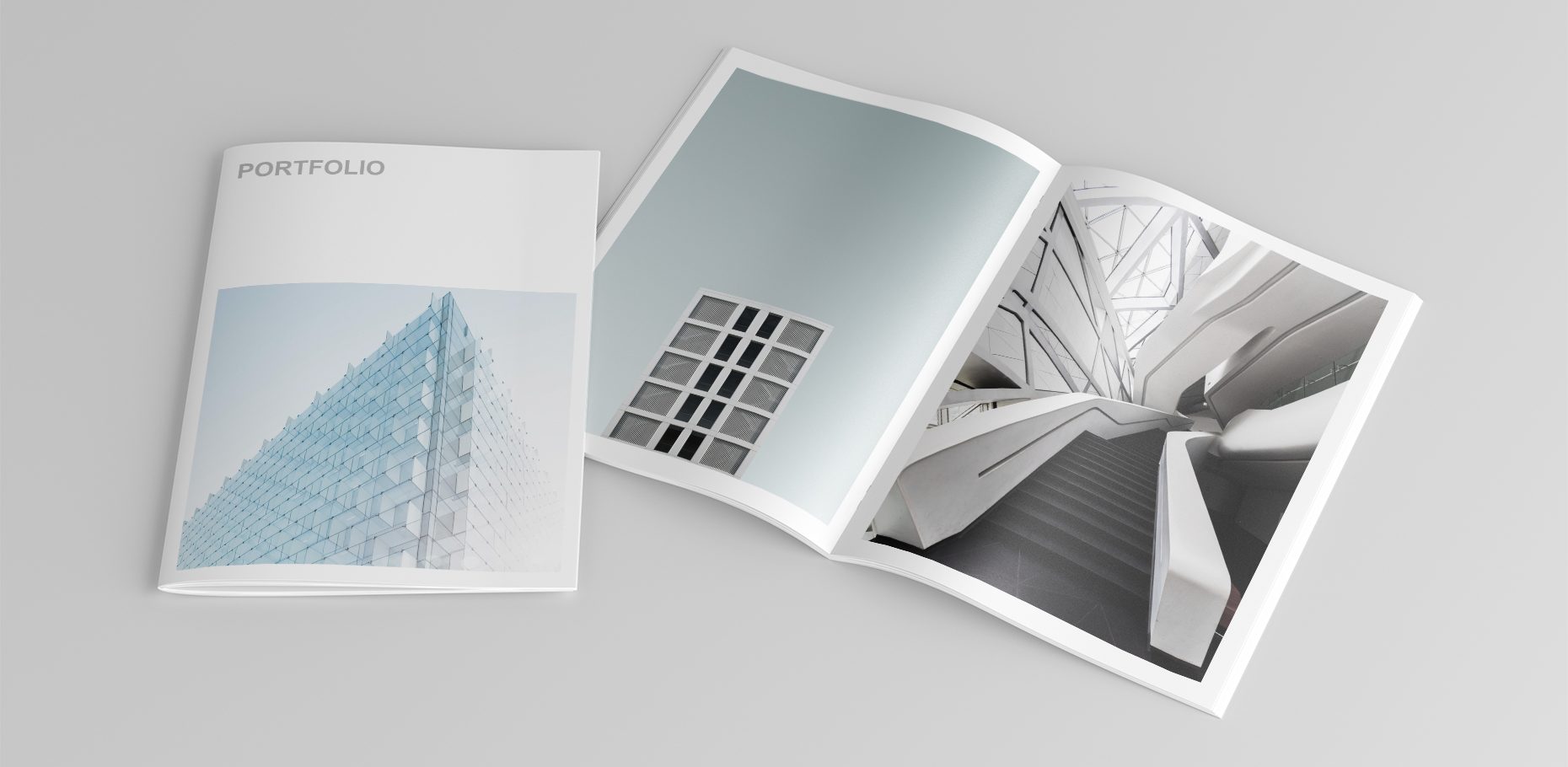 Hi. Are you a web designer? Graphic designer? Well, are you a beginner or one of these professional designers.You're probably a beginner, it does not matter if you're a  beginner or a professional. Every day there are new things, and if you do not see them in a continuous way. Maybe some rust will hit your skills.
Maybe you are asking now why all these questions, and what do I want?Well, often, article visitors ignore the introduction to get what they want quickly. That is why I am trying to draw your attention to what is most important in this article. What you need to start Your career.
Web design is a good job.It's a field of work where you can earn more than 100,000 dollars a year, and you do not need money or planning. It depends on what you can do and what you offer to others. andthe way to learn it  does not require money ,and it is available online in various formats for free.
Do not think it's that simple. It takes a lot of work to develop your skills and information, and a lot of knowledge is needed to make your own portfolio.
Well if you want to create a portfolio as a freelancer or as a company, you must have the know-how of your business and your tools and how to show your business, where and for whom. For that reason, we offer you a great collection of websites that will help you develop your business and help you publish it, If you are working as designer or in the field of web design in particular.
Flickr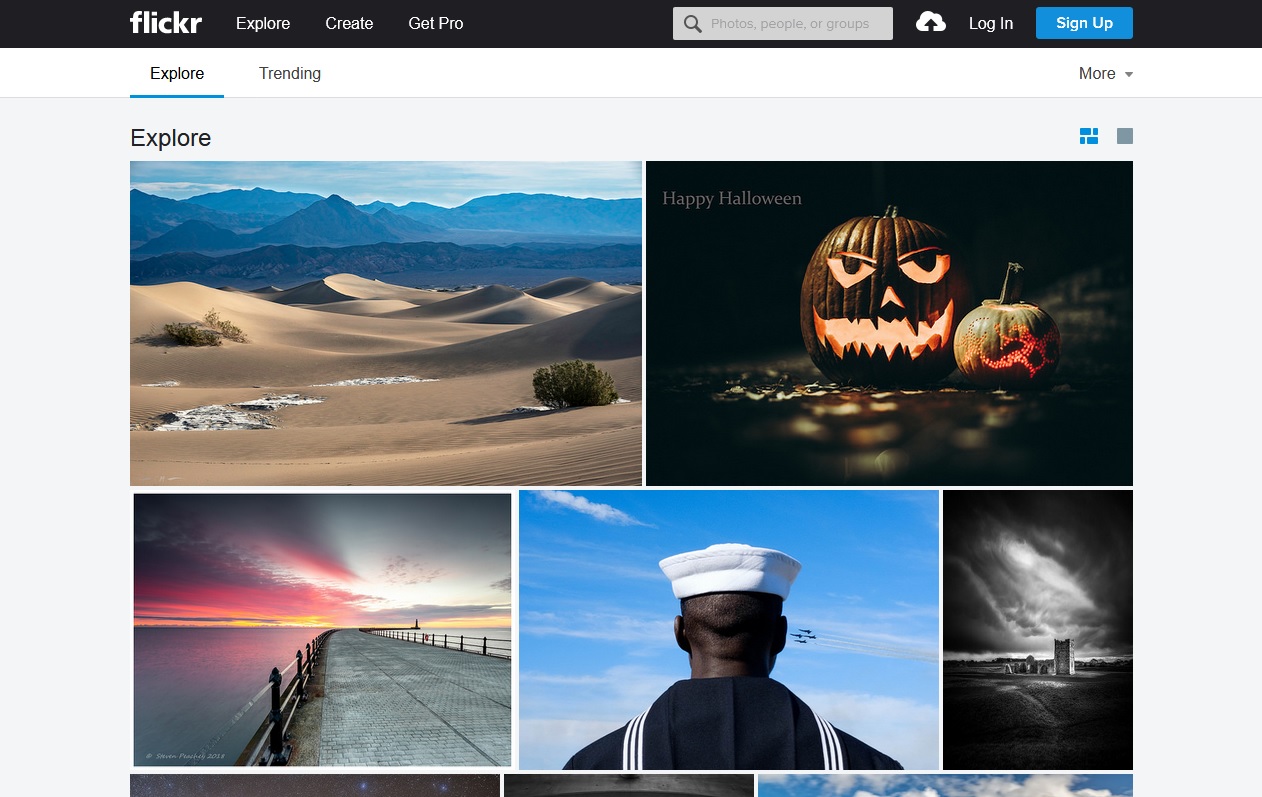 In 2002, Lodi Corp created the Flickr image storage site, but in 2006 Yahoo acquired the platform and developed it. This platform is one of the most popular applications that people can find to save their images and editing, and to share with friends through the means of communication and the Internet.
To ensure the convenience of users of the Internet developers Flickr platform to provide all the needs of the user to upload images and storage in protected areas and more secure than other platforms, and the platform provides the greatest tools for modification images captured and stored and quickly accessible when needed without complications either through computers or smartphones, users can also connect the Flickr application with other applications such as Facebook, Twitter and LinkedIn to participate and publish your images better on more than one platform on the Internet.
But, how can Flickr be good for web designers and graphics?
The truth is that Flickr does not restrict the type of content you can share, so it's easy for graphic designers to share their posters and work with Flickr members. Since there is a wide range of users, finding new opportunities and minds to communicate with is relatively easy.
Features
1 TB for image storage.
Fast access to captured images and the ability to store them easily and access them,anytime, anywhere if there is an Internet connection.
Many tools for editing images easy and total freedom.
A set of filters, so the user can purify the images, clarify them and improve their quality.
Ability to control profile followers and protect user privacy.
The user can archive the images and sort them by type and appropriate.
Post your photos and share them via Facebook or Twitter by connecting them with the same email address.
easy to use.
You can use it from https://www.flickr.com/explore/
Pinterest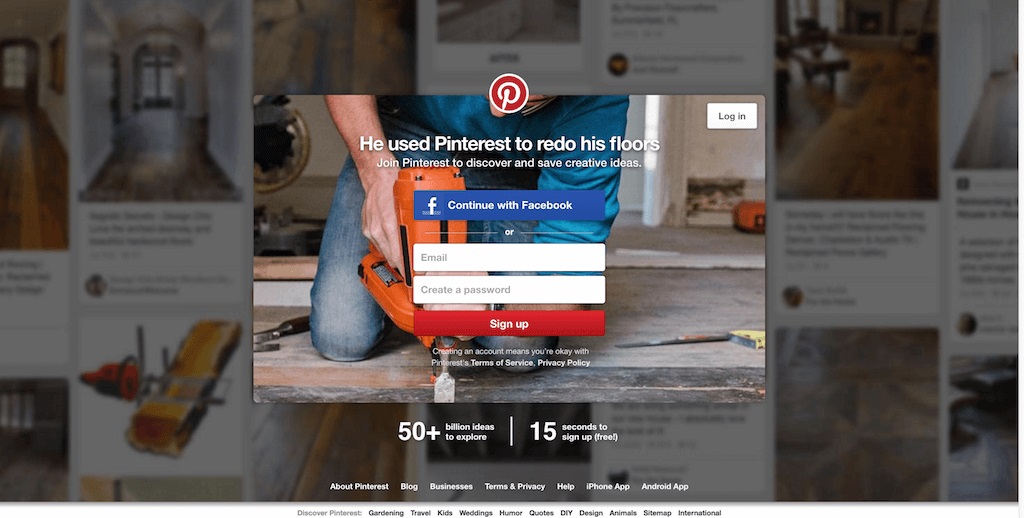 This social platform lets you gather images from around the web into personal collections and share your finds with friends. It puts images first. That makes it both a great place to bookmark favorite images and also to discover images others have shared. it can help you to find design inspiration, or ideas. Pinterest is a popular place to start those searches today.
the idea of Pinterest  is to collect or "pin" images that interest you. First install Pinterest browser extensions or add its bookmarklet to your favorites bar. Then, when you stumble upon a beautiful landscape image, or inspiration for your next interior redecoration, just click the Pinterest button to "Pin it .a reference to the corkboard-like structure of Pinterest.
Pinterest will find all the images on the page you are viewing, so you can select the image you want to save. You can add a description and location. When you create a new account,you can use the platform as a library of materials that you can use to produce your ideas and turn them into something real and use the unique and diverse elements on the platform to help produce serious ideas.
You can upload your work, publish it and categorize it on the site so that your friends and those interested in your work can see it and share their opinions. You can also communicate with potential customers and transfer them to your site or accounts on other sites by adding links to your photos or videos.
You can find pinterest
easy to use.
Full of useful materials in the field of design.
Ease of communication.
Available on all devices and smartphones.
You can use it as a library of ideas or as a market.
You can use it from https://www.pinterest.com/
Behance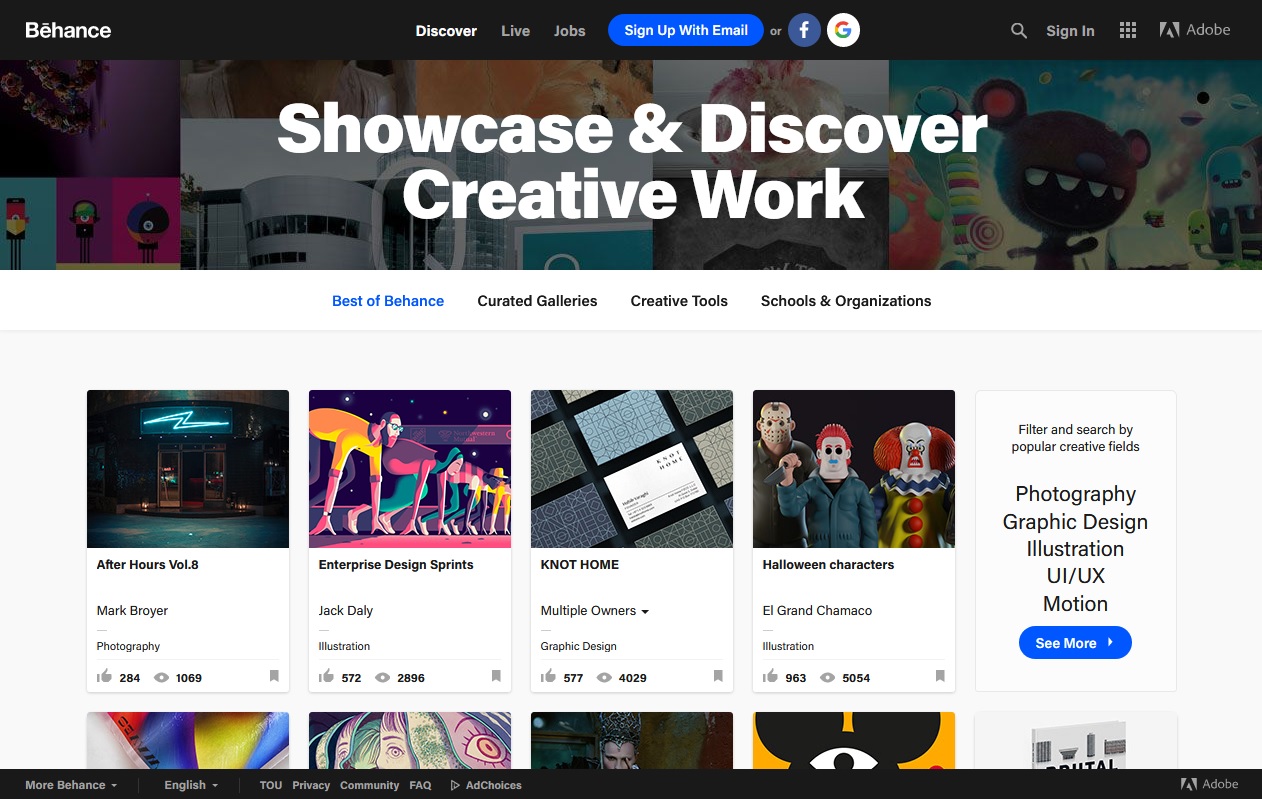 Behance is the best website that expresses the concept of word portfolio. The site offers you a collection of all things related to the design of all kinds. It becomes like a global forum for most designers of different nationalities and their ages and types of their various works. Brilliant minds are putting their portfolio on the platform to become Adobe's most thought-provoking and engaging business site.
The platform also provides the possibility to create an excellent portfolio to showcase your work, and allows you to follow the work of other participants, and you can all follow each other. The platform, through its search engine, helps you to narrow down the search process to be specific to what you want to see only from business types.
After the widespread, business owners from companies and potential customers you wish to work with enter the platform to follow up and explore new talents and wonderful works on the site. The opportunity has turned the site instead of presenting the works only to a great opportunity for designers to get business with many parties.
You can find behance
one of the easiest platforms out there to use
In addition to hosting your portfolio, the Behance network allows other creatives to "appreciate" your work.
Full of designers and talents and a wonderful location to inspire ideas
This feature works great if you keep up with a good number of other designers
Ease of use really is the biggest advantage to this platform.
Behance allows you to link social media.
You can use it from https://www.behance.net/
Tumblr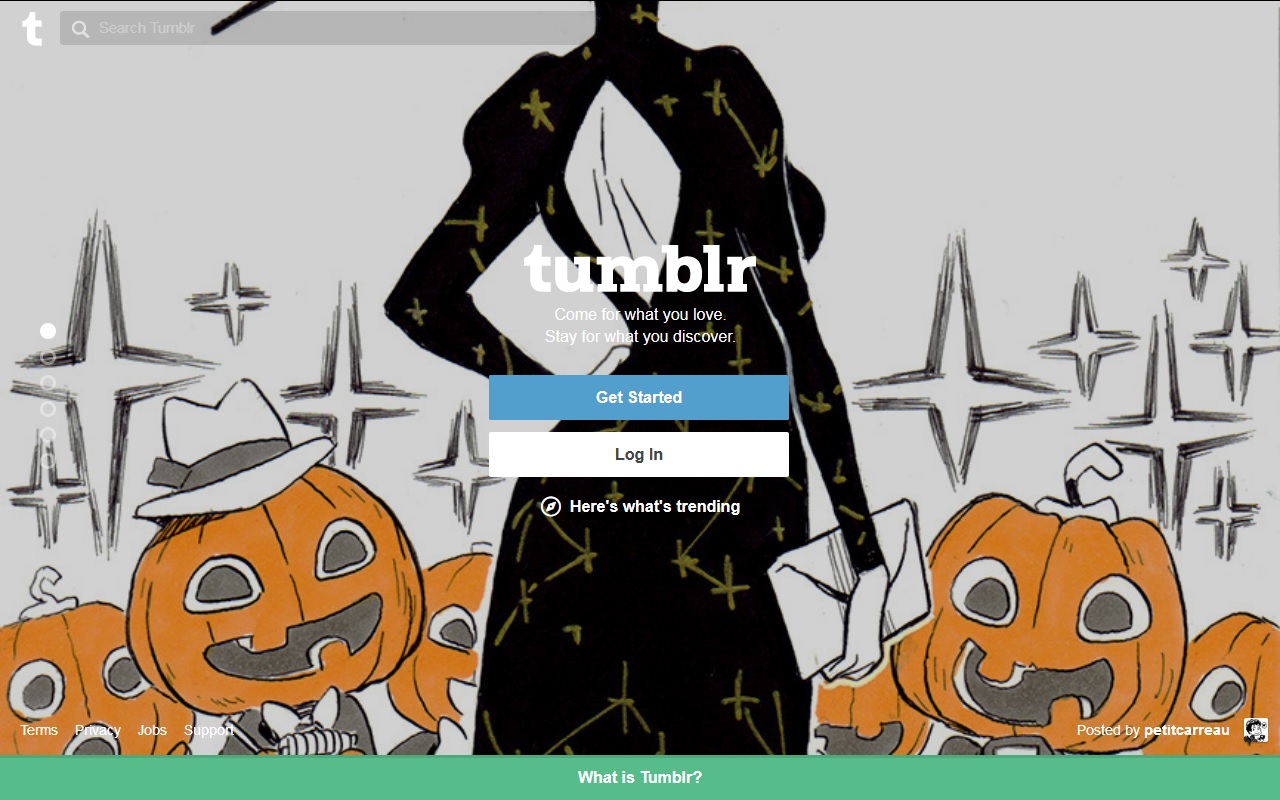 Are you looking for a better place to make the portfolio you have ever had. Tumblr is a great social communication platform  for publishing clips and small posts. What really distinguishes the platform is the ability to manage your page in everything, so you can design your own style as you want. By changing the page layout, you can show it in a way that makes you unique. You can also put your works and prices on the site in a short and beautiful way.
The site also adds the possibility to voice conversations and send voice messages as well.
The Tumblr site is the best place for designers in different fields to express themselves simply and simply, it offers the flexibility and smoothness of the most beautiful images.
You can link your platform page with your accounts on other social networking platforms to ensure a wider spread without moving between different platforms.
You can use Tumblr to do a lot of things like
take any of your existing work and turn into a trending Tumblr phenomenon
the community is very supportive towards artists
Through the Tumblr dashboard you can share text content, photographs, quotes from your favorite people, website links
create chat widgets, share audio and video if necessary.
Tumblr themes makes this a suitable solution for designers, because with those themes you can style your blog into literally anything
Tumblr is friendly towards custom modifications of layouts through HTML and CSS scripting languages.
Like the previous platforms you can find the owners of common interests and who publish their work on the site, turning it into a wide area of ideas to inspire them
You can use it from  https://www.tumblr.com/
Portfoliobox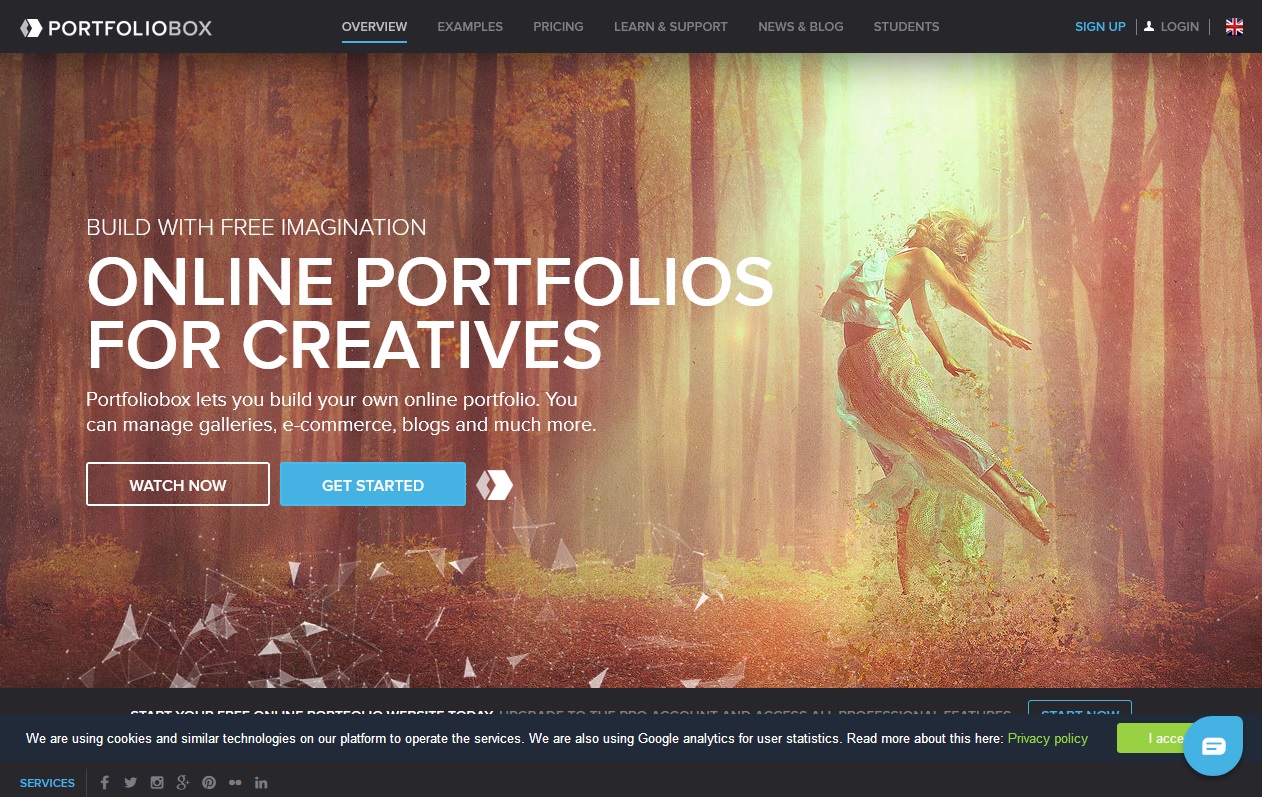 The portfoliobox site is one of the most popular sites to make your portfolio , and every day a lot of people are looking for a professional designer to deal with it for money or maybe they want to buy some of your designs that you will display through this great site but be sure to add your professional designs , So be attentive to the attention of the owners of companies, and in terms of how to use the site is very simple and I will explain it to you through the following paragraphs.
You will be able to upload a certain number of designs to the site so that they can be viewed by the owners of companies and customers. If you want to add more of these designs, in that case you will have to pay the money but I think the free account will be enough.
The platform is great and enjoys several good factors
it have a great customer service.
They are constantly improving tools and functions.
The interface is quite simple to use.
You can use it from https://www.portfoliobox.net/
Subfolio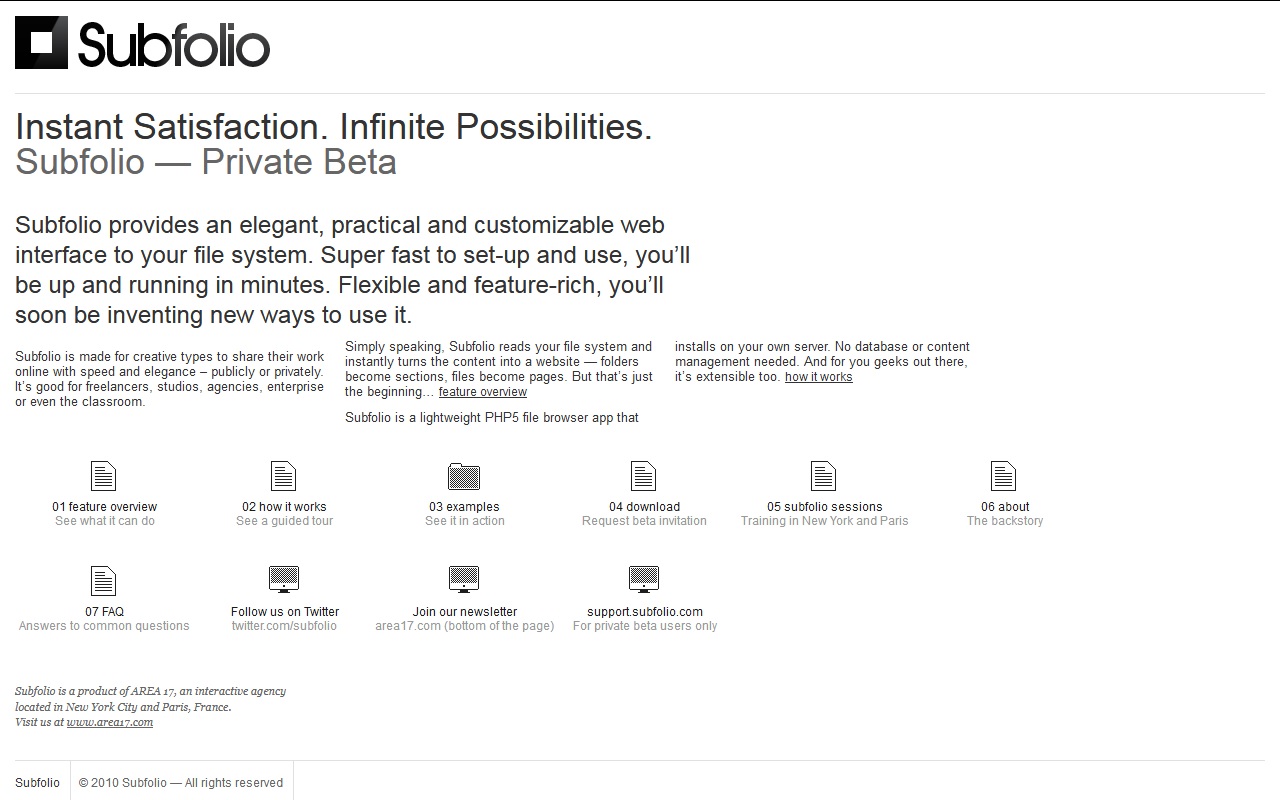 Subfolio is more technical than user platform to make your Portfolio . It's for developers, and of course designers, who want to create a work portfolio out of their existing file system.
Subfolio include a set of folders where you've archived your work, and if you want to transport it all digitally, you can use Subfolio's features to provide that work accessible to everyone.
You can control the system as it is hosted on your own server,it doesn't require a database. and after you setting it up, upload and organize your digital work folders into the Subfolio directory, and everything else will  fall into place. Subfolio can generate thumbnails on the fly for all your digital pictures, everyone on that platform can preview your work in a visually appealing way. It's remarkable the level of potency this system provides, the developer has taught about things like search engine optimization, and responsive design optimization for mobile devices. It all just works together.
You can use it from http://www.subfolio.com/
Dribbble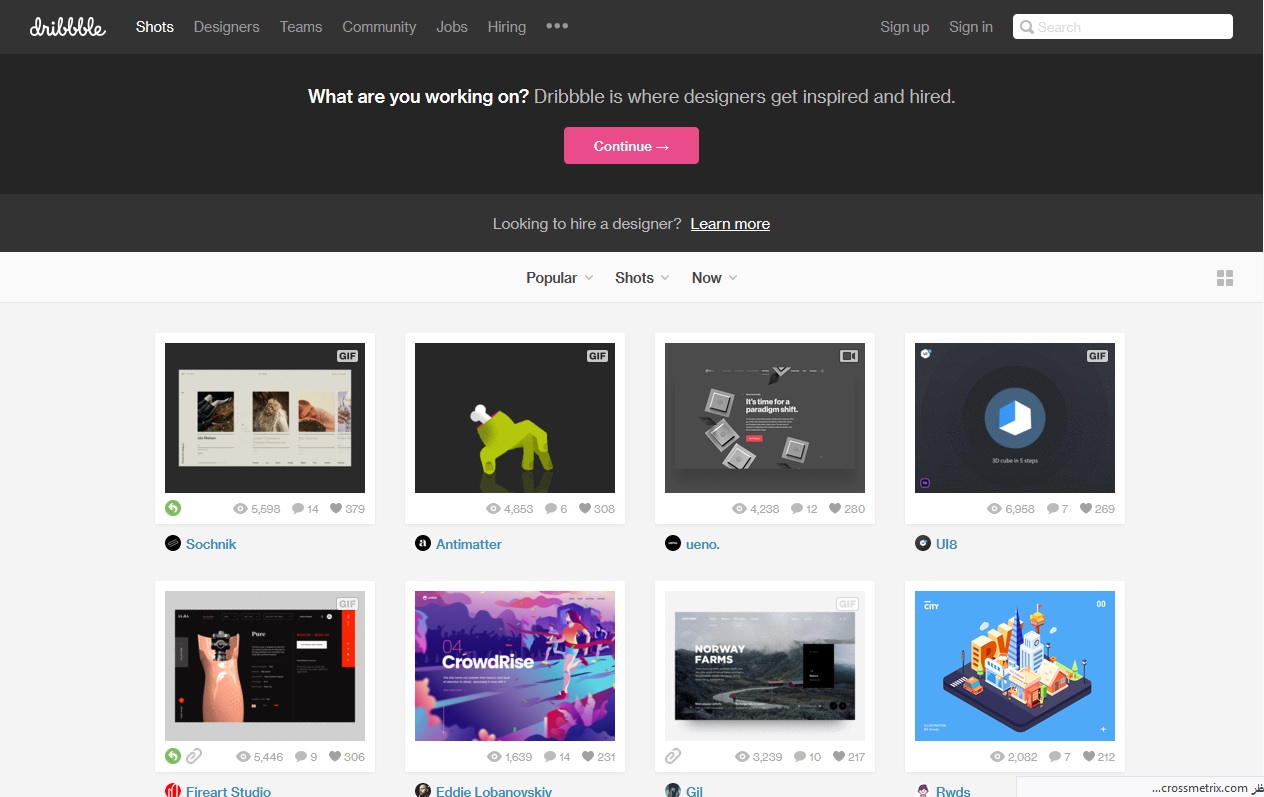 Dribbble is a competitor or similar in a big way to the Beahans site. So that among designers they are compared to each other.but each have their own way of approaching how users share their latest design work.
Dribbble main motto is for users to share their work that they're still working on.If you are working on a project and you have ideas or elements and you want to benefit from the views of some people that may produce a wonderful idea for you or to show a new idea for you this platform is a wonderful place to do it.So that the owner of the project or client can follow the progress of the implementation of work on the platform and can tell you what he wants in any time.
Dribbble favors its own job hunting platform, where anyone can participate to be hired for a top company. Dribbble enables designers to give away freebies too, which helps to build their own network, and attract external attention from websites much. It hasn't been called as one of the best graphic designer tools for no reason.
Dribbble features
An invite-only social network for designers to share current work and get feedback from the community
Create a curated profile and portfolio
Search for jobs near you and share the jobs you're looking for
hiring managers can easily find your profile
Create a team profile
Post jobs and find great designers with comprehensive search options
iOS app available
Price
Free to sign up and follow
$3/month for Pro
$149/year for small teams
$99/month for scouts
You can use it from https://dribbble.com/
Note at the end

There are a lot of similar websites in terms of work and there are freelance sites that help you acquire customers and all of which you can make a good portfolio, but what really matters is to be aware of what you want and do. In this article we have chosen the most common types. And different ways of using them. Some of these sites were basically network connections, but business people found useful uses for such sites, and on the other hand, there is what is designed to serve this type of business only. But the most important success of the work is not related to such sites only, but basically related to your work and quality and what you can offer to others, so he always tried to be distinctive and different
Be creative.