10 Best ways for make surveys on your website
you need to know this if you want to make surveys on your website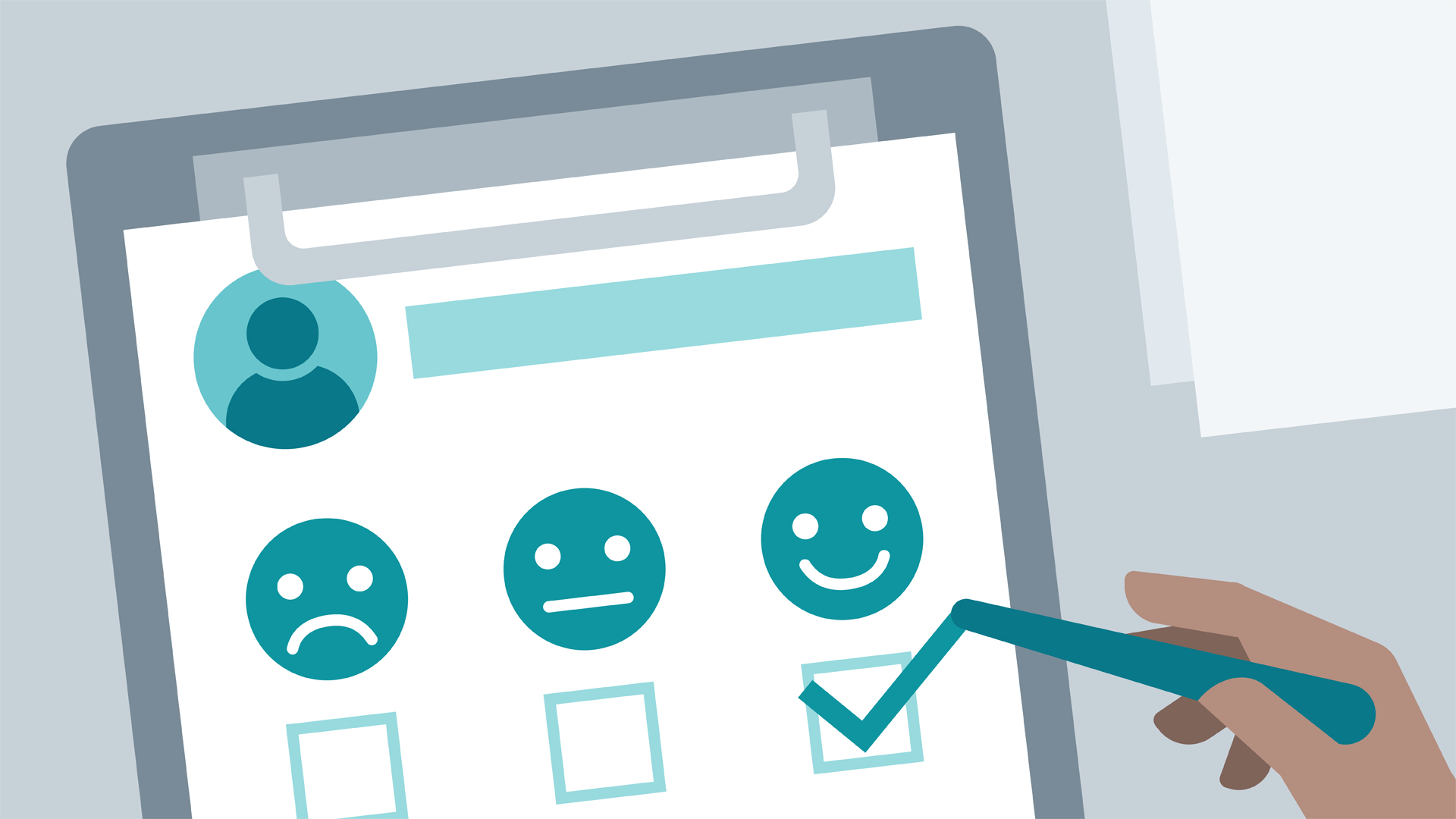 why we need surveys ? doing business correctly needs to know more about your customers. They are the primary goal of your business because they are the main source of revenue for your business.But how do you understand the needs of your customers?Of course by asking them.
With the spread of the Internet and increased adoption of online companies. Markets are expanding,and as it expands, the idea of asking your customers is something you need to focus on. you wish there was an easy tool to help you. And and there is.
The best way to find out about your customers' opinions and needs is through online surveys,
Which helps you understand more about your products,if there is something wrong with the product or is it just a view from one customer.
It also gives a good impression when customers, see you as someone interested in their opinions and seek to develop your product and make it more suitable for their needs.
Over the past few years, an online survey has become easier every day with the right tools.
The types of these tools have varied from the general tools,  We will explain all the tools in three different parts: survey tools for universal use, survey plugins for WordPress, and premium plugins for creating surveys with WordPress.
Now let's start with the first kind of tools and plugins
Survey Tools for General Websites
We must address this type of tool first. Usually, standalone services and platforms that provide survey are self-contained and work on most websites, so you will find some bloggers on WordPress likely to have these tools even though they use others.
Let's start
KwikSurveys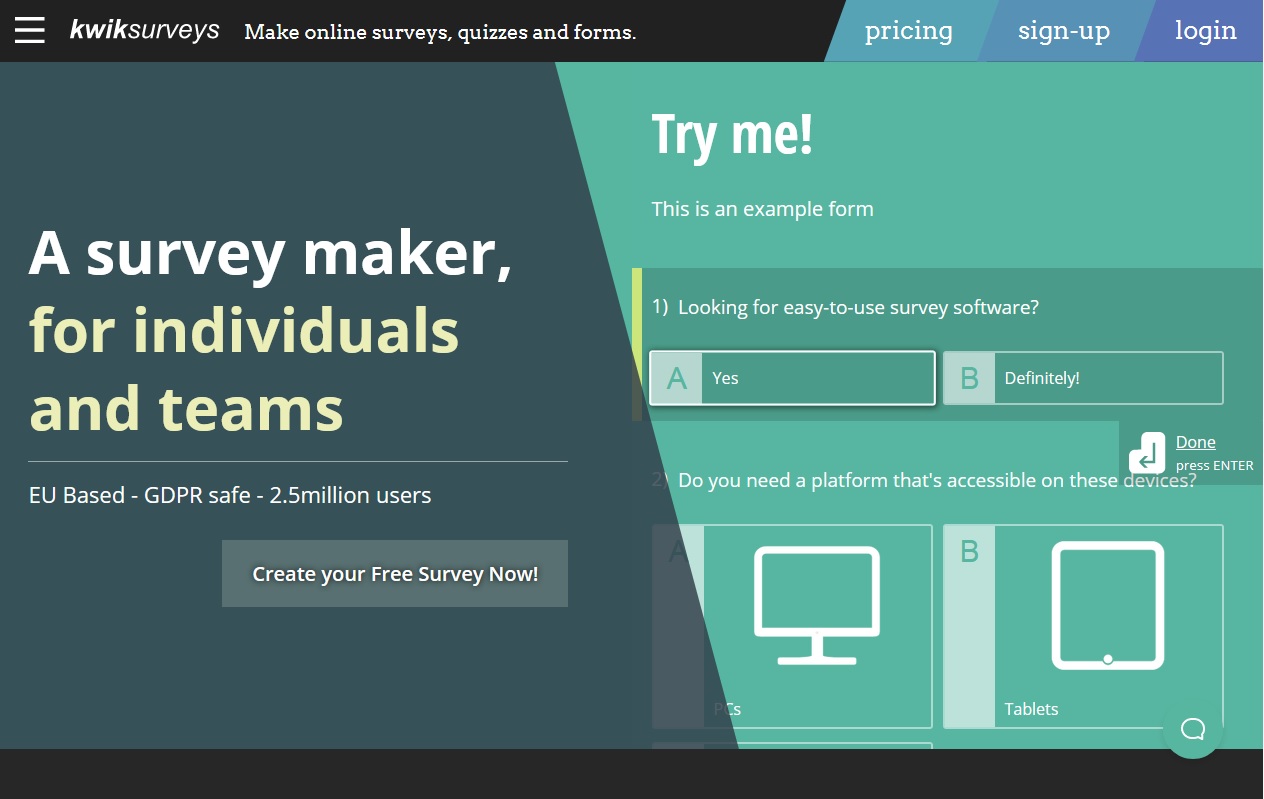 The tool is designed to build surveys and enhance the relationship between you and your customers. The tool is characterized by the methods that allow you to create surveys that fit your work and your needs with high flexibility with unlimited number of questions
Kay Features
Analyse your Results in Real Time
Reach Respondents in the Right Way
Comprehensive Survey Making Tools
For Individuals and Organizations
Pros
Easy to build and implement
unlimited number of questions
concise analytical reports with Very accurate results
cons
The cost of the service is high
Price
Individuals
Free Forever
Forms :unlimited
Responses :100 / survey
Included Team Resources
Pro
$19.99/m
Forms:unlimited
Responses:unlimited
Included Team Resources
Team Users:5
Team Forms:50
Team Responses:500
Business
99/m
Forms:unlimited
Responses :unlimited
Included Team Resources
Team Users:30
Team Forms:300
Team Responses: 3000
You can use it from https://kwiksurveys.com/#!/
SurveyPlanet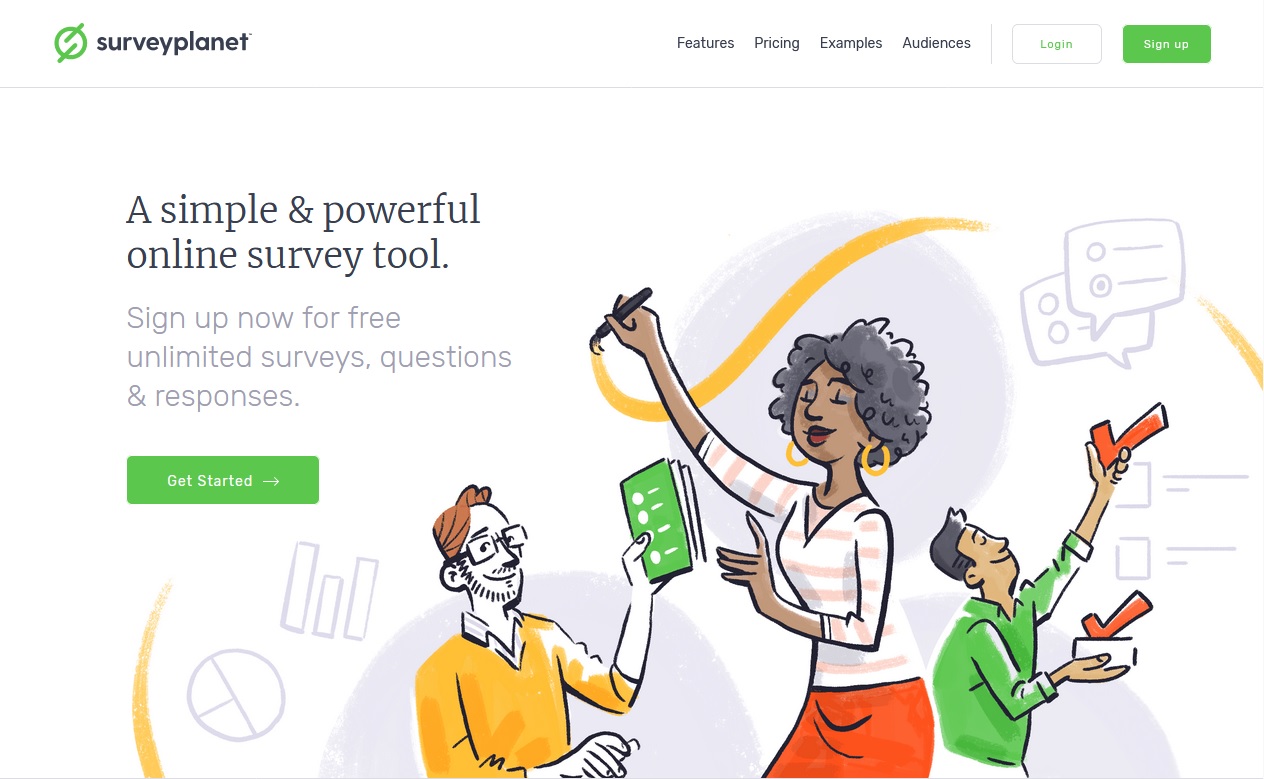 The features of the free tool are rich in many great features and features, that help you create good surveys for your business, but it does not diminish the benefits of the paid services, in which you can design the form of a survey. You can also add visual content to increase the ability to communicate with your customers More effectively and more clearly. In both free or paid releases you will be able to create the surveys you want, and the price of this paid version is equal to what the tool offer.
Kay Features
Data Analysis Tools
Email Marketing
Survey Player Types
Question Branching
Upload Images
Export Results
Pros
no complexity and is very easy to use.
First of all, SurveyPlanet has the fantastic way of being able to make survey>
Multiple Languages.
minimalist user interface.
Provides overviews of branching questions.
Affordable.
Cons
In free plan, the user is not allowed to edit the design of a survey.
Limited question types.
No support for matrix questions.
Panel purchase option is not integrated.
Price plans
Free
Pro:$20/month or $180/year
You can downlod it from https://surveyplanet.com/
SurveyMonkey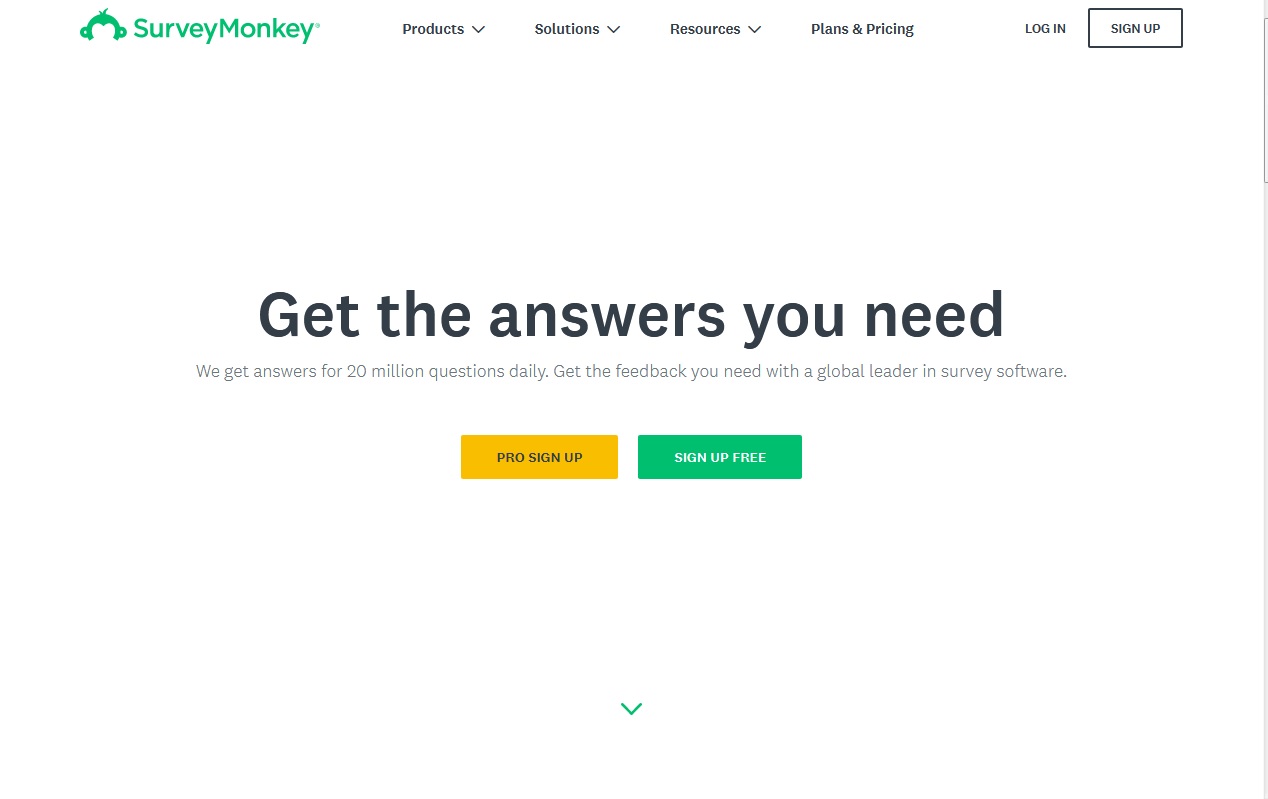 SurveyMonkey is the leading software for online surveys, with millions of customers  around the world, SurveyMonkey establishes an easy to follow roadmap for business persons who want to learn about their customer ,and where product is concerned.
You can browse TripAdvisor, and Google for reviews, but how often are those reviews direct responses to questions that you're asking your customers?
SurveyMonkey provides customer survey templates for multiple scenarios: customer satisfaction, market research, events, education and human resources,and give you great insight and outlook on why your customers are satisfied or dissatisfied with your product.
Kay Features
Design surveys with confidence.
Reach the people that matter most.
Send surveys via web, email, social and more
Customized branding
Manage surveys on mobile
Data exports
Custom reports
Support any project, team, or organization
And more
Pros
reports that are easy to read and understand.
It is easy to use and very user-friendly.
Allows us to use drop down and multiple choice responses.
Creates space for narrative responses.
Cons
Does not work well with more complex surveys with complicated skip patterns.
Flexibility in the variety of question types.
Ability to post entire survey on one page.
More than one question on a screen at a time.
Inability to include graphics or video into surve with free version.
Price
Basic
Free
No. of Surveys Unlimited
Questions Per Survey 10
No. of Responses ;100 per survey
User accounts Included ; 1
Standard
$35/month
No. of Surveys Unlimited
Questions Per Survey Unlimited
No. of Responses : 1000 per month
User accounts Included : 1
Best Value
$34/month
No. of Surveys Unlimited
Questions Per Survey Unlimited
No. of Responses ; Unlimited
User accounts Included ; 2
Premier
$99/month
No. of Surveys Unlimited
Questions Per Survey Unlimited
No. of Responses : Unlimited
User accounts Included: 2
You can use it from https://www.surveymonkey.com/
Survicate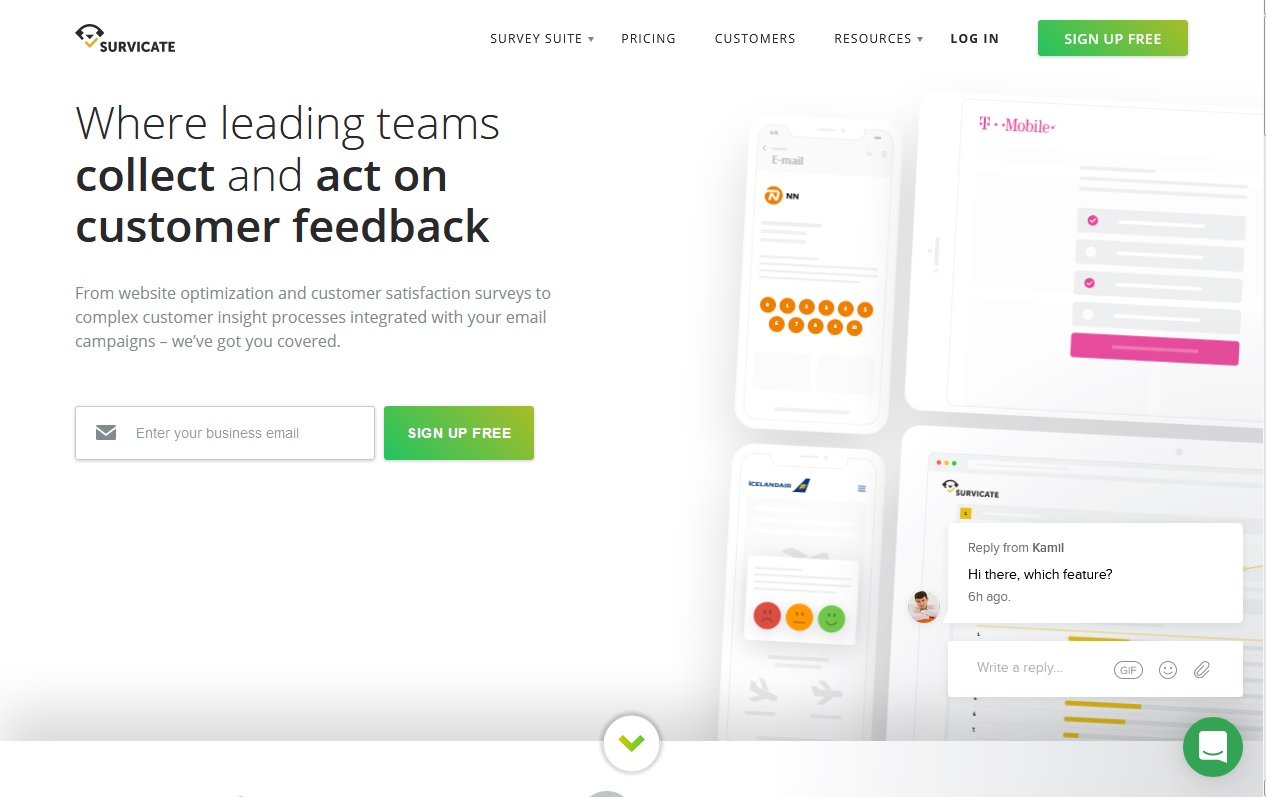 Survicate is a leader in the field of surveys, providing you with the ability to create a powerful surveys and real interaction with many tools that provide you with a lot of data and accurate analysis of the results of your surveys, which helps you to understand your customers with utmost accuracy.
With the many Survicate tools and accessories, you can easily accomplish your goals with a few simple clicks. You can also design the look of the survey you want. You can also insert images or clips to make it easier to explain the information to the users, who will answer the survey.
Kay Features
Lead Capture Form
Templates Library
Prospects Insight Surveys
Target Segments
Smart Calls to Action
Feedback Tab
Lead Alerts
Progressive Profiling
Skip Logic
Exit Intent Technology
Advanced Analytics
Custom design
Pros
Easy to use
helpful customer service.
lots of high quality leads.
HubSpot integration.
Easy to install and use, customer support.
good price.
Easy to use, well designed.
great customer service.
Cons
customization of widgets took us a while
lack of integrations with Unbounce and Optimizely.
Backend is slow at times
not enough integrations.
Price
Survicate offers 3 plans:
Essential – $0/month
Professional – $199/month
Ultimate – $549/month
You can use it from https://survicate.com/
Free WordPress Surveys Plugins
The above was a collection of the best tools for creating Surveys that most websites use when they do not use WordPress.
Now we will review a set of tools and  plugin that are developed by WordPress developers and are displayed on their sites and blogs.
Surveys by Feedback Cat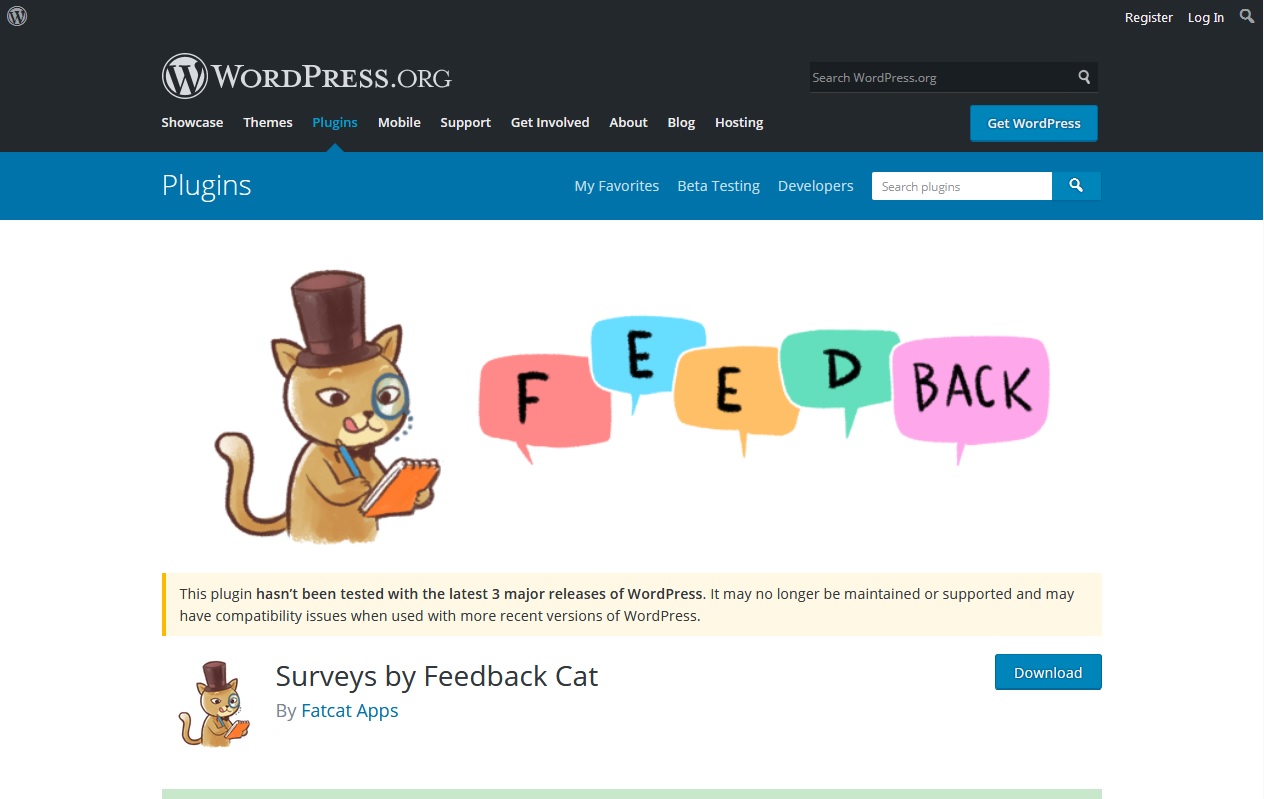 Surveys don't need be difficult, or complex. Knowing real-time what users are saying about your product, website, or service is very helpful.. Surveys from Feedback Cat is a dynamic WP widget that creates a simple popup widget in the bottom-right side corner. It asks new users whether they're satisfied with their browsing experience (you can modify the questions yourself). It simple Yes or No will open up a feedback form where users can share the experiences that their experiencing. The feedback left through this widget is going to go to your email address.
Kay Features
Segmented list
Import/Export
Visual Data
Powerful analysis
Visual Builder
User Analysis
Multi Page support
Mobile Friendly
Notification
Multiple Languages
Embed Mode
Conditional Statements
Prevent Duplication
Pros
Free
Simple
Easy to use
Easy to instal
Mobile Friendly
Cons
there's no way to delete a poll
no admin page to understand or set up the behavior.
Can not create different Surveys types.
Price
Open source ,free to use
You can use it from https://wordpress.org/plugins/surveys-by-feedback-cat/
OpinionStage Poll, Survey, Quiz & Form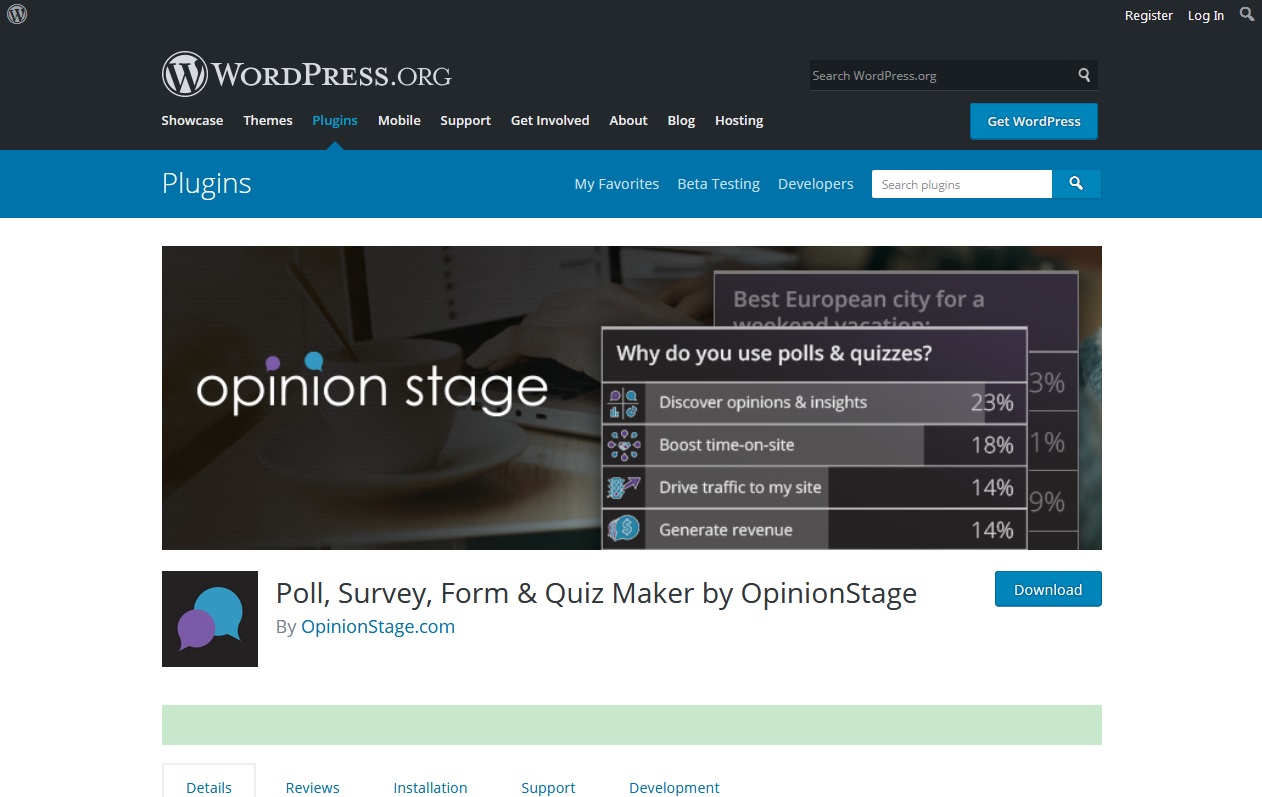 OpinionStage is definitely onto something here. We immediately recognize this kind of forms pattern because quiz sites and psychology test sites use it,even media sites like BuzzFeed use this.It's the one way ticket towards discovering the opinions of each of your users about the specific things.
The tool also helps you increase your viewer and engagement with your website by collecting information and the possibility of providing incentive prizes for their participation in surveys and sending surveys to their email. The tool is really unique and very useful because it does not create  only a poll.
But also contains many tools that will help you develop your site and increase your followers
Kay Features
Question branching
Templates
Collaborative writing
Analytics
Customer engagement
User accounts
Custom survey URLs
Behavior driven rules
Site intercept survey
Embeddable survey
Multiple question types
Data analysis tools
Skip logic
Online survey
Mobile survey
Supports audio / images / video
Kiosk survey
Skills contests (photo, essay, design, etc)
Statistical analysis
Email / online
White label
Polls, quizzes
Pros
opportunity to add images to polls.
Easy to use
no delays in using the features
Beautifully designed
Customizable and free
easy to learn
Cons
Still Needs more options
Not 100% functional within WordPress dash
Expensive for small business
You can use it from https://wordpress.org/plugins/social-polls-by-opinionstage/
Qeryz WordPress Survey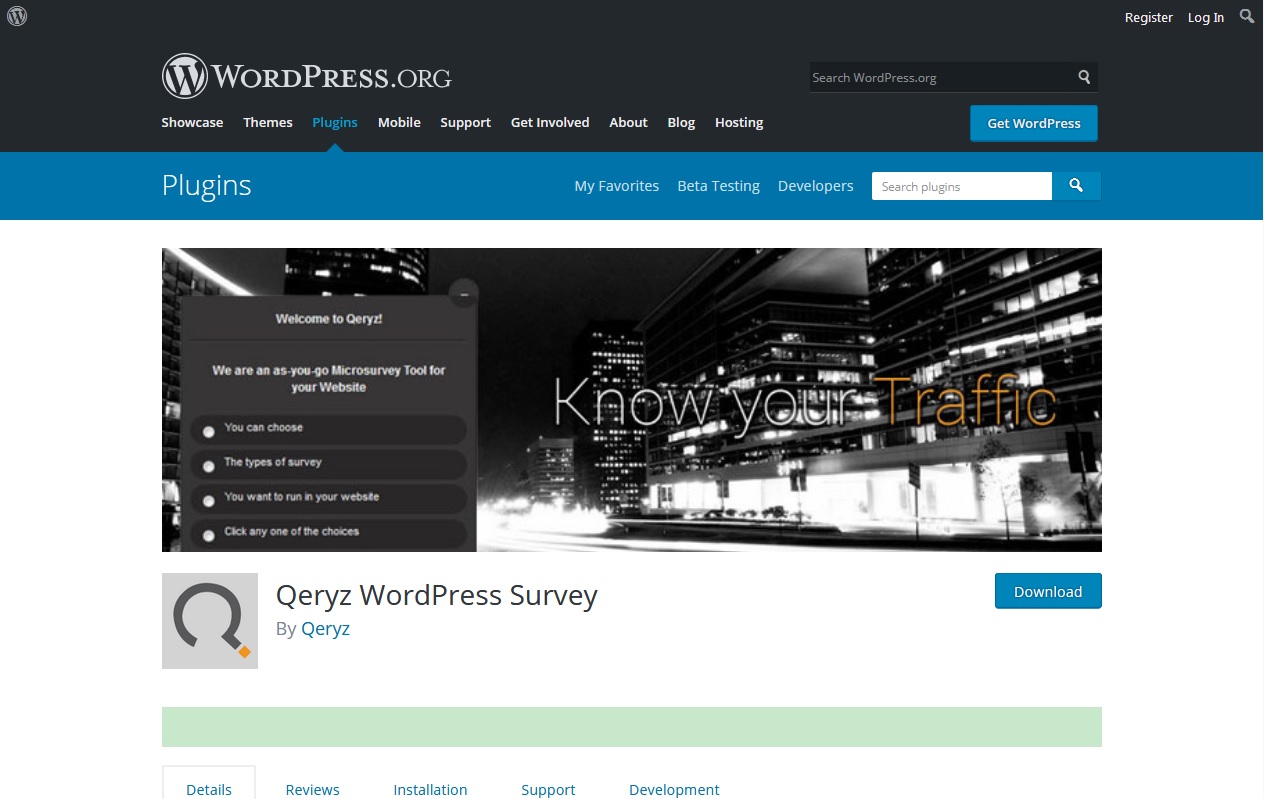 The application creates simple surveys that do not have as many complexities as any other of this kind and do not require a lot of work or training and you can run it on any page in your WordPress blog and it is just an easy way to conduct "yes or no" surveys like "WordPress Survey & Poll" and PlanSo Forms.
You can do this whether you are expanding on the list of features. Also, you can use it if you're looking for your audience to suggest you with content ideas.
Qeryz :::: https://wordpress.org/plugins/qeryz-microsurvey-tool/
"WordPress Survey & Poll::::::: https://wordpress.org/plugins/wp-survey-and-poll/
PlanSo Forms:::::::::: https://wordpress.org/plugins/planso-forms/
Premium Plugins for Creating Surveys with WordPress
Now with the last part of the report.
we left it to the end because it is the best and includes the solutions and tools more comprehensive and recommended by all programmers and Web sites.
They are the best tools for creating a multi-tasking survey on WordPress sites and blogs
The following plugins have the advantage of an extended premium support package. This could d help you with integrating your survey forms. We're sure that these forms would be best suitable for your business plans.
Modal Survey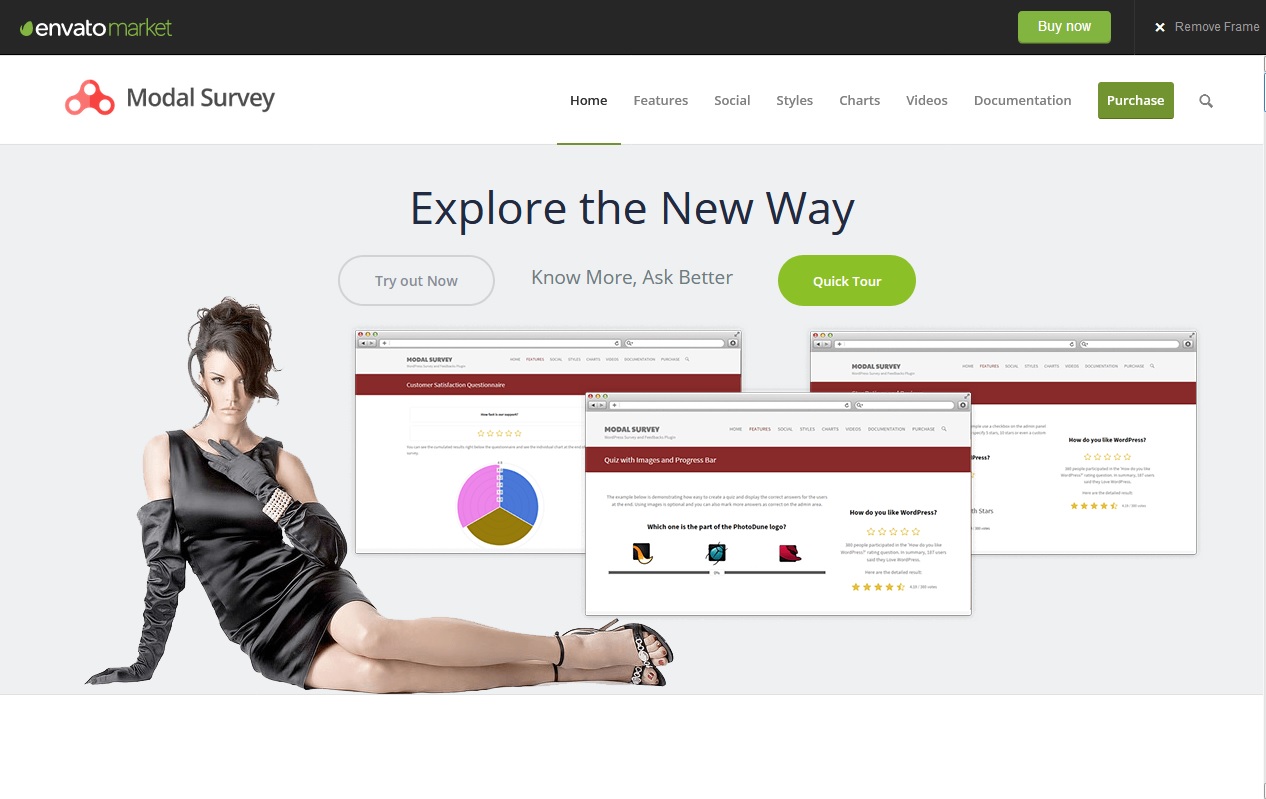 Modal Survey gives you the power to create any Customer Satisfaction Survey or Customer Feedback Survey on your pages easily with the Visual Poll Builder.
The developers integrated it with Visual Builder support. Anyone who uses Visual Builder already can plug away their designs with some new and interesting surveys and polls. The plugin provides much more features that helps you to save your time and reach your aims.
Support quickly responds and helps all set up and make complex polls.
Kay Features
interactive charts.
Get feedback
Making interactions
Trivia Quiz
Product Recommendation Survey
Quiz with Timer
plugin customization
Pros
tons of customization options.
Supports Business Evaluation Tests.
Plugin is GDPR compliant.
The plugin able to visualize.
Great support.
A very functional plugin.
Cons
Nothing to say yet.
Price
Regular License: $35
Extended License: $205
Extend support to 12 months:  $11.25
You can use it from https://codecanyon.net/item/modal-survey-wordpress-poll-survey-quiz-plugin/6533863?s_rank=1
Bolder Surveys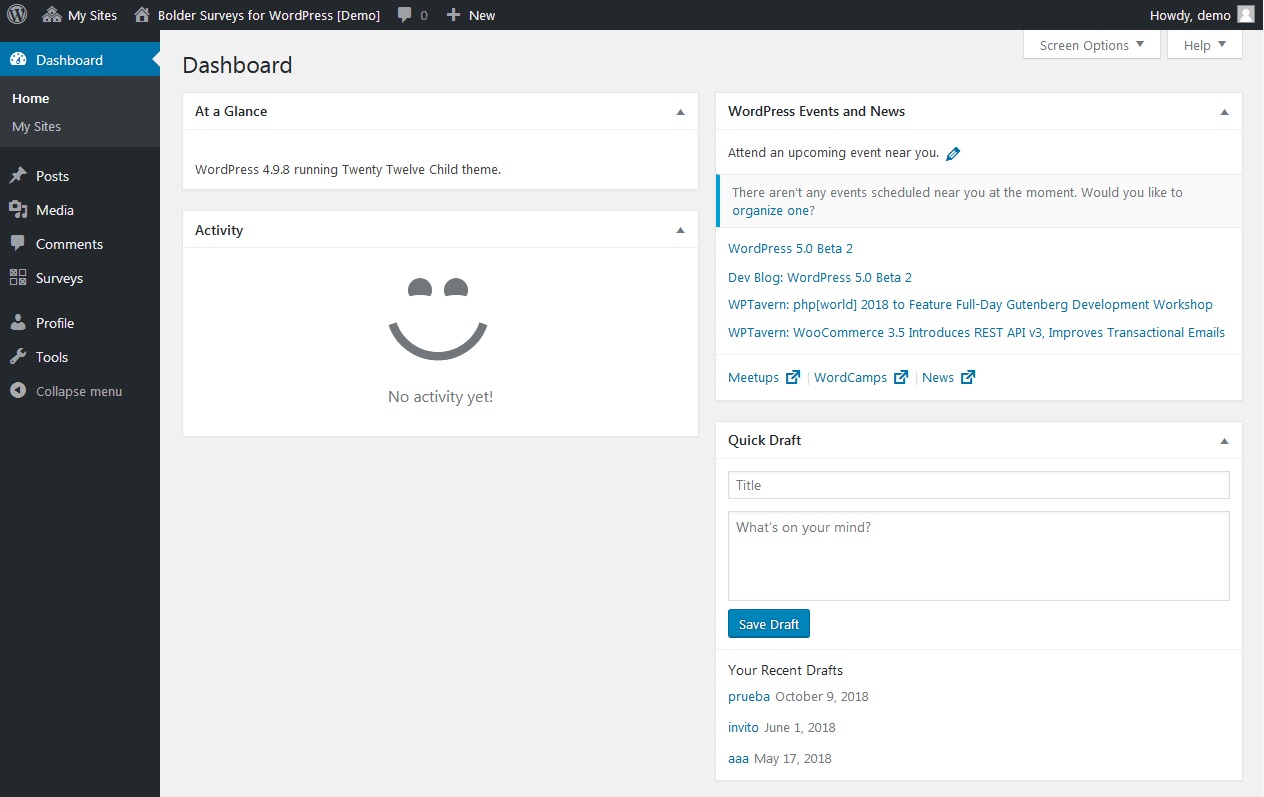 With Bolder Surveys, WordPress admins can finally enjoy the flexibility of creating surveys directly from the administrator dashboard.It has many tools that make it easy to create a survey, view data, and review it. The tool is very wonderful and important to increase your engagement with visitors and understand their mentalities Perhaps this type of tools such as reading the mind that actually make you inside the mind of your visitor
Kay Features
Endless Possibilies
Complex Grids
Participant Restrictions
Active / Inactive Status
Statistics Page
Drag and Drop
Pros
Flexibility of creating surveys
Administrator dashboard is so helpful.
Open your survey to everyone or registered users only.
Simple bar graphs and pie charts let you easily see what visitors are responding with.
Drag and drop interface can help you to Setup, reorder, and delete survey elements
Cons
Have some problem with some websites.
Give you a lot of error.
Price
Regular License:$18
Extend support to 12 months: $4.88
You can use it from https://codecanyon.net/item/bolder-surveys-for-wordpress/7641513?s_rank=4
Diker
New WordPress bloggers don't get in touch with their website visitors and/or customers so it become so difficult to predict why your things started to stall.diker gives you Solution.
Diker is an online surveys plugin that will improve customer experience and engage your audience. With diker you can understand what drives , what makes your website visitors happy and what makes them feel bad so you can optimize your website design, content and products based on honest feedbacks. Diker will convert site visitors into loyal one,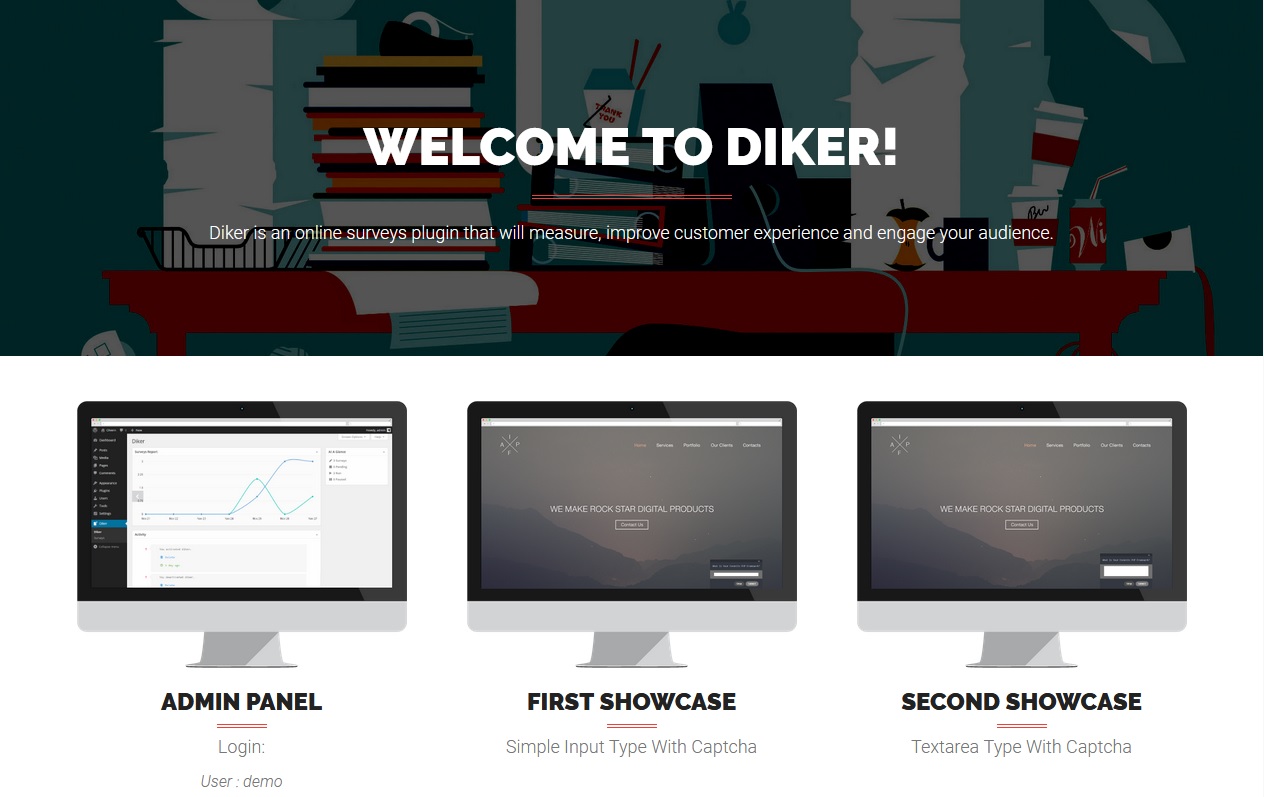 Kay features
Lightweight plugin.
Overall surveys statistical panel.
native dashboard style.
Visual analysis.
Plugin Code
Documentation
Attach surveys through posts
Pros
Well Secured.
It supports translation
Cons
Does Not work with any version ,just with WordPress Version 3.5+Price and new
price
Regular License: $19
$19
you can use it from
https://codecanyon.net/item/diker-online-surveys-wordpress-plugin/9670838?s_rank=8